11/26/2016 – Michigan 27, Ohio State 30 (2OT) – 10-2, 7-2 Big Ten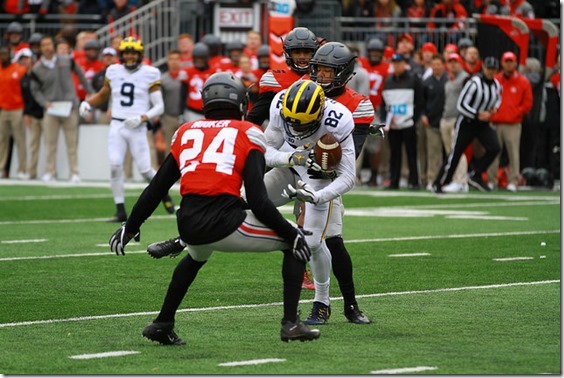 [Eric Upchurch]
After all that, the thing that sticks with me is something much more prosaic than the various outrages everyone's going on about. It's third and four in the fourth quarter. Ohio State literally triple-covers Jake Butt; Wilton Speight finds Amara Darboh open on a quick slant. The ball is behind Darboh, tough but catchable. Darboh does not catch it. Michigan punts with five minutes and change left on the clock.
Why did that happen?
I don't know. Nobody does, but very few people tasked with writing about a thing will tell you that. Everyone else will reach for any explanation of remote plausibility, from an injured shoulder to CHOKING like a CLOWN FRAUD. Whatever, doesn't matter. Just as long as there's a reason a thing occurred, we can go on with our lives.
I think that happened for no damn reason at all. Yes, if you replaced Speight with Tom Brady that pass was more likely to be accurate. If you replaced him with Tyler O'Connor, less likely. It is still a simple five-yard throw that is amongst the easiest in the quarterback's repertoire. It is within the capabilities of the QB. Speight probably hits 90% of them, especially on a day where he is locked in. The most likely explanation for why he did not hit that one is none at all. The most likely reason Darboh did not catch a tough but catchable pass is none at all.
There are entire fields of study dedicated to the fallibility of the human brain, which refuses to operate cleanly. (I just put a D into the word "entire" as I was typing that sentence out.) These exist mostly because planes crash into each other and space shuttles explode and not because football happens sometimes, which just goes to show that people have strange priorities.
--------------------------------------------------
Speaking of the fallibility of the human brain:
Jim Harbaugh was justifiably unimpressed with this officiating https://t.co/WHde8oZalZ pic.twitter.com/vldk3U1k44

— SB✯Nation CFB (@SBNationCFB) November 26, 2016
It is hard to take that sort of thing. Michigan had just gotten a flag on a similar, but less severe, defensive holding incident on the prior Ohio State drive. That ended a Michigan drive that had reached midfield; if called correctly Michigan has first and ten at the Ohio State 40.
Later in the game the same pattern would repeat. Delano Hill was flagged for pass interference on third and 14 when he unnecessarily grabbed the waist of Curtis Samuel before the ball arrived; the exact same thing happened to Grant Perry on a third down conversion attempt and was ignored. Again, that sets Michigan up with a first down, this one on the ten in the second overtime. Again it was preceded by a call so similar against Michigan it beggars belief that a flag did not come out.
That's tough to get over. The spot was close enough and chaotic enough that it falls within the realm of the unknowable. An MGoUser who knows what parallax is and went over available evidence with a fine-toothed comb thinks Barrett made it by literally an inch or two. While I thought the spot was wrong I knew they would not overturn it, because they never overturn spots without some sort of egregious his-knee-was-down-ten-yards-ago kind of thing. In isolation that call is, in the cold light of day two days later, too close to have a definitive resolution. If it was wrong it very well could have been an honest mistake.
It is difficult to interpret either of the above incidents as honest, or a mistake. It's difficult to see a standard-issue Harbaugh blowup get flagged in the Game when we've seen the same thing tolerated all year. It's difficult to believe that Michigan's defensive line hasn't benefited from a holding call since the Illinois game.
This is the point at which newspapery types come in with the You Had Your Opportunities To Win The Game, an asinine criticism since that's literally true of both teams in every close game ever played. You can believe that Michigan had opportunities to win they did not take and simultaneously believe that the officiating gave you less than a 50/50 shot in a 50/50 game.
And then you're putting guys out on the field from the state of Ohio who were previously banned from working The Game because of how it might look? What the fuck are you even doing, Big Ten?
[Patrick Barron]
What's that? Counting your money? Right. Well done.
--------------------------------------------
Michigan lost this game. They did so for many reasons.
Their mistakes were punished as ruthlessly as possible. A floating ball goes directly to a defender. A fumbled snap is recovered by the defense. Curtis Samuel escapes a huge loss three times and sets up the fourth down that falls within the margin of error.
They did not take advantage of plays that were there to be made. Speight threw behind Darboh twice; Darboh did not bail him out. Karan Higdon missed a cut on what would have been a huge gain. Smith did not run over a safety prior to the fumble.
They did not get a fair whistle. See above.
All that and it came down to a literal inch. A rivalry classic, and an invitation for a bunch of hooting jackals to hoot some more. As for us on the other side, nothing to do but soldier on in the gray light of morning.
AWARDS
there is another [Bryan Fuller]
Known Friends And Trusted Agents Of The Week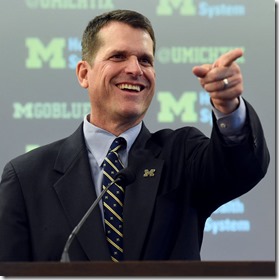 you're the man now, dog
#1 Taco Charlton was the most rampant of Michigan's very rampant defensive line, acquiring two and a half sacks and forcing Barrett to move around several other times.
#2 (tie) Ben Gedeon and Mike McCray shut off the Ohio State edge except on a couple plays where Michigan was successfully out-leveraged pre-snap. It was weird to see neutrals on twitter wondering why anyone would run east-west against The Michigan Defense, but they were, because it didn't work. They picked up 19 tackles between them, two sacks, another TFL, and McCray batted down two passes. McCray also forced a sack when he leapt in the passing lane of a third.
#3 Kenny Allen bombed all but one of his punts; he mastered the Ron Coluzzi hard right turn; he had just one touchback, that on a punt that still had a 40+ yard net; Curtis Samuel had just one quickly snuffed return opportunity; he hit a couple field goals; none of his kickoffs were returnable.
Honorable mention: Channing Stribling broke up the only deep shot on the day; OSU decided they were not going to bother with either him or Jourdan Lewis. The rest of the defensive line was terrific all day; the tackles were very good in pass protection against some tough customers. Peppers had a big KOR, an interception, and was also a major part of the edge being closed down.
KFaTAotW Standings.
10: Wilton Speight (#1 UCF, #1 Illinois, #3 MSU, #1 Maryland), Taco Charlton(three-way T1, PSU, same vs Rutgers, #3 Maryland, #2 Iowa, #2 Indiana, #1 OSU).
9: Jabrill Peppers(T2, Hawaii; #3 UCF, #1 Colorado, #2 Rutgers, #2 MSU)
5: Ryan Glasgow(#2 UCF, #1 UW), Chris Wormley (three-way T1, PSU, same vs Rutgers, #1 Iowa).
4: Jourdan Lewis (#3 UW, #2 Maryland, #3 Indiana), Mike McCray(#1 Hawaii, T2 OSU), Ben Gedeon(#3 Colorado, #3 PSU, three-way T1 Rutgers, T2 OSU).
3.5: De'Veon Smith (four-way T2, PSU, #1 Indiana).
3: Amara Darboh(#1 MSU).
2.5: Karan Higdon(four-way T2, PSU, #2 Illinois).
2: Jake Butt(#2 Colorado), Kyle Kalis (#2 UW)
1: Delano Hill (T2, Hawaii), Chris Evans (T3, Hawaii, four-way T2, PSU),  Maurice Hurst (three-way T1, PSU),  Devin Asiasi(#3 Rutgers), Ben Braden (#3 Illinois), Channing Stribling (#3 Iowa), Kenny Allen (#3 OSU).
0.5: Mason Cole(T3, Hawaii), Ty Isaac (four-way T2, PSU).
Who's Got It Better Than Us Of The Week
This week's best thing ever.
It's a goat in a duck costume!
Rescued goat wears duck costume to calm anxiety https://t.co/wdgmHVCLfd pic.twitter.com/p1zVDccIlu

— AJC (@ajc) November 28, 2016
Honorable mention: is that not sufficient
WGIBTUs Past.
Hawaii: Laughter-inducing Peppers punt return.
UCF: Speight opens his Rex Grossman account.
Colorado: Peppers cashes it in.
PSU: Wormley's sack establishes a theme.
UW: Darboh puts Michigan ahead for good.
Rutgers: Peppers presses "on".
Illinois: TRAIN 2.0.
MSU: lol, two points.
Maryland: very complicated bomb.
Iowa: The touchdown.
Indiana: Smith woodchips Michigan a lead.
OSU: Goat. Duck costume. Yeah.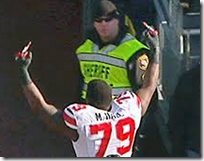 MARCUS HALL EPIC DOUBLE BIRD OF THE WEEK.
This week's worst thing ever.
The Spot.
Honorable mention: The ensuing play. Speight fumbles the snap; Speight gets hit on the throw and offers up a pick six; Speight throws an INT that is on him; various refereeing malfeasances.
PREVIOUS EPIC DOUBLE BIRDs
Hawaii: Not Mone again.
UCF: Uh, Dymonte, you may want to either tackle or at least lightly brush that guy.
Colorado: Speight blindsided.
PSU: Clark's noncontact ACL injury.
UW: Newsome joins the ranks of the injured.
Rutgers: you can't call back the Mona Lisa of punt returns, man.
Illinois: They scored a what now? On Michigan? A touchdown?
Michigan State: a terrifying first drive momentarily makes you think you're in the mirror universe.
Maryland: Edge defense is a confirmed issue.
Iowa: Kalis hands Iowa a safety.
Indiana: A legitimate drive.
OSU: The Spot.
[After THE JUMP: ~3000 additional words, 43% of which are swears.]
OFFENSE
[Upchurch]
Seemed kind of good, and then very bad, and then kind of good again. Wilton Speight has some pretty odd stats for a guy who seemed to carry Michigan's offense by himself: 6.1 yards an attempt, which is bad. Add in two interceptions and it's very bad. Add in a disastrous fumbled snap and... it is not better. That did not make things better.
One of the interceptions was not his fault. Speight IDed Chesson open behind a picket fence zone and threw it to him; Raekwon McMillian, who got in scot free, intervened before he could complete his throwing motion. It's just crap luck the ball went directly to a defender.
The other INT and the fumble are directly on Speight, with Cole maybe factoring in on the fumble. On the one hand, those lost the game. On the other, Michigan was in position to win it because Speight was calm, accurate, and brave.
No deep shots. Part of the reason Michigan's YPA was so low was a total lack of deep balls. A sail route completion to Jake Butt for 22 yards was Michigan's longest gain of the day, and a fair chunk of that was yards after the catch. I have to assume that was due to Speight's injury. Either he couldn't get the necessary oomph on deep balls or Michigan was loathe to expose him to the OSU pass rush because they feared he would get knocked out.
Just not enough. The one position group that was clearly overwhelmed was the offensive line. Smith and Evans combined to average under three yards a carry, and most of that was on the OL unable to generate much of anything.
This was a Hoke legacy Harbaugh was unable to overcome. Whatever improvements Michigan was able to generate in their senior trio did not get them to All Big Ten levels, let alone All America, with the possible exception of Erik Magnuson. (My opinion: meh, but depending on the NFL scout you listen to he's apparently got a chance.) When Grant Newsome, a true sophomore, got knocked out for the year a true freshman replaced him. There was zero depth behind the starters and that bit hard as Ben Bredeson struggled, as true freshmen tend to.
This was partially bad luck. The nature of Logan Tuley-Tillman's departure could not be predicted. It was partially terrible evaluation. Michigan passed on LSU All-American Ethan Pocic because they thought they were full, then took Dan Samuelson towards the end of the cycle. Samuelson quit football soon after realizing he was overmatched in year two. It was partially a lack of ruthlessness: Chris Fox had a terrible knee injury that made him unlikely to work out in college and Michigan still took him. Fox did transition to a medical scholarship relatively quickly, but Michigan didn't react to his inability to play quickly enough. It was partially crappy coaching, because Hoke.
The tackles pass-protected well, though.
Aaargh. Michigan's offset draw worked to near perfection except for one thing. Higdon did not cut behind Cole.
Man, 1 wrong cut makes a world of difference.

FOLLOW THE WALL OF FRIENDLY BUTTS.

Higdon should've cut off Cole's ass. pic.twitter.com/V6LE3v2sie

— Due (@JDue51) November 28, 2016
That's a huge, huge gain otherwise.
Smith did not flatten the fishing village. While we're complaining about running backs, Malik Hooker twice hewed down De'Veon Smith in ways I did not think were possible for a safety. The first turned out to be a game changing play, as it came when Smith busted to the second level on a goal-to-go carry. As he did so I thought "YES!!!" because surely this was a touchdown; surely I had seen sufficient Smith-versus-secondary matchups to know that the two safeties coming in at an angle had precious little chance to shut Smith down without YAC.
And yet, Hooker did. Speight fumbled on the ensuing snap. That tackle is the play of the game, along with all the other ones.
[Patrick Barron]
Perry had a solid day. Grant Perry hadn't had much impact this year, in part due to a mid-season suspension. Against OSU he was open repeatedly and hit for several critical third down conversions. I expect his role will grow considerably next year as Jake Butt's third down skills head to the NFL.
DEFENSE
[Upchurch]
Can't ask for more. Michigan's defense gave up approximately ten points in regulation. OSU had three field goal drives, two of which their kicker missed, and turned first and ten from the fifteen into a touchdown with assistance from a personal foul on Harbaugh. OSU averaged under 4 yards a play.
Confusion even in game 12. Only two things even slightly ground the ol' gears. One of them was Michigan's confusion at various points during the game. OSU motion was all too frequently met with cabinet meetings amongst the Michigan secondary.
A four-man box against an empty set could not have been correct; it resulted in a 41-yard Barrett draw/scramble. Noah Brown was provided a free first down late in the game when Michigan put two DBs over three WRs. A couple other times Michigan did not get aligned; those instances did not have straight lines between tempo and success but there was a definite correlation. Michigan's rampant pass rush was most frequently nerfed when Michigan could not get set up and fire off on the snap.
I spent the first half of this year cautioning about Don Brown's significant year one costs and hoping they would get fixed over the course of the season. They did. Michigan busts dropped to normal levels by midseason, and whatever confusion they suffered they issued as well. That was the case in this game; I still got a bit frustrated at various ??? moments on OSU motion.
The other thing that rankled. OSU's final drive of regulation did not see Michigan solve their problems with aggression. On one level, I get it. You've been dominant, Barrett's rattled, you're up three. It's a situation where caution is called for early. Once OSU hits midfield it's time to get aggressive, especially since Barrett has done so poorly with pressure. Michigan did not amp it up; they rushed four, played zone, and generally abandoned the approach that had seen them dominate three quarters of the game.
I've defended Harbaugh's approach in a number of games this year, and still think the Lloydball stuff from the offense was justified given game contexts. I absolutely do not get Michigan's passivity on the final drive. I mean, I do. I've seen it time and again.  I was hoping for something else.
Mone with a big play. Bryan Mone's hype petered out thanks to an early season injury; when he did play he was unimpressive, which stoked worries for next year. Watching him obliterate an OSU OL to stuff a third and short Weber run was the best and biggest play of his career to date; hopefully he can follow up on that next year.
SPECIAL TEAMS
[Upchurch]
PUNTAGEDDON. Put Indiana's punter on either of these teams and this is a 20-point game. Instead, Ron Coluzzi battled Ron Coluzzi atop Mount Puntlympus. Kenny Allen averaged 47 yards a kick with a 67-yarder and five punts inside the 20 against just one touchback, that on a super-long punt. OSU got one return in for two yards.
Cameron Johnston matched him with an average of 46 a pop, a long of 60, and one Peppers return for five yards. He also got run into, so he's got that going for him.
I can't wait to see the PFF grades. They might be positive.
They should get rid of running into the kicker. Roughing should stay. Every running into the kicker penalty I've seen is glancing contact that endangers nobody. Most of them feature the punter falling over theatrically. Running into the kicker is like the five-yard facemask penalty they got rid of a few years ago and should meet the same fate.
Jordan Glasgow, special teams, uh, specialist. The aftermath of OSU's fake punt was fascinating, as it quickly became apparent that Urban Meyer told the ESPN crew that they were going to going to run it against a certain Michigan formation no matter what. They got the formation, they ran it, and Jordan Glasgow stoned it. Glasgow set up outside, got off a block, got held, still got off that block, and make a tackle with help from Chris Wormley to turn OSU over on downs.
That was the most spectacular but far from the only excellent special teams play Glasgow's made over the last couple years. He's made a habit of hewing down kick returners. I wouldn't entirely rule him out from playing time on defense next year. 1) Is Glasgow, 2) you don't make that kind of consistent impact on special teams without being able to read a play and take on a block.
[Barron]
Peppers: quite good. His kick return to Ohio State territory after the pick six might have stood as Michigan's play of the game in the event of a win. Jourdan Lewis had a momentarily dangerous but ultimately unsuccessful KOR of his own on the last play of regulation, and for a second there I thought Peppers was running to get in a pitch relationship with Lewis; instead he blocked a guy.
MISCELLANEOUS
At least we looked good. Can't say the same about OSU's rollerball-ass helmets.
[Fuller]
This will console me. Yes.
Harbaugh was wrong about the facemask. Michigan was confused about the aftermath of the Cole facemask call, which ended up as a third and five instead of a first and ten. They were forced to call timeout, and Harbaugh got mad, which eventually ended up in that PF.
In this, at least, the refs were correct. The penalty was a live-ball foul. When it's a live-ball foul the ball is placed where it is after the penalty and then you either give or do not give the first down. If it was a dead ball foul, Michigan would have gotten the ball where Smith went out of bounds minus 15 yards and had first and ten. (This remains one of the oddest rules in football.)
I can only assume that Harbaugh thought the personal foul was something unsportsmanlike after the play because he'd never even thought a screen could see an OL attack the facemask of an opponent. I sure as hell didn't believe it until I saw it.
I don't think Michigan should get in the playoff. They are one of the four best teams. That shouldn't be enough. The committee needs to prioritize making regular season games really count or the whole fury of the regular season descends into a tepid simmer. I fully approve of the focus on championships and hope it would take something extraordinary for a non-champ to get in.
I'd go so far as to assert that Ohio State should not get in over Penn State. If Washington, Clemson, PSU, and Bama win their title games the playoff should be Bama, Clemson, Washington, and Penn State, in that order.
HERE
As mentioned, I think Santy's diary on the spot is the best possible analysis of a razor-close call.
Worst:  What Do You Think?

I'm broken.  I mean, not in a real sense:  I'm a grown-ass man with two kids, a beautiful wife, a fulfilling career, and my health (largely) still intact.  I don't have to worry about violent uprisings, disease, radioactive mosquitos, or alien invaders.  In the grand scheme of things, I'm doing fine.

But in sports terms, I'm as broken as Jeff Jarrett's guitar.  I guess I should be used to these types of games against OSU, but I'm not.  Games decided by last-second stands, crucial penalties, and terrible officiating are the norm in college sports, but it's only "chaos" when your passive bystander; when it's one of your teams, it's heartbreak.
Sten Carlson tries to offer some perspective:
I am usually not much for "Perspective Posts" after a loss, but in this instance I think it might be helpful.

24 months ago Michigan was sitting at 5-7 overall, and 3-5 in the Big 10.  Let that sink in for a moment ... and if it doesn't, continue reading.

Michigan started out with a hopeful 52-10 blowout of FCS App. St, only to follow it up with an embarassing 31-0 loss to ND in the last game of that storied rivalry.  Following this humilation, Michigan returned home to face the Miami (OH) Redhawks, whom they dispatched 34-10.  Ok, the ND game was an anomoly, just a bad game, we can overcome it, right?  Nope, the Utah Utes march into the Big House and promptly laid a 26-10 beatdown upon our beloved Wolverines.

Just went we thought things could not possibly get any worse, it seemed Hoke (and likely Brandon) had been listening to the fanbase's collective uproar for Shane Morris to replace Devin Gardner, and well ... it did not end well ... a 30-14 loss to Minnesota and of the oldest trophy in college football, Concussion-Gate, and another complete embarassment to the once proud program.

This was rock bottom, right?  Could it get worse than 2-3 and having Concussion-Gate splashed all over the media?  How's about a 26-24 loss to Rutgers (I mean seriously, FUCKING RUTGERS!!!!) in which we make the Scarlet Knights' inept QB look like freakin' Joe Tom Brady Montana as a salve for those wounds?  This HAD to be rock bottom, right?  Sitting at 2-4, and 0-2 in the Big 10, a ray of hope appeared through the clouds as Michigan was (somehow) able to knock off PSU 18-13, in kinda-sorta-not-so-much convincing fashion.  Hail, Hail ... a conference win!
The State of our Open Threads:
Let's start with something that won't shock anyone at all - we reached a season high for "fuck" and indeed, an all-time high for the four seasons that we've been going through this analysis now. No Ohio State game before yesterday, or indeed any game, can say that it resulted in 785 fucks in a game thread. That blows out the previous record, which was the Iowa game a couple week ago. It was also a season-high for shits given at 228, and that is also a high for shits given in the entire time that this analysis has been done. That won't shock anyone, or course - that was the most consequential game we have played in a long time, and I can only imagine the fucks and shits said aloud and off the record. I may have even contributed to the off the record total myself.....a lot.
CFP contenders breakdown. Going to take a lot.
ELSEWHERE
Fuuuuuuuu. Michigan's win expectancy, per S&P+: 83%.
Genuinely Sarcastic has the various ref outrages catalogued. Bill Connelly on the game, if you can go back over it some more. Why the playoff should stick at four. RIP Doug Lesmerises's mentions. PFF grades:
Jekyll and Hyde from Wolverines offense

One of the big questions entering the game was where the Wolverines would generate offensive production from; would they need to play 30 snaps with Jabrill Peppers at quarterback? Ultimately, they didn't and they exceeded many expectations for their production but came up short in key moments to clinch their victory their performance deserved. Amara Darboh came up with some big catches, including the overtime TD shaking Marshon Lattimore at the line to get open, but he dropped a pair of passes. Similarly, the ground game was nothing more than steady, keeping the Ohio State defense honest but failing to rip off more than one play of ten yards or more. Will this valiant defeat be enough to keep the Wolverines in the playoff picture?
Kyle Kalis and Tyrone Wheatley made the top five with grades of 54. Ugly all around.
Dr. Sap. TTB. Holdin' the Rope:
Never underestimate the rivalry's ability to find that spot, the one that hurts the most. A well-placed nudge to the unsuspecting elicits a yowl, a yelp, a cringing collapse on the floor.

Just when you thought the rivalry couldn't yield a more painful outcome, it did on Saturday, when No. 2 Ohio State bested No. 3 Michigan, 30-27, in double overtime. It was the first overtime game in the history of the Michigan-Ohio State rivalry, and thus presented Michigan with a chance to lose in a new way.

When the game ended, I quietly checked my phone for 10 minutes, taking in reactions from around the internet, positive and negative. But, eventually, I wondered if this game was even worth the consternation.
In retrospect, they should have gone for two.  Speight wanted it.  It would have met with widespread approbation, win or lose, like a similar decision three years ago.  The defense was gassed because of the offense, led by the wounded Wilton Speight; one that managed five meager yards in the fourth quarter.  They had just found Amara Darboh in the back of the end zone at the end of the first overtime period.  But they did not, putting the game back on the offense and it nearly worked until Grant Perry was mugged on third down, forcing Michigan to settle for a field goal.
Orange Bowl the current best guess as to the bowl game. FSU or Louisville are potential matchups. Same. Embarrassed? Embarrassing would have been 3-9.