Product Of The Programs
10/20/2018 – Michigan 21, Michigan State 7 – 7-1, 5-0 Big Ten
No ghosts, no magic, no secret sauce: there's nothing hidden in Michigan State's recent run with Paul Bunyan. Most of the time they were a better football team than Michigan, and better football teams tend to win football games. All the noise was just that. Michigan lost games because they were bad football teams run by bad football coaches.
But holy hell, you just try to believe that when it's 7-7 despite a second quarter spent entirely on the Michigan State side of the field and it's raining and Michigan's fumbling like Urban Meyer trying to get his story straight and MSU's backup punter spears a disaster snap out of the air with one hand.
The Spartiest Spart of all Sparts.

The punter goes all OBJ, then booms a 60 yarder. Because, of course. pic.twitter.com/UwtUi2ZFkd

— Due# (@JDue51) October 21, 2018
Then he hits a 60 yard punt, which is nearly double his season average. If the Black Pit of Negative Expectations didn't rise up and claim you then, you are a better human than I. The rain, and the turnovers, and the improbable thing by the guy in the thing with the rain… etc.
Fortunately, it turns out that being a vastly superior football team is still a good way to win football games. The rain cleared, the five-star quarterback threw a pass to the five-star wide receiver for a 79-yard touchdown, and that was more or less that. All over but the shouting.
But this is Michigan-Michigan State, so the shouting is the main event.
---------------------------------
Jim Harbaugh described the pre-game dust up as "bush league," and that was about right. If you are a human like me who has been infected with the Lebowski virus your immediate thought was the Jesus ranting about BUSH LEAGUE PSYCH-OUT STUFF. And that's what it was.
There is no other reason to roll out on to the field in helmets and no pads—because that's a thing people do—ten minutes late, when you know various Michigan players will be on the field for their allotted whatever. And there's no other reason to walk through those players with your arms locked. Hell, it probably worked. Devin Bush went full Rick James on the Spartan logo at midfield shortly after; he picked up a mystery unsportsmanlike conduct flag in the first half.
In the aftermath, MSU beat writers are going into more detail about a confrontation that doesn't even warrant the term "kerfuffle" than any one of the many incidents that ESPN turned up when they investigated the Spartan athletic programs in the aftermath of Larry Nassar. The word "class" has been uttered. This is all a distraction.
Shouting is warranted. Shouting about some goons holding green bones trying to pull an imaginary one over on a team that will hold them to 93 yards of offense in the near future is not. Michigan State is, has been, and will be trash. Shout about that. Michigan State deserves no respect and should be treated with nothing but contempt.
#96 trash. Resulting to intentionally trying to hurt my teammate. pic.twitter.com/SV5cuoLW6O

— Michael Onwenu (@_MXKEY) October 21, 2018
This has always been true. An event like the above happens about every third year. That, too, is a sideshow.
This weekend on WTKA, Lorenzo White openly joked about the giant piles of steroids MSU was doing the last time they were relevant. This is a widely-reported fact that did not prevent George Perles from becoming an MSU trustee. An internal investigation cleared Perles; in 2008 Tony Mandarich admitted his steroid use and told Armen Keteyian that by the time he reached the NFL he was addicted to painkillers. It is an open secret that MSU did zillions of steroids in the early 1990s and that Mandarich exited Michigan State a ticking timebomb. Not only did MSU let that guy escape with his undeserved dignity intact, they put that guy on the board of trustees.
I mean, why not, right? The rest of the board consists of former football players, infamous slumlord/booster Joel Ferguson, the grandson of the guy the basketball arena is named after, and a couple people who don't even have a good reason to be a shameless lickspittle in the face of incontrovertible evidence that the institution they nominally govern is a failed enterprise. Collectively they said Lou Anna Simon should keep her job after the worst sexual assault scandal in the history of the United States.
So fuck Michigan State. Fuck their football and basketball teams especially, as they are the main drivers of the deranged culture that enabled Larry Nassar. There is a straight line to draw between Perles and the rest of his board to Mark Hollis to Lou Anna Simon, all of it enabled because Michigan State got to beat big brother in some sports sometimes. Nobody in power at that university cares about the woman subjected to Keith Appling and Adriean Payne's charms, or Auston Robertson's victim, or Travis Walton's, or the various people subjected to the presence of Michigan State players in events that weren't sexual violence but were sure as hell violent. So why would they care about insistent reports dating back 20 years about a doctor abusing gymnasts?
Well, you see, sometimes we get to rub the big in-state school's nose in it. So, obviously. It's all good.
------------------------
There's an undercurrent in the Michigan fanbase that MSU is beneath notice. This is wrong, but I get it. There was a point in time in the past when the best revenge was celebrating with Paul Bunyan in the locker room. This is no longer the time we have, for various reasons. One is Michigan having various bad football teams. The other is what happens when MSU is beneath notice.
[Patrick Barron]
You've been noticed. We see you for what you are.
Well Jim Harbaugh just doubled down on calling Michigan State "bush league." Pulled out a piece of paper and read an old quote from Mark Dantonio: "It's not a product of the team. It's a product of the program."

— Nick Baumgardner (@nickbaumgardner) October 22, 2018
HIGHLIGHTS
AWARDS
Known Friends and Trusted Agents Of The Week
[Barron]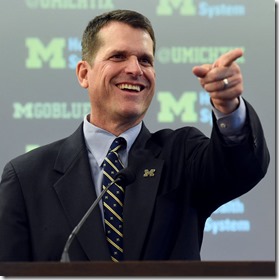 you're the man now, dog
#1(t) David Long, Lavert Hill, and Brandon Watson. The main drivers of a 5/25 passing performance. Joel Klatt, a former quarterback, reached untold depths of despair when trying to describe what Brian Lewerke was seeing downfield: absolutely nothing. Two points each because they're made up and don't matter and this section probably should have highlighted them more this season but doesn't because they barely get thrown at.
#2(t) Chase Winovich and Josh Uche. The other half of the dominant pass performance; three sacks between them, with Chase chipping in his usual level of run pursuit.
#3 Donovan Peoples-Jones. It was just one catch, but it was a good one.
Honorable mention: Karan Higdon had a Chris Perry kind of day. Shea Patterson had ups and downs but his legs are now a thing. (Don't tell any DCs about that.) The OL got another collective W.
KFaTAotW Standings.
8: Chase Winovich (#1 ND, #3 SMU, #1 NW, T2 MSU)
5: Karan Higdon (#1 WMU, #3 Nebraska, #3 Wisconsin).
4: Devin Bush(#3 ND, #1 Nebraska), Rashan Gary(#2 WMU, #2 Nebraska), Shea Patterson (#3 WMU, #1 Maryland), David Long(#2 Wisconsin, T1 Michigan State).
3: Zach Gentry(T1 SMU, #2 Maryland), Juwann Bushell-Beatty(T1 Wisconsin), Jon Runyan Jr(T1 Wisconsin), Donovan Peoples-Jones(T1 SMU, #3 MSU).
2: Ambry Thomas (#2 ND), Josh Metellus(#2 SMU), Brandon Watson(T1 MSU), Lavert Hill(T1 MSU), Josh Uche (T2 NW, T2 MSU).
1: Will Hart (#3 NW), Mike Dwumfour (T2 NW), Kwity Paye (T2 NW), Khaleke Hudson(#3 Maryland).
Who's Got It Better Than Us(?) Of The Week
[Patrick Barron]
Donovan Peoples-Jones gives Michigan the winning margin in one giant play when everyone in the world thought a coinflip slog was in the offing.
Honorable mention: Jordan Glasgow rakes out a fumble. BPONE mitigated by a couple of deflected catches. Patterson stands in and hits Collins for a first-half TD.
​MARCUS HALL EPIC DOUBLE BIRD OF THE WEEK.
Chris Evans fumbles to set Michigan State up at the 7, leading to a tie game and many sufferers of BPONE.
Honorable mention: Karan Higdon stumbles into the mesh point for another fumble. MSU's punter goes combo OBJ/Orin Incandenza. Patterson dorfs a couple of fairly easy TDs. The entire second quarter of implausibly not scoring.
[After THE JUMP: a SQUIRREL (not Devin Bush)]