A First Date with Bo, an Excerpt from Best of Bacon by the Titular John U.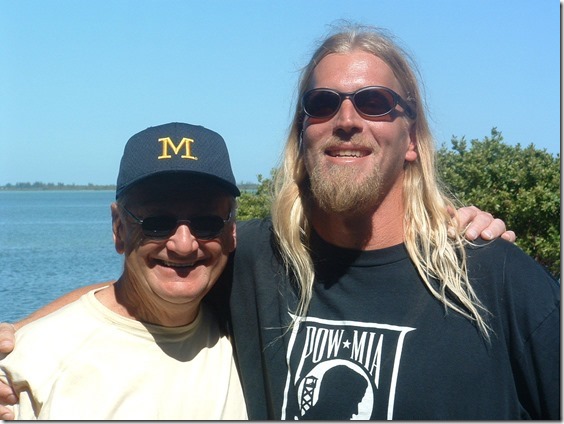 Bo visiting Steve Everitt in 2003 [courtesy of Amy Everitt via]
Oh you think you've got the whole Bacon collection do you? Your Bacon shelf has the Bo one, the Rich Rod one, the aww poor Urban can't get the pwiddy widdle Borens to like him one, the Cirque one, and a first edition of Brandon's Lasting Lessons from when it was still called Endzone. You've even got that hockey one from back in the day, the Saunders one, and the more recent one where they blew up Halifax during WWI and Michigan (spoiler alert) got a hockey program.
You don't have it. Bacon's been at this writing thing longer than your favorite bloggers have been drawing breath, and before there were books there were articles for a dozen regional and national publications tracking Bo Schembechler, Gordie Howe, Ernie Harwell, and Tom Izzo, plus first-person stories about getting killed playing the U.S. Open golf course, skating in a Detroit Vipers hockey practice, and lifting in Michigan football's weight room.
But you can have it because he put his 40 best articles in a book (and the 41st is slated to appear in ours). This best-of Bacon book is called, incidentally, Best of Bacon. He gave me first crack at an excerpt and I've chosen the one below.
This excerpt, "Bo's Back Where he Belongs," describes Bacon's first week following Bo Schembechler, back in 1996, which led to Lasting Lessons (the Bo one).
Bacon Tour 2018: Bacon will be appearing at the Ann Arbor District Library May 11, Chicago May 23, Traverse City's Indigo Hotel May 29, and Nicola's Books in Ann Arbor June 12. You can find more info on johnubacon.com.
On with the shew
-------------------------------
Bo's Back Where He Belongs
I first met Bo Schembechler in 1975, when I was a ten-year-old kid asking for his autograph at a Michigan hockey game—so nervous I could not think of my own name. I met him again in August of 1996, when I was writing a section on Fielding Yost for a book on Michigan football. We got along, and he agreed to let me tag along for a week in October of 1996—a very generous offer, to say the least.
By mid-week, I already knew I had a great story, and called my editor at the Detroit News from a pay phone (that'll date you) in Grand Rapids, urging him to spare all the space he could. He did, giving me 2½ pages, and the story earned national awards. When I met Bo in his office four days later, he told me, "Well, Bacon, you didn't screw it up—and frankly I'm surprised." In the next breath he asked if I wanted his papers—16 big boxes' worth, with everything from correspondence to transcripts to game plans. I soon realized he had given me the raw materials for the book we would write together ten years later, my first bestseller. But it started with this story.
[the article AFTER THE JUMP]