Spring Football Bits: Huggier Harbaugh Edition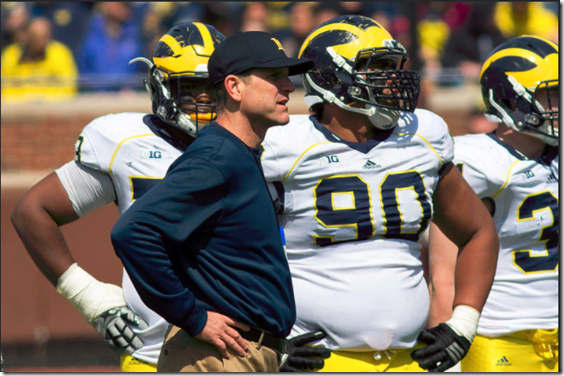 Spring the 4th: a little different than Spring the 1st. [photo: Eric Upchurch]
As fans of Kansas, Villanova, and Loyola-Chicago have informed me, Michigan is the only Final Four team that fields an FBS football program, let alone a hockey program, putting us in the unique position of reading tea leaves and entrails from spring practice at the same time that two real life championships are a pair of actual real life games away.
--------THIS IS YOUR FRIENDLY MGOBLOG REMINDER THAT YOU DO IN FACT NEED TO BREATHE IN ORDER TO SURVIVE AND SHOULD PROBABLY DO SO NOW--------
The general form of this annual exercise is the fans go in hoping to hear certain things, and then pressers, videos and the odd practice insiders confirm, ignore, or dodge them with miniscule data. So I'm trying this in a new, more spring-reflective format.
New Harbaugh:
What we want to hear: Depends if you're a Patton guy or an Eisenhower guy.
What we've heard: Harbaugh's gone Eisenhower.
The players have noticed a change in their coach in large part because he sought input from them after the bowl game that capped an 8-5 season. He held a team meeting in January after the bowl game, and they shared their feelings.

"We had a sour taste in our mouth," Higdon said. "I did, he did, everybody in this facility. He was open, (saying) 'What do we need to do? What can I do?' How often do you see that from a coach, asking his players? That's stronger than anything."
What it means: We're picking through pabulum here. There was a sense coming from outside Schembechler Hall that Harbaugh was doing more face guy/program ambassador work, but he does all those things in the time that he's literally not allowed to spend with his players. From the players' responses though it does seem he's been less aloof.
What it probably means is the coaching staff is taking last year's failings seriously, and they're trying to emphasize to the fans that they're doing so.
Also Jim's going to be a grandpa soon.
----------------------
[After THE JUMP: Stop me if you've heard this before but the defense sounds way more optimistic than the offense]
--------ALSO THIS IS ANOTHER FRIENDLY REMINDER THAT YOUR BLOOD DOES NEED OXYGEN AND YOU SHOULD PUT SOME OF THAT IN YOUR LUNGS RIGHT NOW--------