This Week's Obsession: All Things Go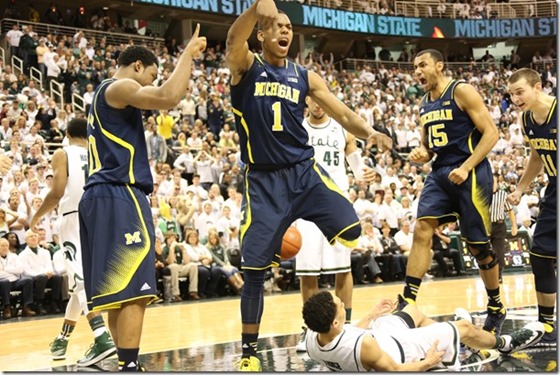 [Dustin Johnston|UMHoops]
My fellow Americans, the state of the union is lol. Abroad we have seen the greatest extension of three-point hegemony in our history. We have looked unto the face of Bo Ryan and lol'ed. Our troops deployed to the darkest reaches of Breslin, where the favored Izzo complained about every which thing, and we lol'ed. At home we have faced adversity and Hawkeyes, and won a great battle, and afterwards we lol'ed.
So I ask you, fellow Americans: how do we ensure the security of these lol's that we cherish?
How long will Michigan remain atop the Big Ten standings?
How long will the Big Ten remain the nation's best basketball conference?
How long will the basketball team remain superior to the football and hockey teams?
Mathlete: With Michigan State's win at Iowa, this year has all the makings of a two horse race with Michigan State. In Big Ten play, anything is possible, but at least a share of the title is highly likely at this point. With McGary, Robinson and maybe Stauskas leaving early, next year could be a tough hill to climb, but Beilein has done more with less. Even though Michigan has been recruiting at a higher level, they've missed on several of their top targets and that will likely keep them from being a perennial elite, first tier team. But based on the track record of Beilein, this team isn't going to be far from the top of the conference any time soon.
What's wrong, kitty cat? [Fuller]
Last year's conference lineup was incredible, this year's may still be the best, but the teams do seem to be down a bit from last year. Last season the Big Ten had 7 of the KenPom top 26 and 8 of the top 40. This year the eighth best team is Nebraska at #74. Indiana is in the process of rebuilding, Illinois is wandering in the desert, Purdue has turned into a football sch-can't even finish typing that joke. The top of the Big Ten is outstanding but there is a little more breathing room in the mid and lower tiers than last season.
The ACC has 5 of KenPom's top 22 right now and next year they swap out Louisville for Maryland. Once North Carolina finds their way again, they might be good enough to keep Dicky V at home and out of Michigan. Even if the Atlantic Coast steps up their game, no sport is more dependent on coaching and the B1G's best aren't going anywhere. Izzo, Matta, Beilein, Ryan and Crean are all firmly established winners with no indication of jumping ship. Over the next five years, I would be shocked if any other conferences were close to as good as the Big Ten and ACC.
Now this is the tricky question. Football has the capacity to narrow the gap, possibly as soon as this year. The roster is finally in place, all signs point to a good defense getting better in 2014 and the offense has been written about enough at this point. I'm not going to go picking a Rose Bowl or anything, but this season is the first that's 100% on Hoke. The pieces will be there and the excuses will be gone. If the football team can't get to 9 wins this season, that's probably another 3-5 years of basketball superiority as Michigan would be facing another football coaching spiral. I'm not even qualified to write about random number generating playoff hockey, but my guess is that its going to be easier for Michigan to sustain the basketball success under Beilein than re-establish the elite level at hockey. So I guess the 2014 football season will write the story on whether or not we've become a #basketballschool.
----------------------------
[Jump: more answers, and then Ace and I argue for like 6,000 words]