MGoPodcast 9.13: A Very Brady Hoke Well
Note: This podcast was recorded before all coaching Hell broke loose. Also before the Speight news.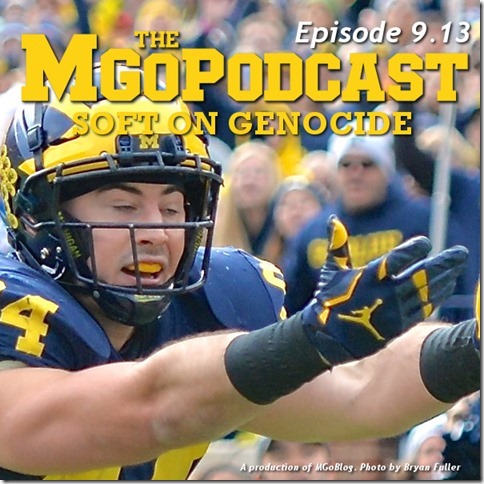 This was recorded at the Residence Inn Ann Arbor in one of their TEN conference rooms.
We Couldn't Have One Without the Other
We can do this because people support us. You should support them too so they'll want to do it again next year! The show is presented by UGP & The Bo Store, and if it wasn't for Rishi and Ryan we'd be sighing to ourselves.
Our other sponsors are also key to all of this: HomeSure Lending, Peak Wealth Management, Ann Arbor Elder Law, the Residence Inn Ann Arbor Downtown, the University of Michigan Alumni Association, Michigan Law Grad,Human Element, Lantana Hummus and new this week introducing Ecotelligent Homes
---------------------------------
Offense
starts at 1:00
We sympathize and agree with John O'Korn. Chris Evans coming out party: loved the motion stuff they did with him and Higdon on the field. Option routes are confirmed in the most horrific way imaginable. What a brilliant gameplan.
Defense
starts at 17:57
Valiant effort followed by a late fade when all hope is lost, as predicted. Hudson and Gary payoffs. Rampant first quarter, Gary went out to give them a hole. Man defense got burned when Barrett broke contain or when Khaleke missed an RPO assignment. Some pretty bad officiating, injury to Kinnel. Metellus got beat on drag routes—that's a speed issue and concerning.
State of the Program Feels
starts at 28:14
Outlook for Brian ever getting an ad read right is bad. Outlook for the team next year is good. Defense loses Hurst, which is big, but they have a lot of highly rated bullets. Would have liked to see more from the freshman linebackers in the running to replace McCray. Secondary isn't as starry but everyone's back and they'll be better than good. Offense loses the fullbacks and Cole, returns Peters, the RBs, the WRs, the TEs, and three good interior linemen. Can they find some tackles?
Around the Big Ten with Jamie Mac
starts at 56:31
We play match the blowout score to the Big Ten end-of-year rivalry blowout. Anything to say about these various hilarious blowouts? Wow Nebraska. Rutgers asked everyone to leave the stadium and use the porta-potties. Playoff implications of the two teams Michigan just lost to. Coaching searches.
MUSIC:
"How Soon is Now?"—The Smiths
"Why Is It So Hard?"—Charles Bradley & Menahan Street Band
"Beacon Hill"—The Rural Alberta Advantage
"Across 110th Street"
THE USUAL LINKS