Where Did Jim Harbaugh Go??
Disclaimer: To be completely clear, I think anyone even thinking about Jim Harbaugh's job status is beyond insane. He is our coach, and no one could be better than him. This is just a post with a small concern that I think is emotionally hindering this team and need to be solved.
In December 2014, when rebuilding our program from an absolutely catostrophic scenario, our interim Athletic Director Jim Hackett did the impossible and made IT H4PPEN.
What followed that was the reignition of our program by the wildest and gif-yiest head coach in College Football who attacked each day with an enthusiasm unknown to mankind, and certainly showed that every week on the sideline.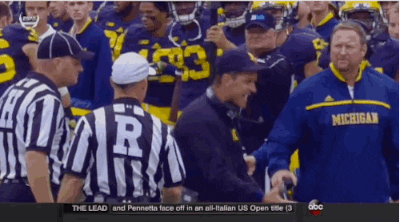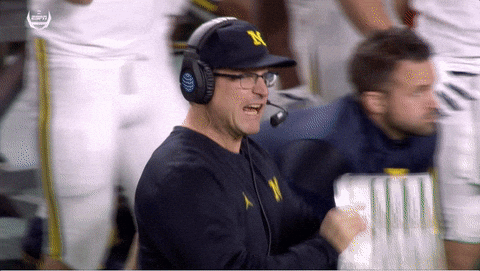 I could go on forever, you should get the point by now.
I don't know if you guys have noticed, but this version of Jim Harbaugh that we've known and loved has become almost non-existant this year. Instead, we find him pacing the sidelines, with a very stable amount of enthusiasm, not even close to enthusiasm unknown to mankind.
Michigan players have always (and sincerely) loved playing under such a coach, and I think that his activity on the sideline keeps a spark under the team and is a factor in their performance, as well as their positive opinion on him.
So where has he gone? Where is this Jim Harbaugh that we love? Where is the QB that guaranteed a win over OSU? Where is the coach who has a more honest and meaningful press conference, unlike his Hoke-like bland coachspeak we saw out of him last night? Where is his attacking of each day with an enthusiasm unkown to mankind?
I thought that this loss would be a breaking point and a huge wake-up call for him, where he realizes (and says) that this game was unacceptable, that at Michigan, you can't have such a losing record to your rivals. Followed by improvement back to the old, active, enthusistic sideline Harbaugh. Amazingly, we didn't see this. Instead, we heard the infamous "We're on to Cincinnati" approach.
Now, I've realized that he has still kept up his enthusiasm on the recruiting trail, and from what we've seen in practice, and that this seems to be strictly a sideline problem.
I have two ideas what the cause of this may be:
Number One: Tim Drevno needs to be on the sideline. Having a coaches in the press box decreases the ability to manage your team on a personal level. Our offense has sucked, and Drevno has been in the press box, our defense has flourished, and Don Brown has not only been on the sideline, but has looked more Harbaugh-like than Harbaugh has.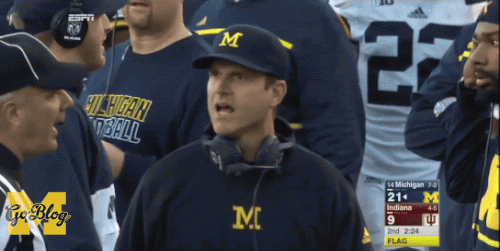 Number Two: Fear that the refs may call less favorably due to his antics. After the "technical in basketball" incident at OSU last year, I think he may have a fear that if he reacts too much to bad calls, the refs will tend to have calls go Michigan's way less.
Obviously, we have other problems that should be on our mind, and this isn't a direct factor to winning and losing games, but I think it does have an affect on how these guys play on the field, and if they show energy, passion, hope and care or not. With Don Brown pumping up the defense, they have stepped up, faced adversity, and delivered. With Harbaugh pacing the sideline and talking to Drevno up in the box, our offense has showed less emotion, and as a result, less success.
Has anyone else noticed this? Any thoughts? What needs to be done?