What the Notre Dame game cost me
Many of you saw my post prior to the Notre Dame game regarding the bet I made that Michigan would win the game.  For those that didn't: I'm in a band and we were on tour and playing in the Chicagoland area the week before the game.  My friend and I, who is also in a band and is a Notre Dame fan, agreed that the loser of the bet would get the winner's band's logo tattooed on him.
To be honest, I was so incredibly bummed after the game, but it really didn't have anything to do with the tattoo.  I don't think I've ever seen a more glaring example of the phrase "snatching defeat from the jaws of victory" than this particular game.  I know, I know, Big 10 goals all still in-tact, etc. etc. etc., but that one seriously stung.
Anyway, true to my word, I went to get the tatt this week.  His band's logo is a roughed-up looking circle around a fairly generic capital W, and I found a way to work it into my sleeve (an full arm of tattoos, for those who aren't familiar).  It's only about an inch and a half tall, so it isn't like I'm rocking a cow brand or anything. Many on the original thread seemed to think this was one of those things that would "SOOO not ever happen", so here is the evidence, albeit a bit bloody as I took this immediately after it was finished: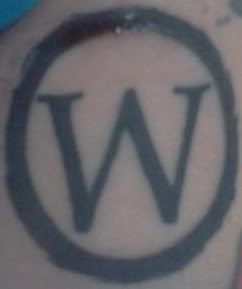 I really needed something to ease the sting of the lost game and, to a lesser extent, the lost bet.  So while I was at it, I treated myself to this gem of a tattoo, which now resides on the back side of my upper arm and leaves my sleeve nearly completed except for background/filler material: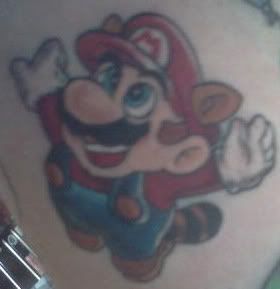 Anyway, there is the conclusion of my "cool story".  The logo tatt will serve as a lifelong reminder of the ever-present war between head ("this bet is a bad idea!") and heart ("my team will come through for me!").  The mario tatt will serve as a lifelong reminder that anyone who grabs a floating red leaf before it hits the ground can immediately sprout furry ears and a tail.  Go Blue, beat the Boilers.