The State Of Our Open Threads (Game Twelve, Year One, Era Of Harbaugh): After Ohio State
First, I will apologize for the extreme tardiness of this little feature - my trip to the Game was about 20 hours removed from a trip to the ER for what turns out to be one of those upper respiratory infections that involve a lot of unpleasantness, not the least of which is a nasty cough and the need for something with guaifenesin in it so you can in fact breathe normally for extended periods. So, yeah, going to The Game might not have been the best thing to do - not just for psychological reasons, but Saturday night and Sunday were....not pretty. Sleeping in a recliner to ensure proper drainage and within feet of a humidifer AND next to half a pharmacy of crap is not a good look.
Anyway, we made it through - just barely, but we did. It's Monday and we're slowly getting back into work or school routines or whatever. We've had time to process The Game and plenty of time to discuss its implications. Of course, we're here to talk about the fucks we gave, so let's delve into that.
We gave only 393 fucks during the Ohio State game - before you ask for a recount though, consider that a lot of people gave their fucks in person for this one, either at The Game or at viewing parties. Interestingly, the Ohio State game tends to be one of the "lesser attended" games online. The thread itself was not that much larger that the board average of 2,542 posts either (2,821 for this game). That was fairly consistently across most words - lighter than normal usage.
We gave 110 shits, which for this board is a middling performance, but 23 instances of fire, which is close to average, and this time, nearly all of them directed at Durkin and Baxter. 
The year-to-date summary is below: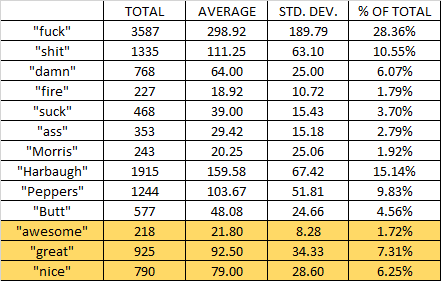 So, like every year we've done this, "fuck" is the board standard. We've used it to express elation this season, and then we've used it - as a fair number of us did on Satudary - to express frustration. The same can be said for many of these, and there's a comprehensive review coming in a few weeks which will have some context analysis.
Here is efficiency vs. percent of yearly total:
It is interesting to note that for all the visceral reactions in the Ohio State threads, they do not account for even 10% of the total for the season. The game which made us blow our stacks the most per capita is still Indiana, which is pretty easy to understand, I think. Actually, the overall efficiency fell off from even Penn State to 2.33, and adjusted for the original six in the analysis, it goes down to 4.20. That number is actually consistent with losses that we have taken reasonably well overall. I think some folks that I ran into after the game weren't even as upset as they were disappointed with how it happened, but everyone is different.
Here's the bar chart for the Original Six:
The season analysis will bear this out when you see the normalized graphs, but "fire" was a steady hum that you could barely hear, and for a great portion of the season, it was us complaining about the Big Ten officials giving, say, the Hoosiers a free throw for a pass interference call against us, or their inability to distinguish targeting from canned artichoke hearts. "Fuck" was much more variable, and the difference between the first and second half of the seasons is almost literally night and day with that and a couple other words.
Here's the Mood Chart: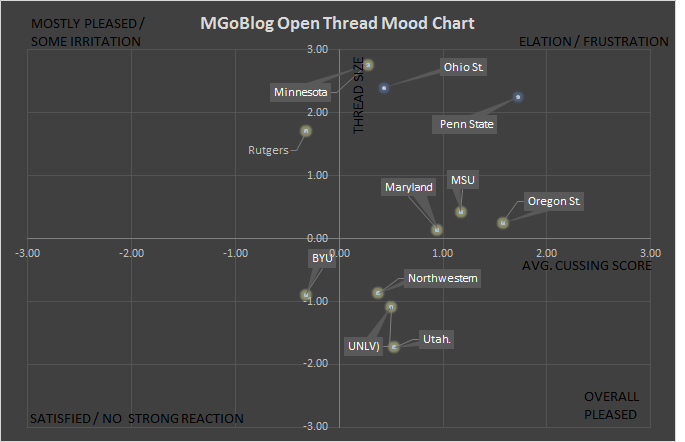 Frustrating game indeed. Actually, perhaps as frustrating in some ways as several others were joyous in some level. Incidentally, I know I keep saying this chart will change - it will, it has actually. I simply left the damn file on a USB drive which is currently sitting at my desk....at home. Never make a copy of a spreadsheet and then forget where the hell it is until you get to work.