The State Of Our Open Threads: After Ohio State
There will be a longer summary / analysis in the coming weeks, but here is the snapshot after Ohio State and the regular season.
Well, I must say this, first and foremost - I am rather proud of the blog for going relatively quietly yesterday. Indeed, there were only 278 instances of the tracked words / references, which is about a 75% drop in production from the Iowa game. Most notably, we only produced 132 "fucks" compared to the 482 we put out for the Iowa game, a drop of around 72%. Indeed, the only tracked word which even has a positive Z-score was "shit", and that was only 0.09, so we uttered "shit" only slightly more than the season average. 
So, the regular season is over, and for all the people who seemed to indicate that they had checked out to some degree, many did not do a stellar job of doing so. Indeed, over the course of twelve games, we gave 2,302 "fucks", so despite the pronouncements of some folks, I often wondered: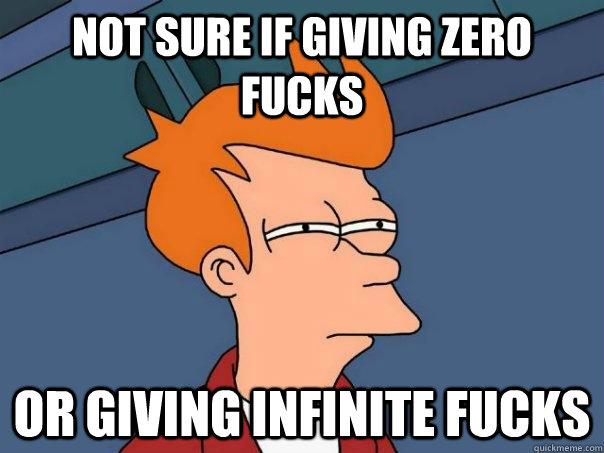 In any case, here is the overall summary:
| | | | | |
| --- | --- | --- | --- | --- |
|   | TOTAL | AVERAGE | STD. DEV. | % OF TOTAL |
| "fuck" | 2302 | 191.83 | 166.49 | 47.53% |
| "shit" | 583 | 48.58 | 27.74 | 12.04% |
| "damn" | 455 | 37.92 | 41.14 | 9.40% |
| "fire" | 480 | 40.00 | 49.37 | 9.91% |
| "suck" | 522 | 43.50 | 32.61 | 10.78% |
| "ass" | 314 | 26.17 | 26.32 | 6.48% |
| "put in Morris" | 187 | 15.58 | 16.81 | 3.86% |
So, for the season, the mix became relatively stable about halfway in and has not moved much since Penn State - we clearly prefer "fuck", and in a breakdown later, you see how we prefer it. The overwhelming majority of people prefer "fuck" as an interjection or adjective, though kudos to the few who successfully used it as an adverb - this was rare. I attribute the predictability to blogger development and the need to mix up the "shit" calls in the offseason. 
Many people have asked about the specific breakdown of references to firing people. A more detailed summary will appear in a later diary, but the quick highlights - 82% of the "fire" references were directed at Al Borges, with another 9% being directed at Brady Hoke. As a whole, we wanted a lot of things fired, including tablelamps and wheel bearings, but clearly the offense was our focus. 
Some highlights from the game-by-game breakdown might be interesting as well, even if the numbers aren't shocking. Far and away, the two most concentrated displays of general vitriol came during Penn State and Iowa - these two along account for about 43% of ALL instances. About 60% of the "fucks" we gave came in three games - Penn State, Northwestern and Iowa. We gave many, but in some rather adverse games, as you might expect, we sort of blew our collect profanity wad.
Here's the game-by-game totals - click on the image to go to the full size chart:
This confirms what you knew - November was a stressful month around here.For a clear dispaly of just how uneventful Ohio State was for purposes of these metrics, here is the normalized chart:
So, again - Penn State was our first delve into rage, with Iowa being the most concentrated display of fan dissatisfaction with overall performance. We can see here that Ohio State bears more resemblence to maybe Notre Dame if any game, and even then the comparison is not exactly a good one. We were...stable. 
Actually, our reaction to this loss was relatively contemplative. Here is the Mood Chart: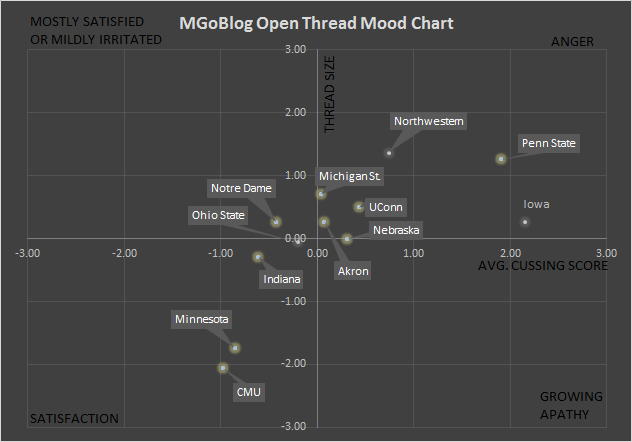 Ever so slightly, by this measure, we were satisfied to an extent with yesterday's outcome, at least in comparison to other games. We weren't mad, folks. Despite losing, we weren't really all that upset.