The State Of Our Open Threads: After Nebraska
As you might expect, the state of our game Open Threads is not good, but there is definitely some stuff that is worthing noting now that we have experienced the Nebraska game and our first home loss since 2010. 
We increased our production of cussing and general ill will towards things by an impressive 26.2% game-over-game from last week, which should quell fears - at least for now - that we are growing apathetic as a fanbase. In doing so, we have come within 100 instances of reaching the 3,000 plateau for the tracked words and references, and there are still three games left. 
In other good news, we are starting a trend of mixing up the words a little, although we continue to lean rather a lot on "fuck", particularly in the form of an interjection and adjective. We did decrase the overall mix of "fuck" by about another 2%, so it is down to 47.54% as part of the overall total. It won't shock anyone, but "suck" has taken a slight lead as the second most common of the tracked words at a respectable but still distant 13.05% of the overal total. 
Here is the updated summary data:
| | | | | |
| --- | --- | --- | --- | --- |
|   | TOTAL | AVERAGE | STD. DEV. | % oF TOTAL |
| "fuck" | 1381 | 153.44 | 155.76 | 47.54% |
| "shit" | 350 | 38.89 | 20.08 | 12.05% |
| "damn" | 320 | 35.56 | 46.90 | 11.02% |
| "fire" | 181 | 20.11 | 20.55 | 6.23% |
| "suck" | 379 | 42.11 | 33.58 | 13.05% |
| "ass" | 195 | 21.67 | 25.55 | 6.71% |
| "put in Morris" | 99 | 11.00 | 13.67 | 3.41% |
Hidden in here but quite notable is the spike in references to put in Shane Morris. Twenty-eight people had stated that they had their fill of Devin Gardner yesterday, which is the most since the Penn State game. Actually, more than half of the Morris posts tracked here come from that game and now yesterday's game. Here is the game-by-game count - if you double-click on the image, you will get to see the full-scale graph on Photobucket:
The normalized values: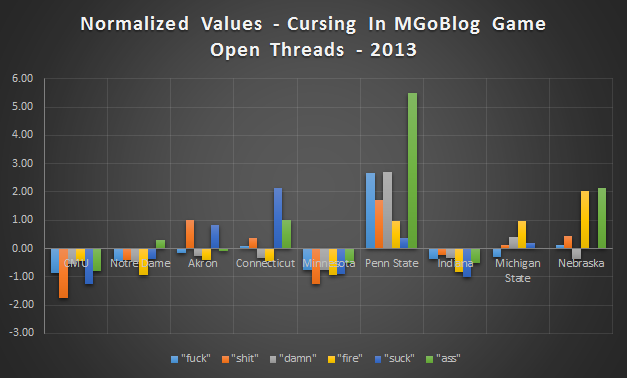 So, it will look different than last week's because of two spikes - we blew the doors off of calls for firing someone. The Z-value this week is 2.04. We also blew the door off of "ass" for some reason, relying on this word at a rate 2.12 standard deviations above the normal use of "ass". 
Here are a few interesting relationships that are within the normalized chart. First, something that I will call "F*ck-Fire Relationship":
It is still evident that the watershed moment for the season was Penn State, but you can see even with this subset of data that we've eased on the "fuck" and gone right to "fire" in the past two weeks. Obviously, the anger is understandable. Here's the "Shit-Damn" comparison:
"Damn" saw most of its life during the Penn State game, but "shit" saw spikes during Akron and UConn. My theory - as I was swearing off-blog - is that this was due to the unexpected flow of these games in combination with results. You can see "shit" trending back to decent levels, but "damn" is fading again. 
Preliminary results of accumulating data for a Pareto Of Discontent seem to indicate that 80% of the anger is directed at Borges, turnovers, negative run plays and 3rd and longs. More on this as I develop the metric.