Softball outscores Rutgers 25-2 in DH; Hutch gets 1500th win at Michigan
The final series of the regular season is here. Time absolutely flies. 
#19 Michigan took on Rutgers today on the road out in NJ. 
There was supposed to be a game at 3pm yesterday. However the weather forecast looked poor and Rutgers doesn't have lights (lol), so it was decided that today would be a doubleheader. 
This is a B1G "stadium". Yikes.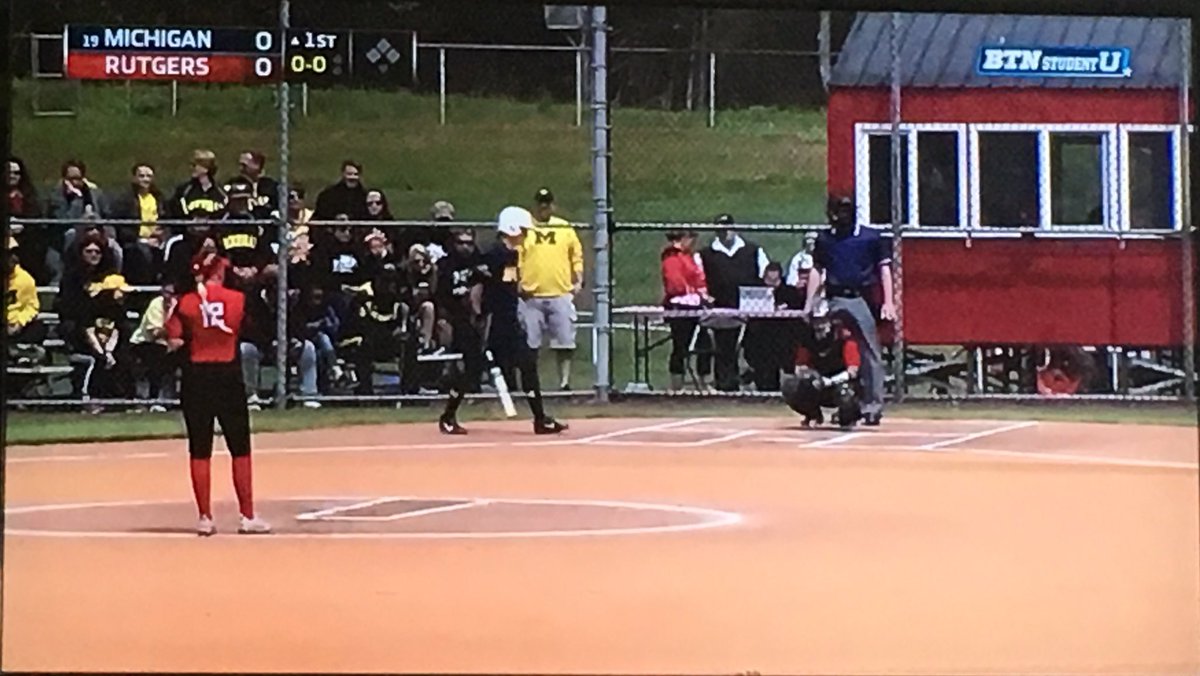 In the first game, the Rutgers hilarity ensued early setting the tone for the day.
With two outs and one on, Rutgers hit two Wolverine batters in a row to load the bases.
Katie Alexander then hit a routine groundball to 3rd that went between the 3B's legs. Two Michigan runs scored to give Michigan a 2-0 lead.
In the 4th, the local from Seaford, NY hit a bomb to LF. Monte put Michigan up 3-0.
Michigan added 3 runs in the 5th inning on a Blanco RBI single, a passed ball a sac fly by Monte. 6-0 Michigan.
Rutgers added an unearned run on a dropped strike three that would cross later on on a single. But it wasn't enough.
Michigan takes game 1, 6-1. Megan Betsa finishes with 12Ks.
This game was the 1500th win for Coach Carol Hutchins at Michigan. She already is the winningest coach in college softball history. She already was the first coach to hit 1500 career wins.
She's the winningest coach in Michigan Athletics history, and her 1500 wins and counting at Michigan will be very hard to top in the future.
30 minutes later, Michigan would again face Rutgers. RU coach Jay Nelson was on the record of saying facing Tera Blanco would be easier.
He thought.
After a Blanco sac fly gave Michigan a 1-0 lead, the rise of freshman Madison Uden continued. Her 2-run double made it 3-0 Michigan after one.
Rutgers coach Jay Nelson would get ejected from the game in the bottom of 1st after arguing a HBP no-call. He was filmed by the BTN+ crew angrily leaving the field with his bags and walking towards his car.
The floodgates opened.
Kelly Christner started off the 2nd inning with a 2-run shot to center field to give Michigan a 5-0 lead. After two singles, Aidan Falk cleared the bases with a 3-run blast.
8-0 Michigan, no outs.
Madison Uden hit another RBI double to make it 9-0. Then Katie Alexander hit a 3-run blast--the second for Michigan in the inning--to make it 12-0. Still no outs. An RBI single by Faith Canfield made it 13-0.
To recap the 2nd inning:
10 runs
12 hits
Two 3-run HRs
Batted around
RUTGERZ
After Michigan added another run in the 4th on a two-out RBI single by Tera Blanco, another big inning would happen in the 5th. Katie Alexander belted her 2nd home run of the game over the wall. A 2-run shot this time to make it 16-0 Michigan.
RBIs by Natalie Peters, freshman Haley Hoogenraad and Blanco made it 19-0 Michigan. All in the 5th inning.
Leah Crockett came in to get some reps in the circle, replacing Blanco. Rutgers unfortunately ruined the shutout in the 7th, but Abby Ramirez ended the game on a high note with a diving stop and putout to 2B to end it.
Michigan destroys Rutgers, 19-1 in 5 innings.
Michigan is now 40-10-1 and 19-3 in the B1G.
The regular season finale will be against Rutgers again, tomorrow at Noon.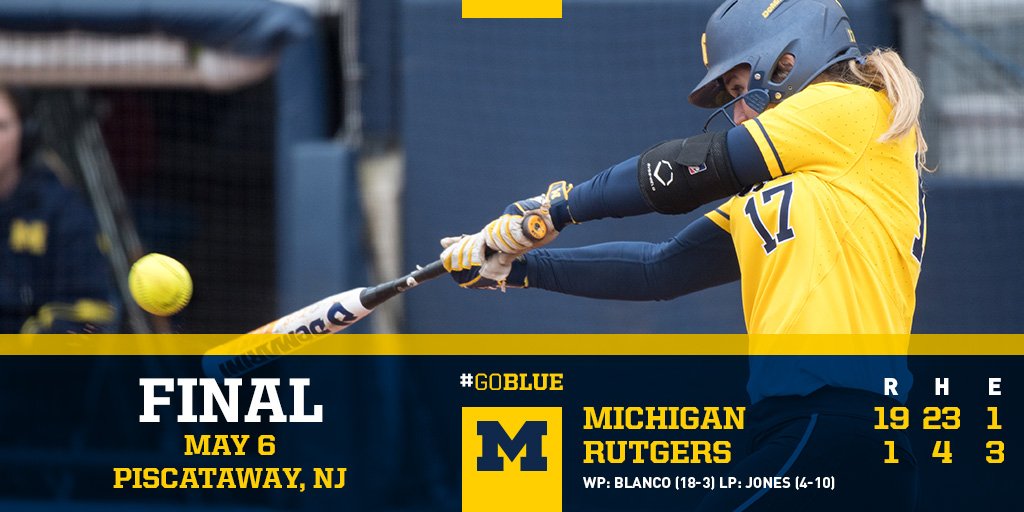 Look at this line. 23 hits in 5 innings. That's Michigan Softball.
And that's why I'm continuing to just post game recaps. Because this team and ALL OF OUR TEAMS deserve your attention. 
Go Blue!