I've watched Michigan football since as early as I can remember. The vaguest of memories is that first game where I saw Michigan come out (as always, as I would later learn) a bit sluggish in the Rose Bowl against Washington in 1978. I was 7 and didn't much understand football but my dad and I sat down to watch it together. Blink and it was 20-0, and my dad started pacing around the house, agitated. But if you recall any thing about Bo's teams, they had heart. They never gave up. And sure enough it was soon 27-20 with Leach driving them down the field to tie or maybe win. Leach looped one to Ralph Clayton who almost made another miraculous catch for the TD - a near miss. A few plays later, Leach threw a pass to Stanley Edwards (Braylon's dad), and for a second it looked like he caught it and was going to be down at the 2. Yes! But, somehow, the Washington guy picked it off. After a long delay, the replay showed the ball bounce of Edwards' hands, go up off his helmet, drop down his back, somehow get pinned against his body by the Washington guy, who then picked it off. Game over (well, almost). My dad said, "We're snakebit". I didn't know how right he was. He threw his cup at the TV at this point. Luckily, it was just a paper cup.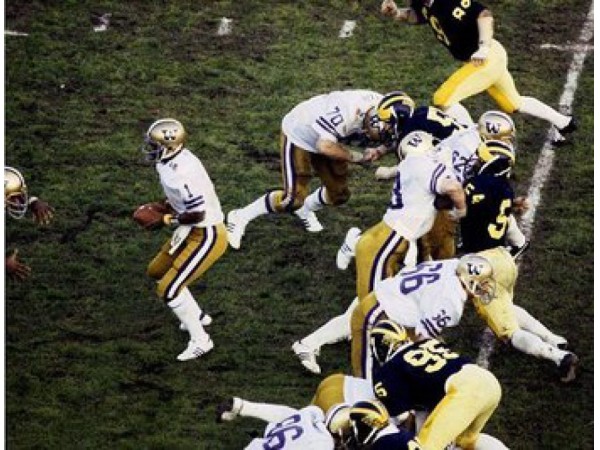 Yeah, we lost to Warren Moon in '78. At least it wasn't the refs... yet.
Next bowl game I remember was the very next year at the very same Rose Bowl. This time, USC. Only later did I learn that when Michigan plays USC in the Rose Bowl, strange shit happens. This game was the famous phantom TD, a play often listed as one of the worst calls in history. For those too young to remember, Charles White strides into the endzone to make it 14-3 in the second quarter. The only problem: he didn't have the ball, and Michigan had recovered. No replay yet*, so the call stands. Michigan loses 17-10. I cried. My dad could barely watch the game. We were convinced Bo might never win a bowl game. At this point I said something like "the referees seem to have it in for Michigan". My dad told me sometimes the calls go one way, sometimes the other. He was wrong.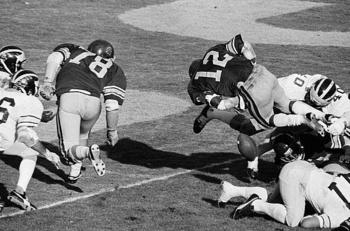 The ball, clearly not in CW's hands.
Bo's era ended on exactly such a note, and perhaps, in a Greek tragedy** kind of way, appropriately. I was a freshman then, and the year started with Rocket Ismail returning two kickoffs for TDs. Watching that game in the rain was a great way to start freshman year, let me tell you. But the real charmer was the end of the year, and of Bo's career. Once again, the Rose Bowl. Once again, USC. The year was 1990, and that USC team was stacked (Junior Seau, Mark Carrier, among others), but Michigan had some fight in them (much like what we saw yesterday). The game rolled on and soon it was late in the 4th quarter, Michigan down by a touchdown, doing everything it could to win Bo his last game. 4th and 2 sees Michigan call for a fake punt, and it was a thing of beauty. 24 yards! First down! But hold on, a penalty. A holding call. Game over. Read this article if you want to weep. In it, Bo says: "Oh, I'll remember this play! This play will go down in history like the phantom touchdown and all those others." He was right. The ref more or less later admitted that he just wanted to screw Bo; as overheard near the ref's locker room after the game: "There's no way I was gonna let that son of a bitch win his last game here." Snakebit.
Bo in his last game. He deserved better.
I had great seats a year later in a terrific matchup against Michigan State. Michigan scores to pull within one late in the game, 28-27, with just a few seconds left on the clock. Back then, kicking the extra point meant tie game, so Mo and staff decide to go for two. and the win. Great call, and Desmond is open, cutting past Eddie Brown into the endzone. Brown is beaten so he does the only thing he can: tackles Desmond. Somehow Desmond almost makes the catch anyway, but the ball sputters out. Game over. Refs calmly walk off the field. Help me understand why the refs at the Horse Shoe and other places always seem scared of the home crowd, but at Michigan Stadium they seem to know they'll be safe regardless of the shit they call***. We yell, we scream, and then just stand there for a while. The game is over. I walk home to my dorm room alone. Snakebit.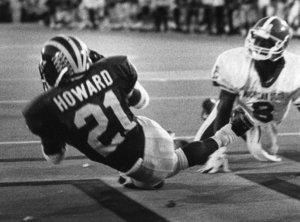 Howard almost makes the grab anyway. Almost...
I grow up. Great job, kids, wife, all that. But still hooked on Michigan football, of course, as is anyone reading this blog. It's 2001 now, and once again we play Sparty, this time in East Lansing. You know the game. The one that should have ended with Michigan stopping MSU near the goal line for the win. But "Spartan Bob" and his trigger finger stopped the clock, and 1 second remained. On the next play, Smoker lofted one that seemed to hang in the air forever, before dropping into TJ Duckett's arms. This time, I was watching the game while holding my little daughter. I yelled something at the TV as the game ended, and she started to cry. This, I think, is why she doesn't like football. It makes dad "act crazy".
Clockgate. I hate that everything is called SomethingGate, this included.
But mostly I hate Spartan Bob.
Let's go to 2006. The Game of the Century. I still think about what would have happened if Henne had hit a wide-open Manningham early on to make it 14-0. What if? But sure enough, this game would also come down to a game-changing call by the men in stripes. 3rd and long and Troy Smith rolls out. Coverage his great. He chucks it and it falls incomplete. Michigan is going to get the ball back, and I am convinced we will march down the field and win. But wait, a flag. Crable called for a late hit. Yeah, he came in a little high. But man those refs were sure happy to make that call. I don't quite get it; fast-paced game with a mobile QB and he's following through with a passing motion and somehow you are supposed to avoid hitting him in that situation? And if you don't think we're snakebit, well, remember the other big event of that week. Bo skipping his appointment with a doctor to give the team a speech. Bo dying not long after. The game felt like a funeral, and the outcome the bitter, final words of a eulogy as told by your worst enemy.
Fucking "late" hit. 
Finally, yesterday. When OSU needed a call to extend a drive, they got one. When OSU committed a penalty to stall a Michigan drive, these same referees seemed to be watching some other game. And finally, when a 4th and 1 run put the game on the line, the refs knew their job. Quick, spot it as a first down. Be the hero! Win the game for the hometown Bucks! Once I saw the spot, I knew Michigan was going to lose, and this was going to be another one of those damn games I'll remember for the rest of my life. Same damned snakebit team, screwed by the refs again, with history recording it neatly as a W for them and a big fat L for us. Man, fuck it.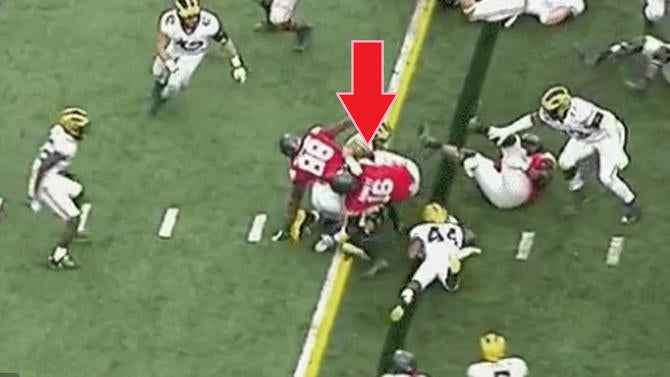 How I wish there was just one more angle on this damn play.
Though somehow I doubt it would have mattered.
The thing that really gets me about it all is the finality. While there is always next year, this damn year is ending on this damn note, with no justice of any kind to be had. Sure, I will cheer like hell for OSU not to make the playoff, and I will cheer like hell for them to get stomped by somebody, and I will eventually recover from yet another snakebit loss - after all, it's not like I played the damn game. But just once I wished some referee wouldn't get in the way of what would have been an absolutely beautiful and just ending to a game Michigan deserved to win. Just one damn time.****
---------------
* I understand that this presumes the referees would overturn the obvious fumble. I understand that such optimism is likely misplaced.
** What was Bo's tragic error, to deserve such a poor fate in Rose Bowls? I've always suspected it was his singular focus on Ohio State. The team would play the whole season for that game. The cost was the resulting Bowl Game loss, year after year after year.
*** I know, I know. We're so classy and polite. I hate that we're classy, sometimes. 
**** Thanks for allowing this post. Honestly, it was mostly just self-therapy. Writing it down helped, but only a little, if I'm honest. Age helps: I really didn't mind the Iowa loss, for example - we got outplayed. But I still can't quite get over games where I feel like the better team lost, thanks to all the help from the third team on the field, the refs.