Past recruiting classes for Michigan
I'm not a huge fan of ESPN and their recruiting site but it's interesting to read how they feel from year to year and how Michigans recruiting classes were.
2006 Rank 11. Michigan: B+
Michigan addressed defensive secondary needs with the addition of safety Jonas Mouton and S/CB Steve Brown. Justin Boren and Steve Schilling fit the mold of typical Michigan maulers from offensive lines of past.
2007 Rank 10. Michigan
Fans didn't care much for the Wolverines' 2006 class, but the 2007 class should please the masses. WR Junior Hemingway (Conway, S.C.) does not get enough credit for his abilities -- watch out for him. QB Ryan Mallett (Texarkana, Texas/Texas) might have the most upside of any quarterback Michigan has had during Lloyd Carr's days in Ann Arbor, including his days as an assistant. Where are the cornerbacks, though?
Five ESPN 150 prospects
Rich Rodriguez has to be pleased with his fine class comprised of system-fitting offensive weapons. ESPN 150 receiver Darryl Stonum (Stafford, Texas/John Foster Dulles) and Brandon Moore (Trotwood, Ohio/Madison) are great additions to the passing game. Up front, Dann O'Neill (Grand Haven, Mich.) could have fans forgetting about Jake Long in a few years. Adding athlete Terrence Robinson down the stretch was huge as was poaching system-fitting No. 4 guard Ricky Barnum (Lakeland, Fla./ Lake Gibson) from Florida on signing day.
Michigan #14
Commits:20ESPNU 150 Commits:4Top Prospect:DE Craig Roh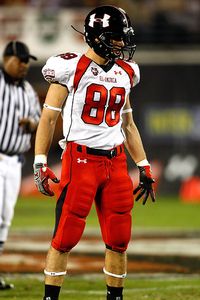 Craig Roh
 (
J. Meric/Getty Images
)
Michigan has had a few guys fly the coop, but it still sits just inside the top 15. The Wolverines have a pair of excellent defensive ends in Craig Roh (Scottsdale, Ariz./Chaparral) and Anthony LaLota (Princeton, N.J./The Hun School). Roh, the No. 4 DE in the country, was a disruptive force during Under Armour All-America Game practice and displayed a real nice spin move. The Wolverines also have the 14th-ranked QB in Tate Forcier (San Diego, Calif./Scripps Ranch). He has excellent speed for the position, but don't be fooled into thinking he's just a runner who plays QB. Forcier is actually a passer who happens to be athletic enough to run a spread or read-option attack with ease.
Michigan Wolverines #14
Commits:27ESPNU 150 Commits:1Top Prospect:S Demar Dorsey
Five-star commits:1Four-star:6Three-star:18Others:2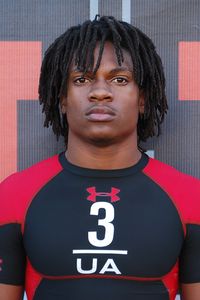 Demar Dorsey
 (
Davide De Pas
)
Previous rank: 21
Arguably the biggest surprise of signing day was when five-star S Demar Dorsey (Fort Lauderdale, Fla./Boyd Anderson) chose the Wolverines. Dorsey, No. 12 in the ESPNU 150 and the No. 2 safety in the country, is a great blend of speed, skill and natural talent. Dorsey, who was a Florida commit until just last week, is just the second ESPNU 150 prospect for Michigan, joining QB Devin Gardner(Inkster, Mich./Inkster). The 6-4, 198-pounder is very athletic, shows burst changing directions and could develop into a dangerous read-option operator. The Wolverines also landed two in-state, four-star wideouts, Ricardo Miller (Ann Arbor, Mich./Ann Arbor Pioneer) and Jeremy Jackson (Ann Arbor, Mich./Huron). Michigan also landed four-star CB Cullen Christian (Pittsburgh/Penn Hills), who has the size, quickness, fluidity and savvy needed to succeed at the next level. If he had better speed, he'd be mentioned among the nation's top corners.
2007, Where are the cornerbacks? I don't know, ask Lloyd Carr.