OT: A closer look at Hugh Freeze
Hugh Freeze has managed to reel in the greatest recruiting class in the history of Ole Miss Football.  This is an undeniable truth that the country is still trying to wrap its head around. Like everyone else, I want to know how a recruiting coup like this happened to a program seemingly headed no where.
A quick glance at Hugh Freeze's coaching record screams mediocrity, and a coach that hardly seems to be qualified to coach in the sec. Now, overall record isn't everything, because Brady Hoke's overall record before coming to Michigan wasn't world beating, but they were of course extenuating circumstances. (see taking over a horrid ball state program) His coaching resume includes a fairly successful high school program, Lambuth (yes Lambuth), Arkansas State, and various titles at Ole Miss. Nothing against those "fine" institutions, but they hardly seem like the type of schools on the resume of a coach who could bring in a class of this magnitude.
A closer glance at his High School program, could give us his credibility among certain recruits. As some, or most of you may know, he was the high school coach of Michael Oher, and was depicted in the book/ movie "The Blind Side". While seemingly unimportant to the MgoBlog community, that could resonate with a lot of kids, and a lot of parents in the recruiting circles. 
Still, his fame not withstanding, it would hardly seem to validate his ability to pull this kind of class down to a school like Ole Miss. Not to mention a highly publicized racial incident after the election this past November, and the flood of top recruits to Ole Miss seems crazy. I'm trying to look at this with a impartial viewpoint, but this top rated class at Ole Miss just doesn't add up.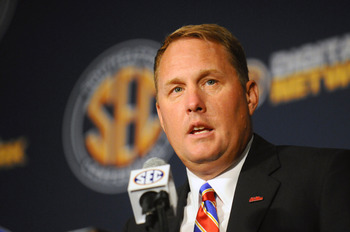 Does this guy look like a coach that screams great recruiter?