Michigan Cheerleading wins 3rd straight NCA National Championship
A dynasty has been born. 3-peat national champions.
Also, fun fact: Michigan head coach Pam St. John is Drake Johnson's mom.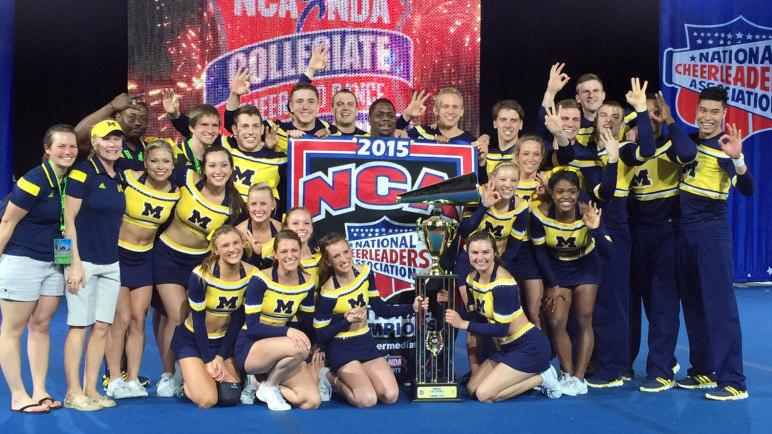 DAYTONA BEACH, Fla. -- The University of Michigan cheer team captured its third consecutive national title at the 2015 National Cheerleaders Association Collegiate Cheer Championship on Friday (April 10) at the Ocean Center.

The Wolverines claimed the crown in the Coed Intermediate I division, besting eight other teams that advanced to the final round following a preliminary round Thursday (April 9).

Michigan sat in third after yesterday's prelims, suffering a two-point deduction off their routine for a score of 85.03. That number advanced U-M from a field of 16 programs -- the largest, most competitive division in college nationals -- into today's finals.

Before today's performance, the Wolverines altered their routine in the hopes of improving upon the jumps and tumbling scores received in the preliminary round and boosting their maximum possible score.

The move by head coach Pam St. John and her staff paid off, as the Maize and Blue edged a talented SMU squad, scoring 85.78 points with no deductions to the Mustangs' also perfect score of 85.70.

Michigan has now won three consecutive national titles, finishing no worse than runner-up in the team's four competitions dating back to 2012.

The nationals team includes: seniors Ira Brandon III, Quinton Carter-Jones, Mimi Conley, Annie Dreisbach, Cassandra Gelov, Nathan Janes, Carly Pinkerton and Brett Schultz; juniors Evan Hampton, Tori Martinsen, Patrick McClosky, Nicolas Millado, Emily Savage, Kevin Waterman and Trevor Zajac; sophomores Hanna Gelov, Kaitlin Hamacher, Nicole Latham, Erica Myrick, Alex Snow; and freshmen Kristina Hollis and Priscilla Huddleston.