META?: MGoBlog alerts sent to your phone
So, in a thread yesterday about MGoBlog F5 condition, I brought up how I use MGoFeed to get SMS alerts every time an MGoPost or thread is added to MGoBlog.
There were some people in that thread that had no idea they could receive MGoBlog updates. So for those curious or wanting to get the big news and would prefer an instant text message alert when a thread is posted, here it-
STEP 1- (Ignore this if you already have a twitter account)
Make a Twitter account. No, you don't have to ever send a tweet. Ever. This is just a "decoy" to get the SMS alerts
STEP 2- 
Once you make your account, you will navigate towards the upper right hand corner of the web page where you will see your profile picture (an egg for those who just made a Twitter account).
When you click on your photo, a menu will pop up underneath it. see example:
You will then click "Settings".
STEP 3-
Once you click settings you will see a menu that says "Account" with a sidebar on the left side of your screen that contains various submenus. see example:
You will then click "Mobile" and begin your registration to enable SMS alerts. These alerts aren't any premium type deal and standard rates apply.
STEP 4- 
Once you go through the registration process with your cell phone which includes Twitter sending you a confirmation code, you will then go and search "MGoFeed" on twitter OR you can click here to get to the MGoFeed's twitter page.
This is MGoFeed's account photo FWIW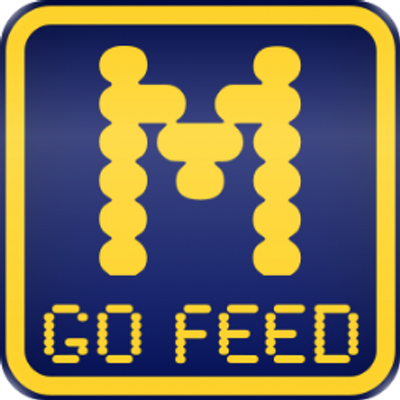 STEP 5-
Once you are on MGoFeed's twitter page, follow MGoFeed. Then, right next to the "follow" button, will be a gear. see example-
When you click on the gear, a pop-up menu will be revealed under the gear. There will be an option on there to "turn on mobile notifications". 
There it is. Enjoy! MGoFeed SMS alerts include a text message sent directly to your phone as soon as the MGoFeed tweets. These alerts will include all posts to main page, all MGoBoard posts and all posts in the mgo.liciou.us