META: Help Misopogon name his Tuesday Column
Usually I don't have such a hard time with this.
The Tuesday column needs  a name, and while there were some good suggestions in comments from last week, I'd like some more ideas from the board.
Here's one I've been kicking around, but I'm worried it's a bit obscure:
Summer Glaum: Decimation of Defense
Column name: good idea/bad idea?
sum·mer noun

1. the season between spring and autumn, in the Northern Hemisphere from the summer solstice to the autumnal equinox, and in the Southern Hemisphere from the winter solstice to the vernal equinox.

2. the period comprising the months of June, July, and August in the U.S., and from the middle of May to the middle of August in Great Britain.

3. a period of hot, usually sunny weather: We had no real summer last year.

4. the hotter half of the year ( opposed to winter): They spend the summers in New Hampshire and the winters in Florida.

5. the period of finest development, perfection, or beauty previous to any decline: the summer of life.
...plus
Glaum v. i. [Etymol. uncertain.] To grope with the hands, as in the dark. [Scot.]

To glaum at, to grasp or snatch at; to aspire to.
=
And because what I do with the column is almost exactly this: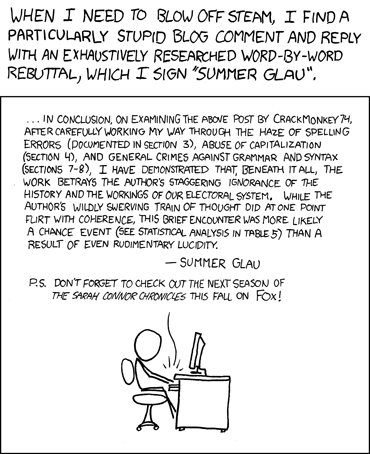 Like? Dislike? You're the folks this is written for, so if that won't make you chuckle every time you see it, please suggest something else.