The look of Legends patches, other official team gear (complaints)
My friend Matt and I got into a bit of a facebook convo on the current look and I figured I'd share in case anybody still wants to hash these things out.
Matt's in the yellow box.
Ok, a little rant here. While I was originally a fan of the concept, I now have to say that the Legends Jersey / Patch Idea is not working for me for several reasons.

1. The patch looks like one I would put on a kindergartner on a field trip so they don't get lost. I wouldn't mind the shield design with the legend's initials suggested in a post on mgoblog over the summer -- attached a screen-shot. (left)
Agree. But I feel like I'm howling at the moon whenever I bitch about it so I've stopped.
2. What happens in a situation such as Jake Ryan if he becomes a legend in his own right. Do you have two names on the jersey.
That's the sucky part but not TOO sucky. I mean...we still remember Steven [EDIT: Derrick -- wow that was ironic] Alexander and David Terrell and Braylon Edwards pretty well despite them wearing Anthony Carter's number.
3. With the new Big Ten Patch the Adidas logo (it should be on the sleeve not above the numbers -- see below for more) and the legends patch the jersey looks like a John Daly golf shirt or a nascar fire-suit.

Brandon needs to consult with a graphic designer rather than slapping something together from JoAnn fabrics.
David Brandon calls this a "Wow" experience. Imagine what happens when they need to add the Rose Bowl logo to this.
I hate the polo shirts with the Adidas logo on right side and the M on the other. I am buying a Michigan shirt made by the company. The company shouldn't take as prominent a position -- maybe I am being a little too picky.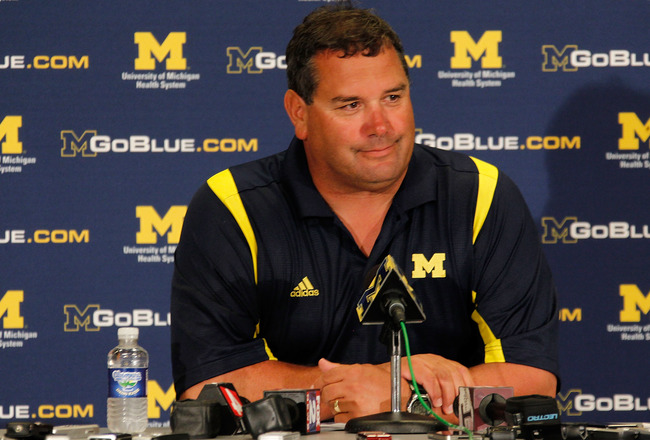 The official team gear has looked goofy and logo-dominated, with the possible exception of Carr's gray hoodies, since they first realized the coach can act as a de facto garment model. This (coaches as mannequins) goes back even before the Nike contract: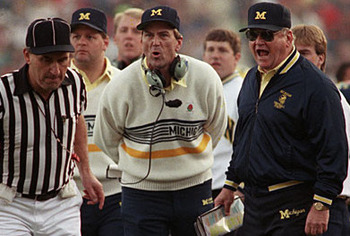 Actually I would buy that white sweatshirt today.
The reason they look particularly crappy today comes from two things: 1) Adidas is still at heart a soccer company that specializes in things that look best on European men, and 2) The type of fan who will buy whatever the coach is wearing because the coach is wearing it is the kind of guy who would otherwise be wearing a $100 shirt with his golf club's logo on it. No athletic department would pass up an opportunity to market their in-house golf shirts, especially not to reach the demographic who thinks "Space, Bitches" is remarkably clever (eg me).