Kenpom - Least Likely Comebacks
So, we all know there was a very tiny chance of Michigan completing its comeback against Kansas on Friday, as evidenced by the win probability chart Brian frontpaged earlier.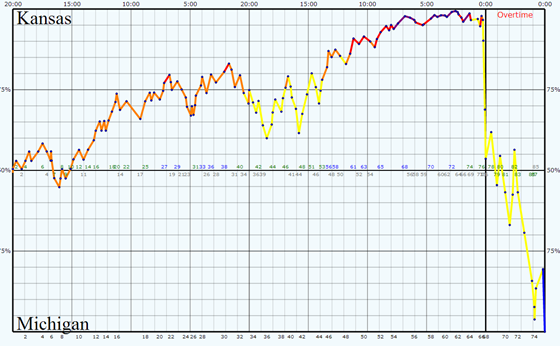 Kenpom records that at the worst, with just over two mnutes to play, Michigan had just a 0.62% chance to win.If that game happend 200 times, the math says Michigan would win one of them. (And another one would either be Schroedinger's Basketball Game or that weird 3/10ths of a child that American families somehow manage to produce on the regular, but I digress).
Was that the most unlikely comeback this season? Not even close. Kenpom Blog recounds 13 others that were even LESS likely. You'll need a membership to read about each game, but the article mentioning each one is free.
http://kenpom.com/blog/index.php/weblog/entry/this_seasons_least_likely_comebacks
The winner? Northern Kentucky over Jacksonville, trailing by 13 with just 2.27 to go, had a .22% chance. It just goes to show, never, never EVER say die.