Happy 100 Gerald Ford / There are...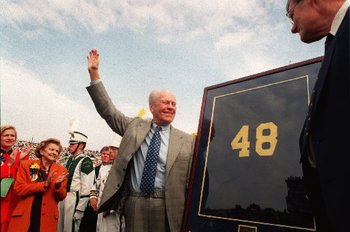 days until Team 134/2013 Michigan football takes the field against the chippewas of central for the first time since 2006.
There is no Michigan Man more notable than Gerald Ford (aka Gerry Ford, aka Mr. President) to wear the #48 for the Wolverines. 
two-time national champion (1932-1933)
two time Western Conference Champion (1932-1933)
1934 recipient of the Michigan Most Valuable Player Award (predecessor to the Bo Schembechler MVP Award)
Off the field, well, do I really have to say it? Gerald Ford became the 38th president of these United States. 
48 days comes at a convenient time. Why? Well Black and Blue, the documentary about Gerald Ford, Willis Ward and the 1934 Michigan-Georgia Tech game will be shown all across the state of Michigan on PBS at 5pm tomorrow! 
Another reason is that today is the 100th anniversary of the birth of Gerald Ford.
Last season, President Ford became the 4th player in program history to earn Michigan Football Legend designation. 
And Desmond Morgan became the first (and current) Wolverine to don #48 since 1993 before it was taken out of circulation for retirement. 
Happy 100, President Ford. American president and Michigan Football Legend.