Former Michigan Asst. & Washington HC Don James Fighting Cancer, On Chemo
Some sad news today that former Michigan defensive assistant and former Washington Huskies head coach, Don James, is suffering from cancer and is now on a schedule of chemotherapy. Thoughts and prayer to him and his family.  Hope he has a speedy recovery.
Don James with 1980 All-Americans, including Michigan's Anthony Carter, plus Dan Marino, Herschel Walker, Willie Gault, Stanley Wilson and Husky PK Chuck Nelson.
James is perhaps most famous for beating heavily favored Michigan in the 1978 Rose Bowl and for defeating Michigan again in the 1991 Rose Bowl game to win a share of the national title. 
Don James was 3-5 vs. Michigan all-time.
1978 Rose Bowl Washington 27 vs. Michigan 20 - Washington's first return since 1964.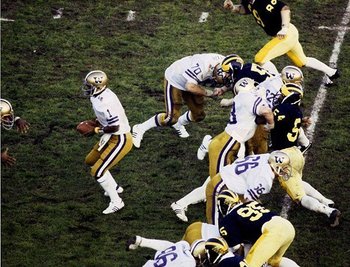 Don James was an assistant coach at Michigan in 1966 and 1967 under then HC Bump Elliott.