Former Brandon crony takes shot at Brian at 12:30am
In case you aren't on twitter and missed this hilarious exchange, I thought I'd give a recap.
So, this guy. Brian was tweeting about the DB/Hoke era yesterday and some guy sent this tweet to him and then deleted it 15 seconds later.
Unfortunately for him, I screencapped it.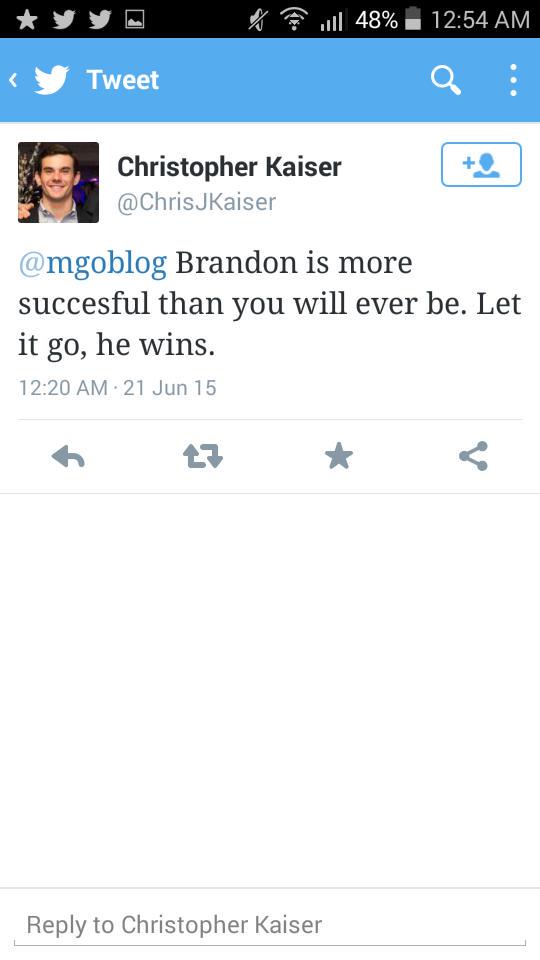 Brian quoted the tweet here mentioning the guy's profile
this guy's job is literally "Senior Manager of Brand Activation." https://t.co/OQVTbNAy5q

— mgoblog (@mgoblog) June 21, 2015
He works for the Phoenix Suns if you look at his twitter page.
After a quick google search, this guy not only works with Lochdawgg who is also with the Phoenix Suns, but he was a marketing guy at Michigan under Brandon.
Seems to me that Brandon's people knew alllllll about MGoBlog. So much so that they still think about it. I wouldn't be surprised if they had someone monitor the site. 
Also: let's keep in mind that this guy tweeted Brian at 12:20am on a Saturday.
That right there tells you he was a Brandon guy. Must all have that instinct to blast off hottakes and press statements near 1am. 
MGoTwitter reacts
A guy from the Lochdawgg tree tried to big-time @mgoblog on behalf of Dave Brandon after midnight on a Saturday. The internet is amazing.

— Bauncey Chillups (@_ac616) June 21, 2015
@mgoblog Wait, did he already delete that tweet? That's not brand activation of you ask me.

— Mark David (@The_MDA) June 21, 2015
@mgoblog @ChrisJKaiser This might be the best thing that has ever happened on twitter.

— jd melvin (@jdmelvin1990) June 21, 2015
@ChrisJKaiser @mgoblog quit drinking and go to bed

— † Wolverine Devotee (@MyNameIsWD) June 21, 2015
.@ChrisJKaiser how is your Brand Activation going bro?

— Andy Schreur (@skurnie) June 21, 2015