ESPN fluff on 2013 OL commit Kyle Bosch
http://espn.go.com/college-sports/recruiting/football/story/_/id/7594090/kyle-bosch-michigan-commit-just-good-field-on-it
[Math teacher] Kristina Lipskis was thrilled to hear Kyle Bosch committed to Michigan on Saturday.
"That's awesome, good for him," she said.
She then realized her math class at St. Francis High School in Wheaton, Ill., could have a little more flavor and energy than a typical Monday session. Lipskis was a swimmer at Ohio State.
"I know I'm not going to hear the end of this," said a laughing Lipskis, who has a Buckeyes banner hanging in her class. "... This year the [OSU football] team struggled a little bit. He liked to razz me about that a little bit."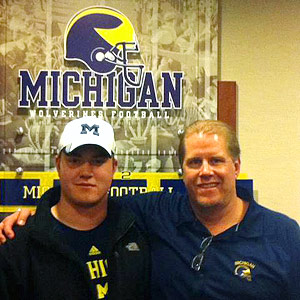 Courtesy Bosch FamilyKyle Bosch committed to Michigan over offers from Stanford, Notre Dame, Florida, Alabama and Tennessee, among others.
Bosch, who Lipskis named math student of the month in December, said he won't rest at just verbal jabs at Lipskis and Ohio State's expense.
"I'll probably give her a T-shirt or something just to be smart," the four-star offensive lineman joked.