The Coaching Search: A Parody
Arguably the most tradition-rich program in the nation, Michigan should leave no slippery rock unturned in its return to prosperity. It is for this reason that I choose to examine some of the lesser-known candidates. In addition, most people on this board are currently barking mad and could use a step back from the Heath Ledger. Without further ado, a list of unworthy candidates!
Charlie Weis
Experience: Offensive Coordinator Jets/Patriots, Notre Dame Head Coach, Your local buffet.
Pros: Weis would put Michigan on the map. Literally.
Cons: University is not big enough for both him and Barwis, but mostly him.
Interest: Rumors claim that his dream job is to consume a collegiate offensive line.
Little known fact: Once sued doctors who performed a gastric bypass on him and lost.
Outlook: Probably the best candidate on this list. Wow.
John L. Smith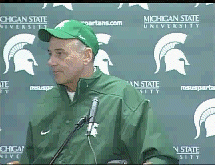 Experience: Head Coach of Idaho, Utah State, Louisville, and Michigan State.
Pros: His special teams unit at Arkansas came close to icing a game against Ohio State.
Cons: Known for giving away games against Ohio State.
Interest: Telling people to "snap out of it"
Little Known Fact: Climbed Mt. Kilimanjaro and ran with the bulls.
Outlook: Would likely continue current status of the program. Seasons would begin on high notes and end with suicide notes. Hopefully that would represent a decline, but I don't know anymore.
Joe Paterno
Experience: Attained "tenure" as Head Coach of Penn State
Pros: Big name, iconic coach who has a proven track record of occasional success.
Cons: The shock of receiving the offer and the ferocity of the response will definitely kill him.
Interest: Calling recruits to inform them that he is still alive.
Little Known Fact: Died three years ago.
Outlook: Poor. Paterno is likely to have trouble noticing that Denard Robinson exists, considering the speed of his movement. On a positive note, he would (in this hypothetical situation) deny his request for transfer.
Kirk Herbstreit
Experience: Midwest connections, Predicting Les Miles to Michigan
Pros: Would finally have inside information on Michigan's next coach
Cons: Would probably still announce Miles to Michigan
Interest: Ohio State, eating Musburgers, secret Les Miles infatuation.
Little Known Fact: Aspires to have the hair of GERG
Outlook: Destined to become the Lou Holtz circa ESPN of Michigan. Will predict Michigan to win twenty national titles in sixteen years, or some shit.
Speaking of...
Greg Robinson
Experience: Great hair and hides a gut like a true professional.
Pros: A Michigan man of the coaching pedigree of Rodriguez
Cons: Likely costed Rodriguez a job and fueled the fire of this coaching change chaos
Interest: Collecting tears of distraught Michigan fans
Outlook: Robinson just can't be as bad as he was at Michigan. Was it the result of being underpaid? Was it the schematic conflict with Rich? He sure does look good though. Should make silver fox cubs with Anderson Cooper.