A Call to Arms: Breslin Edition
         If we are mark'd to die, we are enow
    To do our fanbase loss; and if to live,
    The fewer men, the greater share of honour.
    God's will! I pray thee, wish not one man more.
    By Jove, I am not covetous for gold,
    Nor care I what loathsome spartan feed upon my  $65 stubhub tickets;
    It yearns me not if classless fools my garments tear;
    Such outward things dwell not in my desires.
    But if it be a sin to covet Victory for Michigan,
    I am the most offending soul alive.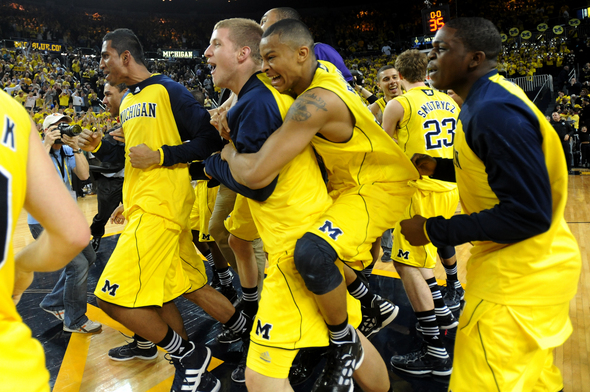 This day is call'd the Battle of Breslin.
    He that outlives this day, and comes safe home,
    Will stand a tip-toe when this day is nam'd,
    And rouse him at the name of Michigan.
    He that shall live this day, and see old age,
    Will yearly on the vigil feast his neighbours,
    And say 'To-morrow marks another spartan beat-down.'
    Then will he strip his sleeve and show his scars,
    And say 'These wounds I had at Battle of Breslin.'
    Old men forget; yet all shall be forgot,
    But he'll remember, with advantages,
    What feats he did that day. Our names shall never be as     household words-
    Tim Hardaway, Burke and Darius Morris,
    Glenn Robinson and Daniel Horton, Manny and Deshawn  
        Be in their flowing cups freshly rememb'red.
    This story shall the good man teach his son;
    And Battle of Breslin shall ne'er go by,
    From this day to the ending of the world,
    We in it will never be remembered-
    Only but a few of us will ever get to take a charge,
    To bleed on the court for the Maize and Blue
    We can but drive into the lions den,
    And brave the classless and the ignorant,
    And let our Champions know that THEY ARE NOT ALONE
   
        We few, we happy few, we band of brothers;
    For he to-day that sheds his blood with me
    Shall be my brother; be he ne'er so vile,
    This day shall gentle his condition;
    And gentlemen in Ann Arbor now-a-bed
    Shall think themselves accurs'd they were not here,
    And hold their fanhoods cheap whiles any speaks
    That stood with me and sang the Victors
     As 15,000 crying spartans make their way to the exits...
     Tuesday February 12 in East Lansing Michigan...
http://www.stubhub.com/michigan-state-basketball-tickets/michigan-state-vs-michigan-2-12-2013-4139686/