Borges loves recruiting to Michigan
Chantel Jennings, over at WN, wrote up a nice piece on Al Borges and how he enjoys recruiting for Michigan. Here's the link. The good parts:
"It's Michigan -- that's the bottom line," Borges said. "We're going to make people understand the advantages of coming to this university, and they go way beyond playing football. We just completely embrace that concept as a staff, and I think it resonates with the kids."
"I love recruiting here," said Borges, who has coached at Auburn, UCLA, Indiana and Oregon, among others. "Because it's the best sell of any place I've ever coached."
There are a few other money quotes in there, so it's worth the read, but it basically confirms what we already know about this staff: they love Michigan, they're honest, they genuinely care about the players, and they do a great job of letting the high points speak for themselves.
Also, how gorgeous does he look in these sunglasses?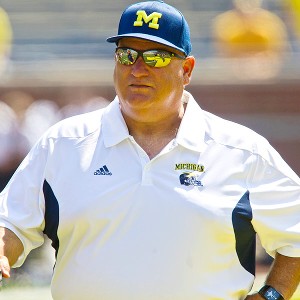 (The answer: of corges Borges looks gorgeous)