Article on Jake: The Life of Ryan
There is a marvelous free fluff piece over at ESPN by Rothstein entitled (LINK) The Life of Ryan.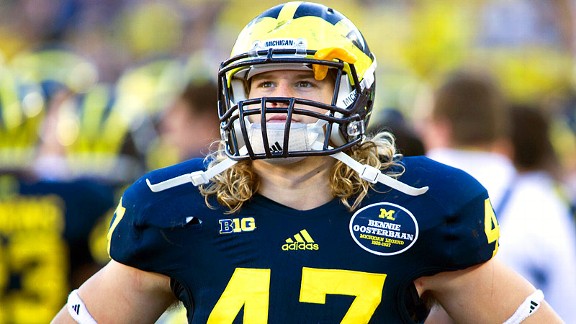 I thought it would surely have been posted previously, but a simple search shows no link.
Unlike many fluff pieces, Rothstein actually interviews real people back in Westlake, Ohio and at St. Ignatius, his high school in Cleveland, providing previously unknown background material.
There are two important general takeaways from the article.
First, the obvious and yet overlooked truism that recruiting is an inexact science. In Ryan's case, he wasn't really out there until his senior year. From the article:
Jake didn't play much linebacker his junior year at St. Ignatius. An injury left him replaced by a senior at linebacker, leaving Jake to special-teams work. Not many colleges knew about Ryan, and he received his first scholarship offer, from Toledo, only after doing some drills at a camp.

When he returned for his senior season at Ignatius, he had grown 2 inches and gained 20 pounds. And he still hit hard. By the middle of his senior season, when he compiled his own highlight tape in the living room of the family home, including doing the editing himself, he had blossomed.

"You looked at it and it was like, 'Oh, my goodness.' After seeing some of those plays and some of those hits and speed and the way he got after it, that's when I was like 'Here he comes.'"
Here at Michigan, we are looking at all these 2014 & 2015 guys, and sometimes forget that there are incredible guys in the class of 2013 who have been overlooked, or who grew late. It's important to be in on good guys early, but it also is important to remember to look at late bloomers.
Second, it is important to have a good network of alumni and coaches out there getting information about guys like Jake to the coaching staff.
His hard-hitting unorthodox nature caught the eye of a former Ohio Wesleyan football player who lived in the Cleveland are, who called one of his former coaches, Bruce Tall, the defensive line coach at Michigan. He told Tall he needed to stop by Ignatius.

Tall did, and then he went out to his car to call his bosses. "I got right back in the car and said, 'Ooh, boy, I've got to show you a guy,' " Tall said. Soon after, Tall returned to Ignatius with Robinson, and they met with Jake. This was the first big college to show interest in him. On Monday, two days after the offer, Jake committed.
Michigan probably would have never known about Jake Ryan outside of that phone call. The coaches can't see everyone, and guys on the ground who see good players make a huge difference.
If you'd like to find out more about Jake as a kid, and how he comes from a family where his brothers, father, and grandfather all played ball, read the article.