1973 Championship team addressed Team 134 today; documentary coming
The 1973 Michigan Football team was a special one. They bulldozed through the season with an elite defense only giving up 58 points in 10 games while picking up 3 straight shutout wins over Navy (14-0), oregon (24-0) and state (31-0) .
Most of us know how this season ended. #4 Michigan was down 10-0 to #1 ohio at halftime, and scored 10 unanswered points in the second half to tie the game. Mike Lantry missed on two FG attempts that would have won the game, sent Michigan to the Rose Bowl and possibly a claim of a mythical national championship. Both Michigan and ohio split the Big Ten title and the vote went to the athletic directors of the Big Ten to decide who was going to Pasadena. 
ohio went on a 6-4 vote by the ADs, despite Michigan outplaying them in the second half of The Game and shutting down Archie Griffin. People think they voted that way because QB Dennis Franklin was injured in the second half.  
While this was the only undefeated team coached by Bo at 10-0-1, Michigan was awarded a share of the mythical national championship by two selectors. I touched on this last year in a lengthy post on whether Michigan should claim it or not. 
Fast forward 40 years later from 1973, and the team addressed Michigan today after practice-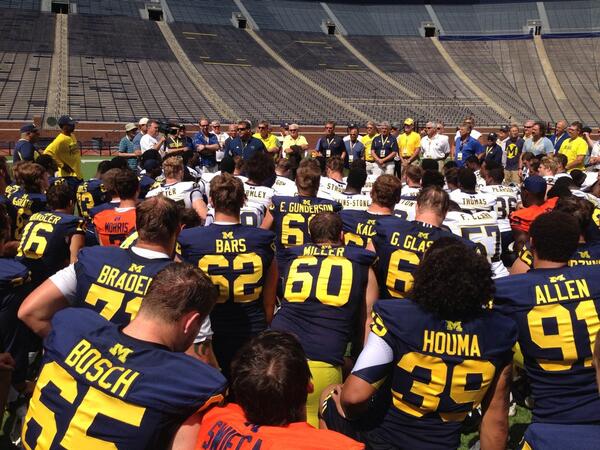 Also found this a few minutes ago. Apparently this guy is a director and does stuff for BTN's the journey and ESPN films-
New doc on '73 Tie Game coming soon RT @umichfootball: 1973 Michigan fball team spoke to #Team134 at the Big House. pic.twitter.com/xmFlmoaE3j