Wrestling the Alaska-Fairbanks Ice Bear Hockey Hype Video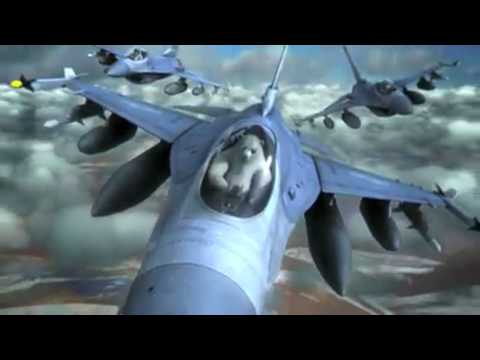 I am crazy for the Alaska ice hockey hype video that Brian has re-posted.  It's like watching a Kurosawa or a Kubrick film.  Or a vintage Chuck Barris game show.  You just know you're in the hands of a master.  I mean, every time I watch this video-- and I have watched it many, many times-- I have a new question about the ultimate meaning of the piece, or the inspiration for certain radical creative choices.  This time I'm wrestling with questions about the bear's motivation.  
Obviously I get the motivation behind the inciting incident in the opening sequence. He's pissed about how global warming, caused by western industrialized nations'  gluttonous appetite for self-gratification, as represented by the icebreaking Carnival cruise ship, has upended the nature's cycle by disturbing his annual iceberg-encased hibernation.  He reacts on instinct, as any giant mutant electro ice bear would: by summoning his lighting stick and wreaking complete destruction upon the ship.
And, though it took me a a couple of repeat viewings, I feel like I get why he takes things to the next level by scrambling his fellow giant mutant electro ice bear wingmen into the giant mutant ice bear sized F-16 fighters.  Oh the delicious irony!  Man's hubris ("Sure we'll build you some giant mutant ice bear fighter jets!  What could go wrong?") returns to  deliver a hellfire apocalypse upon those well-established symbols of human excess:  the college hockey arena.
And sure, I totally understand why the lead ice bear finds it necessary to nuke Earth in order to save Earth.  This is the human condition distilled.  Only through death do we truly know life.
But what I simply can't figure out is why he doesn't give his ice bear wingmen a head's up on the forthcoming planetary destruction.  What did they do to deserve that?  They were his wingmen-bears, man!  I know from a whole bunch of Jerry Bruckheimer movies that you don't leave your wingman-bear.  And you definitely don't NUKE your wingman-bear.  I mean, unless they specifically say: "Forget about me, do you hear?  I'm a gonner,bra.  You nuke this rock!"
This is not to say that there isn't a very good reason the filmmaker made this choice, because I know there is.  I just don't get it.  
Thoughts?