When We Went To The Air - A Look At 2012
I thought it might be an interesting exercise to evaluate the "behavior" of the passing game this season, if you will, by comparing the individual game numbers to the running average as it would have been at the end of a given game. To see what this would look like, I took a look at five major metrics and then made a sixth chart which simply compares passing touchdowns to interceptions so it is possible to see what the "behavior" was producing.
First, I looked at the NCAA overall QB rating for each game's passing statistics versus what the cumulative line would show for a rating. In eight games out of twelve, Michigan's QBs maintained a rating above what the cumulative statistics would have dictated at the end of that game. In a couple cases, it was barely above the cumulative rating – against Purdue (coming off ND), and against Ohio State (because of 2ndhalf).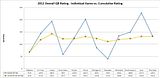 The charts for yards per attempt and yards per completion do somewhat mimic one another for obvious reasons, and it was my curiosity that led me to make both of these admittedly. That being said, they do not exactly follow each other during the games in which Gardner started. There is a steady decline in YPC from Minnesota to Ohio State, but the YPA is somewhat erratic in comparison.
Interestingly, the chart for completion percentage follows a somewhat similar track to the one for yards per attempt, although there are some noted differences. It is almost possible to say that the more vertical our passing game was getting, the more successful it tended to be. Without having done the correlation calculations, of course, I don't know what the strength of that relationship would be.
The chart for passing yards per game is interesting and tells a bit of a story, I think. Discounting Alabama only because one number is its own average, of course, we can see the following. When we were above the current average in a game, we were 5-0, and when our passing yards in a given game were below the average as of that game, we were 3-3.
Here is a quick look at the progess of passing TD and INT totals as the season progressed: