One play. For all of you who think that the only thing that matters
is the win-loss record, the end result, the final score; for all of
you calling for the end to this new Era before it's even begun;
for all of you mired in the media's negativity: think only on this.
One play. One play, here and there, and everything would be
different.
Overtime against Michigan State. 4-0 record hanging in the balance.
A miraculous comeback bid gets us to overtime. And then, one play:
Tate misses a read and keeps the ball, when he should have handed
it to Minor. The handoff would likely have led to a touchdown. The
touchdown, so disheartening to MSU, and spirit-lifting to our defense,
might have been enough to get them to the win. One play. One missed
opportunity. And we are 4-1 and not 5-0.
Last drive against Iowa. Denard having just led the team downfield
to close the gap to two. The ball in our hands, and enough time to
move it and try for the winning field goal. Denard rolling out and
Odoms breaking free right in front of him 15 yards downfield. If
he gets the ball he's into Iowa territory with plenty of time on the
clock. If he gets it we have a good shot at a field goal. If he gets
it, we are a Jason Olesnavage kick from 6-0 (assuming the MSU win too).
But he doesn't get it. Denard targets further downfield, and drops it
into the hands of an Iowa defender. One play. And now we're 4-2.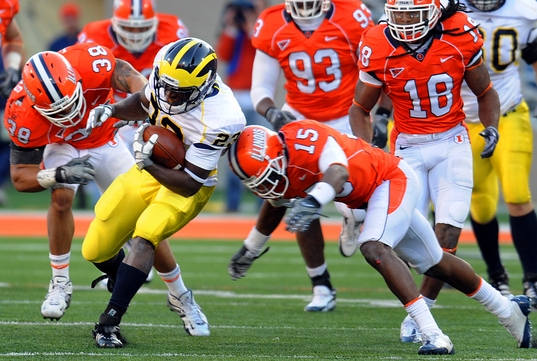 At Illinois. A long pass to Roundtree. If Roundtree just zigs at the
end of the run, cuts away from the approaching safety, the tackle
is nearly impossible to make. Touchdown, 20-7, and Illinois imploding
like they have many times this year. One play. One missed cut. And
one more loss.
One play can kill. These "one plays" have combined to kill this season,
turn a fall full of hope and promise of a new and better Michigan into a
winter of concern, dismay, and even enmity, filled with worries about
who we are and where we are headed.
But one play can birth something too. An extra cut on a kickoff
return that transforms a typical 10-yarder into a game-changing touchdown.
A block that breaks the running back free to rampage through the
secondary. A tackle that saves a touchdown. A kick that sneaks
inside the post instead of bouncing off of it. A pass not an inch too
high or an inch too low, and thus a first down and not an interception.
One play can do all that.
We don't need a miracle on Saturday. We don't need OSU to play their
worst.  We don't need a perfect game from our Boys in Blue. We don't
the smartest game plan we've ever had. We don't need the weather to be
just right.
What we need is much simpler: One play.
One play to save a season.
One play to define a new program.
One play.
Will we get that One Play? 
The Mind says no, but the Gut says yes. And today,
and tomorrow, and frankly, forever, I choose to listen
to the Gut.
Prediction for the game: Michigan 23, OSU 21.
Get that One Play for us, and GO BLUE!