Weekly Defensive Preview: Michigan State
As we draw closer to the fifth year gone by since Michigan has celebrated a win over Michigan State, those words alone make the statement of how important a win over State will be.  November 3rd, 2007 was the last date that we could claim a win and we have seemingly heard about it every day since they got the first win in their streak.  From Wikipedia –
After the game, Michigan running back Mike Hart called Michigan State Michigan's "little brother." "I was just laughing," Hart said of Michigan State taking the lead. "I thought it was funny. They got excited. Sometimes you get your little brother excited when you're playing basketball, and you let him get the lead, and then you come back and take it back." Mark Dantonio later responded to Hart's comment stating "I find a lot of the things they do amusing. They need to check themselves sometimes. But just remember, pride comes before the fall... This game is an important game. So they want to mock us all they want to mock us, I'm telling them: it's not over. So they can print that crap all they want all over their locker room. It's not over. It'll never be over here. It's just starting... I'm going to be a coach here for a long time. It's not over. It's just starting.

 
Since that game, Michigan State has averaged 31 points to Michigan's 18.  We lost to them in overtime in 2009, and they have scored twice as many points as we have in the last two years.  This year will also mark the fourth year in a row we have played them that we have been ranked in the top 25.  Their defense has been the key to victory in the last two years, keeping Denard in check; holding him to 3.3 yards per carry, and keeping his completion percentage to a mere 49%.  They have managed to stifle Denard with their smothering defense causing 4 interceptions over the last two years as well.  Their defense is playing well on paper, but there has already been some line-up shuffling mid-way through the year.  Will Michigan be able to figure out the Spartan defense this year?  I could say that this year will be different, as we have all said the last several years, but I won't.  We know that this is their Super Bowl.  They live for that ugly statue, and keeping it in East Lansing probably means more to some of their fans than winning a B1G Championship.  They aren't going to win this year by outscoring their opponents; because their offense is terrible; they will only achieve victory by bludgeoning their opponents with a staggering defense.  So what does Sparty look like this year on the defensive side of the ball?  Here's a peek at what we'll be looking at come 3:30 on Saturday.
All Star Performers
Michigan State had a great defense last year.  Period.  They were intimidating and brutal.  They were # 6 in defensive FEI rankings overall and #1 in the B1G.  Other than tackle Jerel Worthy and safety Terrence Robinson, they returned almost all the key components from last year's defense.  An All B1G 1st teamer and potential first round cornerback Johnny Adams, three 2nd team All B1G players - defensive end William Gholston, linebacker Max Bullough, safety Isaiah Lewis, and two players with honorable mention – linebacker Denicos Allen and defensive end Marcus Rush.  They have picked up right where they left off last year defensively and have only let 1 of their 7 opponents score more than 20 points.  It was 27 in fact, and those all came in the first half.  Versus Indiana.  Enter the questions – Why the line-up changes?  Why the concern by fans?  Which players are being talked about being benched?  Surprisingly, it is some of those same performers listed above.
Enter William Gholston.  This was supposed to be the year for Gholston to step up and lead this defense, possibly on his way to an early exit into the NFL.  So far his performance has been far short of the hype.  He has recorded only 1 sack and 5 tackles for loss this year, and is projected to fall well short of his 5 sacks and 16 tackles for loss last year.  Taken right from Gholston himself –
Gholston gave himself a "C" in grading his junior season thus far in telling ESPN.com on Wednesday he hadn't come close to reaching his standard of play, and it was clear after the Ohio State game that he was searching for ways to do better.
Mark Dantonio has felt the same way at times this year, even starting redshirt freshman Shilique Calhoun in favor of Gholston against Eastern Michigan, and in doing so leaving Michigan State fans puzzled as to what was going on with their overly-hyped all-star defensive end. 
Gholston has not been the only one to feel the pressure of underperforming.  STAR linebacker Chris Norman started this year as a team captain and first on the depth chart.  He has managed to work his way below sophomore Taiwan Jones and doesn't appear to be making his way back into Dantonio's good graces anytime soon.  It is not very common for a team captain to lose his starting spot so early in the year, but that event has symbolized how high the bar is set for this Spartan defense (some might even say it is too high).
Cornerback Johnny Adams has struggled as well, getting beat and looking lost at critical moments.  Adams has fallen well short of expectations this year; he even has some Spartan fans calling for his head.  This is probably not what the potential first round NFL draft prospect thought he would be hearing mid-way through the season.
Another team captain, MIKE linebacker Max Bullough has managed to rack up a ton of tackles, and leads all Spartans in that category, but has not recorded a single sack.  His constant pressure and relentless play have not been rewarded on the stat sheet, forcing people to ask if something is different with him this year as well.
Even though the defense is performing well by some metrics, in fact even outperforming last year's defense in S&P+ ratings, the lack of interior pressure and poor pass coverage in big play situations have some Spartan fans scratching their heads.  The talent is there, the coaching is the same, and yet somehow it all feels problematic.  Giving up 27 first half points to a team like Indiana is not something that they are used to.  Maybe a closer look at the different units will give us a better idea as to why there might be cause for concern in East Lansing.
Defensive Line
Nose tackles Anthony Rashad White and James Kittredge were given the task of replacing Jerel Worthy.  This was a huge task because Worthy's interior pressure was a big part of Michigan State's successful defense last year.  This pair of nose tackles, however, has not managed to record a single sack and has only 3 tackles for loss between the two of them.  Not exactly carrying the torch very well, and are most likely the biggest weakness in this Spartan defense.
The other tackle, junior Micajah Reynolds, has been kept even quieter than his interior defensive line teammates; he has only one tackle for loss on the season and zero sacks to his name.  Replacing Kevin Pickelman has been much more difficult than the Spartans would have liked.  Pickelman was a solid performer last year with 4 sacks and 7.5 tackles for loss.  Reynolds so far has only recorded 1 tackle for loss and has yet to record a sack.  This has really given opposing teams some flexibility when blocking Michigan State this year that they didn't have last year.  His back-up, Tyler Hoover, has been nursing a calf injury since the Notre Dame game.  This has hurt the Spartans depth at a position that could really use some help this year.
Having covered Gholston's less than stellar year above, we'll look at his cohort Marcus Rush.  Last year Rush had 12 tackles for loss and 4 sacks.  This year he has 4.5 tackles for loss and 1 sack half way through the year, and will potentially fall short of his performance last year.  Whether he is a symptom of this or part of the problem is purely speculation.  What can be said is that he isn't generating the same presence that he did last year.
There are definitely some signs that point towards vulnerability this year.  A big reason Notre Dame did well against State, was that they were undeniably successful on second down, in what might be one of the oddest stats of that game.  The offensive S&P+ rankings by down shown here –
| | |
| --- | --- |
| 1st Down S&P+ | 0.571 |
| 2nd Down S&P+ | 0.896 |
| 3rd Down S&P+ | 0.213 |
With their success on 2nd down, Notre Dame was able to avoid the confusing blitz packages that Michigan State likes to throw at you on 3rd downs.  When State did get pressure on Everett Golson, he was able to roll out and throw the ball away when he had to.  Notre Dame was also able to use Pat Narduzzi's aggressive play calling against them.  They deployed delayed hand-offs as an effective counter to Narduzzi's pressure – with a couple of those plays even getting some big yardage for Atkinson and Wood.
Linebackers
Michigan State utilizes a MIKE, SAM, and STAR linebacker – similar to Illinois.  Unlike Illinois, State uses their STAR linebacker more like a linebacker than a safety; they are also bigger and more physical.
If Michigan throws bubble or jailbreak screens, the STAR will be the player mostly responsible for that assignment.  The bubble screen was how starting STAR linebacker Chris Norman really lost favor with Dantonio during the Indiana game.  Indiana's bubble screens were successful in the first half because of a few things.  State likes to keep their safeties deep.  Indiana was getting Norman to bite on the fake running plays which forced the safeties to drop down and cover the bubble.  This was how Indiana got some big yardage passing; without safety help over the top, Indiana took advantage of man to man coverage on several deep passes.  Inserting the bigger, more physical Taiwan Jones paid off for the Spartans.  He made better decisions than Norman, and essentially held the edge and the bubble screen in check.  His play was singled out by Dantonio as the reason they kept Indiana scoreless in the second half.
Max Bullough, starting MIKE linebacker, is without a doubt the workhorse of this offense.  He has also suffered this year statistically because of Michigan State's inability to seal the edge.  He is a wrecking ball when he comes through the middle of the line.  Bullough was very successful at pushing the play outside to his fellow Spartans last year.  This year as he plows through, mobile quarterbacks have had an easier time escaping his pressure and rolling out to keep the play going.  With their outside linebackers and defensive ends getting sealed much easier this year, State is not getting the contain it needs to make a player like Bullough shine.  This was how Braxton Miller was able to rush for more total yards in one game against State than Denard has rushed for in two.  Rolling out or throwing it away will be critical when Denard has Bullough in his face.
At SAM for Michigan State is junior Denicos Allen.  Allen was a solid contributor last year, but has suffered the same fate as some of his Sparty brethren; a significant drop in stats.  His season might be more disappointing than Gholston's so far, even given the lack of media attention he gets compared to Gholston.  Last year he was a major threat in the backfield and terrorized opposing quarterbacks.  In 2011 he racked up 11 sacks, 18 tackles for loss, and 7 quarterback hits - making him the most disruptive Spartan defender on the field.  Half way through the year he has only recorded 1 sack, 4 tackles for loss, and has hit the quarterback 3 times.  His performance in the Iowa game was a step up as he recorded 13 tackles, 1.5 of those for a loss, and even added an interception for good measure.
This is really the group that Denard needs to make look silly.  Michigan's offensive line should be able to contain Sparty's defensive line, because that won't be our biggest threat offensively.  The linebackers keeping our short yardage plays in check will be.  If the run game can't generate yards, then expect Narduzzi to get pressure happy early on.
Cornerbacks
Johnny Adams was looking to improve his draft stock this year.  So far he has drawn a lot of criticism, mostly from his own fan base.  Having given up so many big plays and only intercepting the ball once so far, he hasn't done much to deflect it.  Some of the plays were not all his fault, (as documented above with Chris Norman's woes at STAR linebacker), as some of Adams' much needed safety help has not been present.  However, that hasn't been the case all the times he's been burnt this year though.  The first Notre Dame touchdown came when he lost track of where he was and let John Goodman score from 36 yards out.  After Eastern Michigan recovered a Spartan fumble at the 23 yard line of Michigan State, it was Adams that gave up a touchdown to Eastern on the very next play to Eastern's Donald Scott.  In the same game he also lost coverage on a potential touchdown pass that would have put Eastern Michigan ahead in the 4th quarter; once again it was Scott; but he dropped the ball and Adams was saved a second embarrassment.  Versus Ohio State, and only a few plays after Michigan State took a 13-10 lead on Ohio State, it was Adams that gave up a 63 yard bomb to Devin Smith – letting Ohio State claim what would be the game winning touchdown.  Against Indiana he gave up a 33 yard play on the fourth play of the game. Later in the same quarter he gave up a 21 yard touchdown to Indiana's Ted Bosler.  Again, some of his problems have been his safety help, but not all of it has been.  The fact is, Adams just isn't playing as well as he did last year, at times even looking lost.  Michigan State really doesn't have another boundary corner as talented as Adams, so expect to see him continue to get starts.
The field corner for Michigan State is Darqueze Dennard.  Unlike his counterpart on the other side of the field, Dennard has yet to record an interception.  An athletic player that comes with a lot less fanfare than Adams, Dennard did manage to grab 3 interceptions last year; matching Adams in that category for the season.  As the front seven continue to struggle to get pressure on opposing offenses, look for these two guys to be left in mostly man to man coverage. 
Against Michigan Narduzzi will certainly not want to give Denard time alone to make good throws with proper footwork, and will most likely have him shadowed by a safety/linebacker.  The corners will be on an island unless we come out throwing bombs (which we won't….errr I hope to God we won't).
Safeties
This is a group that has missed free safety Trenton Robinson this year.  Free safety co-starters RJ Williamson and Kurtis Drummond each have 1 interception to their name, but don't possess the veteran skills that made Robinson an All B1G 1st Team media selection at safety last year.  Williamson is a redshirt freshman and Drummond is a sophomore.
Strong safety Isaiah Lewis probably won't get 4 interceptions this year to match his last year's total.  He only has one so far this year but he is the 3rd most active tackler on the Spartan defense.  The 2nd Team All B1G player from last year has been a solid performer so far this year.  The Spartans will need him to stay healthy as his back-up Jarius Jones is injured and probably won't play in the Michigan game.
Personnel Summary
With such a high S&P+ ranking this year, and with almost all of last year's stellar defensive performers back this year, you wouldn't expect panic to be the emotion emanating from the East Lansing faithful.  That isn't the case though; because the offense is missing so much, the expectations were almost too high for this defensive unit.  A group that lost a monster presence in the heart of their defensive line and a veteran safety that was adept at making plays, Michigan State has some issues that have been exposed this year.  Bickering and blame have been really amplified because their offense woes; Dantonio is left to tinker and the defense is expected to be perfect.  Under this intense pressure, the Spartan defensive starters have found themselves making mistakes this year that they wouldn't have last year.  So far they haven't been able to pressure the quarterback much if at all.  They are vulnerable in places they can't afford to be, and this is causing them to give up game changing plays.  Plays like Braxton Miller's 63 yard game winning bomb; plays like Mark Weisman's 37 yard run that set up the game tying touchdown; those plays were not something that the Spartan faithful were used to seeing last year, especially not with the game on the line.  I don't expect them to give up the DERPY plays that have cost them a couple games this year when they play us, but it has me wondering if my expectation might be wrong.  Whatever it is with the Spartan defense that is off this year, it has presented the best chance for us to come away with a win and that ugly trophy in the last few years.  Why do I feel that way?  Let's look at the stats a little closer and you will see what I found in my research that has me slightly optimistic.
Run Defense
The run defense has been really good this year.  It certainly is not the reason that Michigan State is 4-3 right now.  In fact, their rushing defense is better than it was last year and is good enough for 3rd best in the nation.
| | | |
| --- | --- | --- |
|   | RUSH S&P+ | RK |
| MSU 2012 DEF S&P+ | 165 | 3 |
| MSU 2011 DEF S&P+ | 138 | 8 |
| ND 2012 DEF S&P+ | 148 | 4 |
Ugh.  Another year against a stellar run defense in green and white.  It isn't all bad though if we digest some of the numbers that Sparty has allowed so far.  I also threw Notre Dame in for comparison because we were able to move the ball well enough on the ground in that game.  While we only averaged 3.9 yards per carry, we did run for 161 and should be able to get close to that against Sparty; who is keeping opponents to 3.1 yards per carry.  All our yards on the ground will be earned, but our persistence should be rewarded.  As strange as this stat may seem, it also seems to be telling us the story of Michigan State this year.  These are the teams that Michigan State has kept under 100 yards rushing – Boise State (37), Central Michigan (72), Eastern Michigan (46), and Indiana (35), which were all wins.  They gave up the following yards to these teams – Notre Dame (122), Ohio State (204), and Iowa (123), which were all losses.  For visual reference, this chart –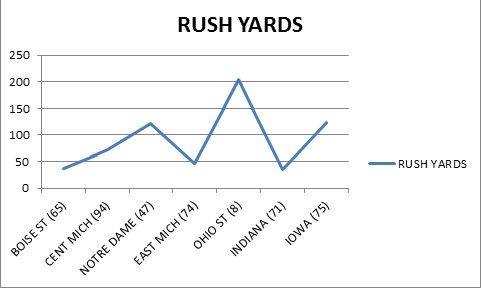 Team ranking by total yardage is in parenthesis.  As painful as running it may look to us at times, we shouldn't abandon the run game – it will eventually pay off.  If ever there was a time to yell "JUST RUN DENARD" at your TV screen, this will be the week to do it.
Pass Defense
This is where Michigan State seems to be having the most trouble.  I am hoping that Borges doesn't take the bait and walk into the trap that Dantonio has set for him.  The big pass play is on the table, the pressure hasn't been effective this year, and the corners and safeties are having problems.  Some of that could be that Sparty hasn't been able to get pressure on the quarterback this year, thereby leaving the secondary isolated for too long.  Some of it could be safeties making rookie mistakes, mistakes that Robinson wouldn't have made last year.  Whatever it is there is certainly something wrong with their ability to generate sacks.  Last year Sparty led the B1G in sacks, this year they are dead last.  When comparing the pressure aspect of State's defense this year to last year's Spartans and also to this year's Golden Domers, we can see why there is concern –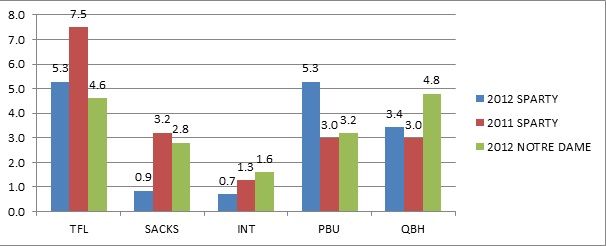 Last year's Michigan State was as good at pressuring the ball, and slightly better than Notre Dame this year.  This year's Spartans are only better at one thing compared with the other two squads – swatting down passes.  The reason?  Most likely because last year the opposing quarterback couldn't throw it with his face in the Earth.  I'm sure that Borges has this information and will be tempted to throw the ball a lot, but just writing that sentence makes me a little nauseous.  Also, I don't think we're going to need much more than 20 points for a win, so hopefully a steady diet of Denard, Fitz, and Rawls is the meal that we are planning for.  I think Michigan scores more than 20, but not much.  I'm seeing computer scores of 27-17, and that seems like it might be a little high, I'm going to say 23-12.