Weekly Defensive Preview: Illinois
After last week's venture examining Purdue's defense, I've decided to try my hand at creating a defensive preview each week for Michigan's opponent.  I will compound as many facts together about the opponent and try to give you as close to an insider look as possible.  We'll look at personnel, their defensive stats so far this year, and how they performed against Michigan last year.  So here it is - I give you the 2012 Illinois Defensive Preview.
2012 ALL STAR PERFORMERS
It could almost go without saying that Illinois has missed their award winning defensive end this year, Whitney Mercilus.   Mercilus was a unanimous 1st Team All American, a consensus 1st Team All B1G player, the winner of the Bill Willis Lineman Award, and also won the Ted Hendricks Award for best defensive end.  His shoes would be hard for anyone to fill, and Illinois doesn't have anyone who has remotely stepped up to that task so far. 
Michael Buchanan
It isn't all bad though; returning for his senior year on the other side of the defensive line is consensus 2nd Team All B1G bandit, Michael Buchanan.  Buchanan is rated as highly as the 2nd best DE in the draft, so he comes with great fanfare.  Buchanan has picked up where he left of last year, being quite disruptive.  He has 24 tackles, with 5 of those for a loss.  He leads the Illini with 2.5 sacks, and 11 passes broken up (!).  He even has an interception to his name which came in the 1st quarter versus Western Michigan in their season opener. Last week versus Wisconsin he recorded 5 tackles, 0 sacks, and was otherwise kept silent for most of the game.  Not exactly the game changing performance Illinois needs from him and hopefully we'll see a repeat performance this week.  FWIW - he has been bothered by his leg, (he was questionable for the Penn State game earlier this year), so there might be something there. 
Jonathan Brown
Also returning this year is 2011 coaches' honorable mention All B1G linebacker Jonathan Brown. From the WILL linebacker spot, Jonathan leads the Illini with 6.5 tackles for loss.  He is 2nd on the team in total tackling, with 38, and also has 1.5 sacks to his name.  Brown was also injured this year (a trend we will see throughout this preview), he was questionable for the Wisconsin game, but managed to play and record 9 tackles.  Similar to Buchanan, he didn't really change the game all that much.  He is playing hurt according to Tim Beckman, and gave a gutsy performance though his injury.  Those two have been the healthiest performers for Illinois, so that's where we'll stop this section.  Let's take a look at the defensive front a little closer.
DEFENSIVE LINE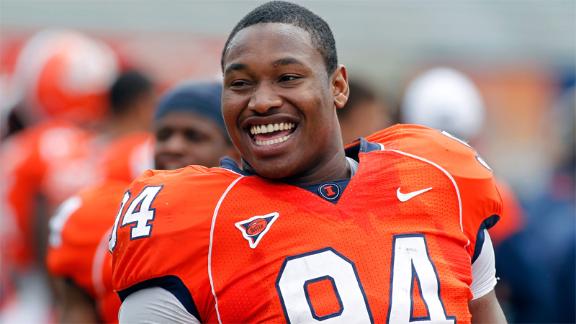 Akeem Spence
So now that we've looked at Buchanan, let's take a look at some of his defensive line teammates.  Akeem Spence is a junior defensive tackle that appears to be a victim of the change in the Illini defensive scheme.  Spence does have 27 tackles making him the 4th most active Illini player in that category.  However, he has not been very disruptive in the backfield, recording only 2 tackles for loss and 0.5 sacks this year.  Spence is capable of plugging holes, but so far this year that's about it. 
Glenn Foster is the other starting defensive tackle and has been even less impressive than Spence.  Foster has 13 tackles, with 2 of those for a loss, and has yet to record a sack this year. 
Tim Kynard has been starting at the other DE spot and has 9 tackles, 1.5 of those for a loss, and 0.5 sacks this year.  It's pretty safe to say that Kynard is no Mercilus.  Even worse than the stark realization that Kynard is not Mercilus, is that Kynard was seen on crutches at the Wisconsin game, so it's likely that Justin Staples will get the start versus Michigan.  This only compounds the depth problems for Illinois on the defensive line after sophomore DT Jake Howe went out for the season with a broken arm.  Howe was a backup for Akeem Spence.  
There is also this: starting defensive lineman not named Michael Buchanan have amassed 49 tackles, with 5.5 of those for a loss, and only 1 sack this season.  Versus Wisconsin, the Illini DL starters including players named Michael Buchanan recorded 14 tackles, 0 of those for a loss, 0 sacks, and broke up 2 passes.  They didn't pressure the QB much, if at all, and were slashed for pretty good yards on the ground.  Expect Michigan to game plan away from Buchanan as he is really the only disruptive player the Illini have up front.
LINEBACKERS
Ashante Williams
Having covered Jonathan Brown above, we'll look at the other workhorse of the linebacker set.  Illinois uses a safety/linebacker hybrid called a STAR, and their current starter at that spot is senior Ashante Williams.  Williams leads the Illini with 41 tackles this year, has 0.5 tackles for loss, 0.5 sacks, 5 broken up passes, and 1 interception that he returned for a 60 yard touchdown versus Western Michigan. 
At the MIKE position Illinois started the season fairly young.  An injury to sophomore Houston Bates left Illinois even younger.  His backup Mason Monheim is a true freshman but he has outperformed everyone's expectations so far.  For his performance against Penn State he earned B1G Freshman of the Week honors.  He is second among all Illini players with 38 tackles, with 2.5 of those for a loss.  He has also recorded 1 sack, 1 pass broken up, and 1 interception. 
That is where the bright spots end for the Illini at linebacker, unfortunately.  Similar to their defensive line woes - depth, injury, and experience will be a problem as the B1G season plods on.  Out of the 6 players in the Illini two deep at linebacker, 4 are freshmen, 1 is a junior, and 1 is a senior; the backups to the freshmen are mostly freshmen.  Between the depth/injury problems at DL and the depth/experience/injury issues at linebacker, long sustained drives will benefit the Wolverines as the game grinds on (IF Illinois could somehow manage to keep it close).
CORNERBACKS
(CB) Justin Green and (S) Steve Hull
I will start this section with an update on Terry Hawthorne.  For those that don't know, Hawthorne was the Illini player who was taken off the field on a stretcher against Wisconsin.  According to Illinois head coach Tim Beckman, Hawthorne sustained no serious injuries and was able to return with the team.  Great news for what looked like a very scary situation. 
With that said, Hawthorne will be replaced by a mix of senior Jack Ramsey and freshman V'Angelo Bentley.  Ramsey has 12 tackles and 2 broken up passes and is a slight step down from Hawthorne.  Bentley is very athletic and has the 3rd most broken up passes on the team, but is also a freshman with mostly special teams experience. 
At the other cornerback position is "The Observer," senior Justin Green.  Green has 17 tackles, 0 for a loss, 0 sacks, 0 passes broken up, and 0 interceptions.  His specialty appears to be watching receivers catch passes and then abruptly tackling them for good measure.  He was a highly touted 4 star recruit but so far hasn't lived up to the hype.  In his 2 years starting at cornerback Green has yet to record 1 interception and has only broken up 7 passes in those same 2 years (!) 
Losing Hawthorne takes the Illini from bad to worse at this spot.  The only relief for Illinois here is that the cornerbacks probably won't get picked on that much, as Michigan will focus mostly on the ground attack.
SAFETIES
A sad safety, Steve Hull
Illinois could really be in a bad spot at safety, had their projected starters not returned, well one of them has returned, I think, wait…nevermind.  Injury prone senior Supo Sanni and junior Steve Hull returning to the Illini starting lineup would help this group out, however Supo Sanni can't make up his mind on which limb he should abuse from week to week.  Will he play versus Michigan?  I dunno, ask me after the game.  Steve Hull looks very probable for the Michigan game though.  The replacement safeties (Earnest Thomas, Tommy Davis, and Pat Nixon-Youman*) have combined to record 59 tackles, 1 for loss, 1 interception, and 1 pass broken up.  Not exactly a lethal group without Sanni and Hull, and not to say that Sanni and Hull are world beaters, but Illinois is slightly better with them FWIW.  Against Wisconsin Illinois gave up a 62 and 59 yard touchdown pass.  The big play should be on the table for Michigan if they get past the second level of the defense.
[edit]*In the time it took to write this report, Pat Nixon-Youman sustained an injury, seriously.
PERSONNEL SUMMARY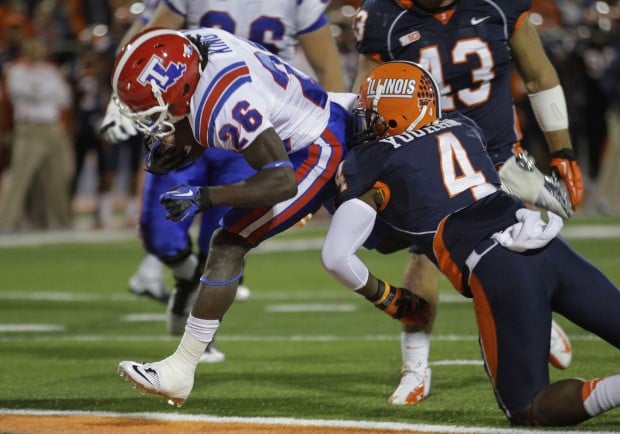 Pat Nixon-Youman
Lack of depth, lack of talent, a new system that isn't working, and player health are all problems for Illinois.  Buchanan and Brown are studs; the rest of their defense is either injured, confused by the new scheme, merely serviceable, just plain bad, or inexperienced (or some combination of a few of these).  Illinois could be in for a long and painful B1G season.  Their fans are already feeling it; just listen to the pain only half way through their season from A Lion Eye –
This season gets a D so far. The only thing preventing an F was the opening win over Western Michigan. We haven't been anywhere close in our three losses. Only the second quarter against Louisiana Tech could even be considered competitive. And the Charleston Southern game doesn't count. (By the way, Charleston Southern's losing streak is over. They beat Shorter University, a school that just made the jump this year from NAIA to Division II. And Charleston Southern only won 23-20. At home. Against an school transitioning from NAIA. They're the worst team we'll face in the next 50 years.)
There is growing frustration in the fan base about their inability to get pressure on the quarterback.
109th nationally and last in the Big Ten in sacks allowed. So why do we find ourselves in so many third-and-long situations? And why are our opponents in so many third-and-short situations? We can't get to their quarterback, and they can easily get to ours.
There is also blame being thrown around, as Illinois is not used to being blown out by more than 17 points.  For the record, they have been blown out by 17 in all of their losses this year.  Once again, credit to A Lion Eye for documenting the last four 17 point losses –
11/26/11: Minnesota 27, Illinois 7
11/12/11: Michigan 31, Illinois 14
10/16/10: Michigan State 26, Illinois 6
10/03/09: Penn State 35, Illinois 17
That's it.  Under Zook the Illini may not have been out for world domination, but they usually made you earn it.  Illinois went from being a decent running team that relied on their defense to keep them in the game, to a poor running team that has trouble keeping the offense off the field. 
RUN DEFENSE
So how can Michigan attack the Illini defense?  Take your pick, either option is quite appealing.  We'll start with the rushing defense.  Here is a chart showing rushing yards allowed versus opponent and the opponent's rushing yardage ranking (in parenthesis).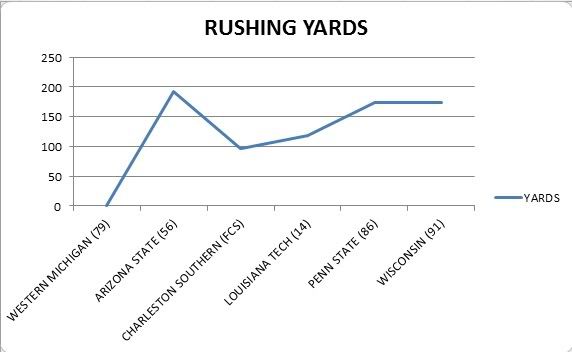 Notes:
I gave Western Michigan 0 yards, even though they had a negative day (-6) without adjusting for the sacks.  With a negative number it made the chart look strange and I couldn't figure out how to fix it, so yeah.
The average ranking of Illinois opponents for rushing total yardage is 65.  Illinois is ranked 38th in rushing defense, but that comes with the disclaimer that their opponents haven't been very good at running the ball this year.
The toughest opponent they have faced has been Louisiana Tech (18th in rushing offense),  Holding them to 119 yards should be commended, except that Louisiana Tech torched them for 284 yards through the air, so a running game wasn't really a necessary part of their strategy.  Also Louisiana Tech has 5 wins and 0 losses which should also be commended, except their 5 wins came against the likes of Houston (2-3), Rice (1-5), Illinois (2-4), Virginia (2-4), and UNLV (1-5).  Virginia just got torched by Duke, yes Duke.  If you are counting Illinois and Virginia as your quality wins, then using rankings is probably a moot point.
Illinois is giving up 100+ yards to everyone who is not Western Michigan or otherwise listed an FCS school.  Michigan is not Western Michigan or an FCS school; we should use this to our advantage.
Illinois gave up 173 yards to Wisconsin who has Montee Ball and James White.  They also gave up 173 yards to Penn State who has Zach Zwinak and Bill Belton.  All of these guys are great quality backs, but Wisconsin and Penn State are also the 86th and 91st teams in total rushing yards to date.
Watching the Wisconsin game gave me hope that Fitz can take on a more North-South running approach, as the holes that Illinois left open were wide and obvious.
For Wisconsin, Ball averaged 6.1 YPC and White averaged 7.0 YPC, and the long was only 23 yards.  Their numbers aren't skewed by an 80 or 90 yard run, which tells us that they gashed them for 7 to 10 yards all day long.  Watching the replay on BTN2GO confirms this.
PASS DEFENSE
I present to you the chart for Illini pass defense; each team's ranking is in parenthesis.
Notes:
The average passing yardage ranking of the Illini's opponents thus far is 49.  On average they have given up over 200 yards per game through the air.  Illinois is 63rd in passing defense so far this year. 
The highlight lowlight for their secondary was giving up 254 yards to a former walk on quarterback last week.  Wisconsin ranks 101st in total passing yards and this includes their "Air Raid" attack on a helpless Illinois secondary.
The only team that Illinois kept to less than 100 yards passing was an FCS school.
The only team that is not an FCS school that Illinois kept to less than 200 yards passing was [this portion intentionally left blank for future opponent].
2011 MICHIGAN OFFENSE VERSUS ILLINOIS DEFENSE
Fitz
Fitzgerald Toussaint 192 yard rushing party!  That was basically the ball game as Toussaint filled a major gap when Denard left with an injured wrist.  With the stellar performance by Toussaint, Hoke was able to leave Gardner in the game and not risk aggravating Denard's wrist more.  A 65 yard TD by Fitz highlighted his performance and his 7.1 YPC on the ground paved the way to an easy Michigan victory.  Michigan went through the air 15 times, only completed 8 passes, but got big yardage each play.  Both Robinson and Gardner averaged over 9 YPC with two of Michigan's receivers averaging over 20 yards per completion (!).   Illinois gave up 139 passing yards, 223 rushing yards, 3 rushing touchdowns, 1 passing touchdown, intercepted 1 pass, and recovered 2 fumbles.  
2012 MICHIGAN OFFENSE VERSUS ILLINOIS DEFENSE
Your Second Half Quarterback?
Look for a similar game plan as last year.  Michigan will give Illinois a heavy dose of running.  If Michigan doesn't turn the ball over, this might be over by the 2nd quarter.  If that happens, Bellomy should get some snaps, and we should see more of Thomas Rawls.  Computers are projecting a 38-14 final score; there isn't anything that I found in my analysis that would make me think otherwise.