Volleyball Mid-Season Review; MSU tonight
Saturday night, while we were doing our best to avoid the bros, the volleyball team upset #6 Illinois at Cliff Keen Arena.  It was a huge game for the spikers with Lexi Zimmerman posting her second career triple double (43 assists, 13 digs and 13 kills) in an epic performance, even for the best volleyball player in the history of the program.  Michigan now sits atop the Big Ten standings at 5-1 along with Illinois and Northwestern.
Senior setter Lexi Zimmerman is a two time All-American.  She's got ups.
This year the volleyball team expected a bit of a transition after making the elite eight and then losing outside hitters Juliana Paz and Megan Bower to graduation.  However the team is off to a scorching 16-2 start to the season, with a loss coming early on to Toledo and more lately at powerhouse Penn State.  How have they done it?  It's been an exciting mix of veterans and rookies for the Maize and Blue:
The Veterans
Everyone knows, or should know Lexi Zimmerman - the two time (soon to be three) All-American setter for the Wolverines.  Lexi is the floor general and has been doing what she does - DOMINATE - all season for the Wolverines.
Junior Alex Hunt needed to step up big this season for the Wolverines and she has.  She led the team with 19 kills against Illinois last Saturday and has shown that she can pick up the slack left by Paz and Bower.
Junior libero Sloane Donhoff anchors the back line for Michigan, routinely leading the team in digs. 
Junior middle blocker Courtney Fletcher got off to a solid start early and is well on her way to surpass her kill totals from last season.
The Newcomers
Several underclassmen have made a big impact on the team this year early on in their careers.  After appearing in only seven sets last season, RS Sophomore Claire McElheny is off to a great start to the 2010 season.  She has started 15 matches for the Wolverines and recorded 10 kills in M's upset of the Illini.  Her contribution has certainly been a big one and helped in the replacement of Paz and Bower.
True freshmen Molly Toon and Jennifer Cross have come on strong and are showing some promise for Michigan's future.  Jennifer Cross, a 6-4 middle blocker, has started 16 times this year for the Wolverines and notched 8 kills and 6 blocks against Illinois.  Molly Toon, daughter of the NFL's Al Toon, came up big in the Wolverines' win over Illinois, notching a career high-tying 9 kills. 
How They Got Here: 16-2 (5-1)
Michigan opened the season at the Toledo Classic, winning their first two games of the year before falling to the host Rockets in the championship game in five sets.  Since then the Wolverines have been on a tear.
M won 12 straight matches including an early season win at Oregon State and sweeps of the Michigan/adidas Invitational and the ASU Sheraton Tournament.
To start Big Ten play, Michigan hosted and defeated Iowa and #15 Minnesota before taking their first conference road trip.  On the road M beat OSU in 4 sets before travelling to Penn State.  While Penn State isn't the beast that they have been in years past (currently standing at 3-3 in B10 play), the Nittany Lions took care of the Wolverines in straight sets.
The Wolverines returned home this past weekend to defeat Wisconsin and Illinois.
Tonight: MSU at 7pm; Saturday #20 Northwestern at 7pm (Live on BTN)
If you want to feel better about little sister, come to Cliff Keen tonight, where the Wolverines should be able to take care of the Spartans.  Alex Hunt currently sits are 989 career kills and the good money says that she will notch kill 1000 against MSU tonight.
As previously mentioned, Northwestern is tied with Michigan atop the Big Ten standings.  So Saturday's matchup is a big one with a lot on the line.  Michigan will head back out on the road so it's important to get this win to set up what could be a great Big Ten season.
Looking Forward
| | | | |
| --- | --- | --- | --- |
| Wed., Oct. 13 | vs. Michigan State * | Ann Arbor, Mich. | 7:00 p.m. ET |
| Fri., Oct. 15 | vs. No. 20 Northwestern * | Ann Arbor, Mich. | 7:00 p.m. ET |
| Fri., Oct. 22 | at Indiana * | Bloomington, Ind. | 7:00 p.m. ET |
| Sat., Oct. 23 | at Purdue * | West Lafayette, Ind. | 6:00 p.m. ET |
| Fri., Oct. 29 | at Illinois * | Champaign, Ill. | 7:00 p.m. CT |
| Sat., Oct. 30 | at Wisconsin * | Madison, Wis. | 7:00 p.m. CT |
| Fri., Nov. 5 | vs. Penn State * | Ann Arbor, Mich. | 7:00 p.m. ET |
| Sat., Nov. 6 | vs. Ohio State * | Ann Arbor, Mich. | 6:00 p.m. ET |
| Fri., Nov. 12 | at Minnesota * | Minneapolis, Minn. | 6:00 p.m. CT |
| Sat., Nov. 13 | at Iowa * | Iowa City, Iowa | 7:00 p.m. CT |
| Fri., Nov. 19 | vs. Purdue * | Ann Arbor, Mich. | 7:00 p.m. ET |
| Sat., Nov. 20 | vs. Indiana * | Ann Arbor, Mich. | 7:00 p.m. ET |
| Wed., Nov. 24 | at Michigan State * | East Lansing, Mich. | 6:30 p.m. ET |
| Sat., Nov. 27 | at Northwestern * | Evanston, Ill. | 7:00 p.m. CT |
If Michigan can go to 7-1 in conference play this week, they set themselves up for a legitimate run at a Big Ten Championship.  The Big Ten is one of the best volleyball conferences in the nation, though, so they'll need to show up every night.  A westernish road trip to Indiana and Purdue should produce two victories, but road games are road games.  It'll be the following week at Illinois where we see what this team is made of.  In their first true road test they fell hard to the Lions.  Can they show up and upset the Illini for the second time on the season?
After four on the road, it doesn't get any easier with Penn State coming to town.  But with Penn State's losses to graduation this could be the year (last year M took them to 5 sets) that Cliff Keen witnesses a victory over the Nittany Lions.
NEEDS MOAR PAZ
I agree.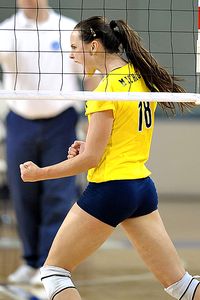 Better.