Ugly Game of the Week - Week 9 Edition
Welcome once again to the Ugly Game of the Week.
We're getting down to the end, I'm afraid, as there are only about seven winless teams out there in Division I, and none of them are in the same conference. So, the word of the week this week is "cupcake."
Last Week
Penn State v Minnesota did not disappoint. Penn State was 2-10 on 3rd down, Minnesota outgained them by almost 100 yards, and yet Penn State won 33-21. I have no idea how. If you looked at the box score, you'd probably say Minnesota won, but they didn't. C'est la vie. This is not the week to pick on Minnesota; they're playing Ohio State (who just disemboweled Purdue), so go get 'em Gophers!
Speaking of that state, Ohio (NTO) clubbed Miami (NTM) 34-13; Miami did not help their cause with 6 turnovers. Key matchup: STOP THROWING TO THE WRONG TEAM! This game probably didn't ever make the ESPN ticker, so momentary confusion for Miami fans saying "Wait, didn't we already play them, and we're losing?" was averted.
Last, the ESPN headline says it best: "Sparse crowd watches Virginia drop E. Michigan." The EMUs were only down a field goal at half time, but their second-half drives were "punt, TD, punt, INT, punt, punt," whereas UVA scored on every drive of the second half. FTR Ron Enlish is now 1-19 in two years at that other Washtenaw County school.
This Week
Mmmm, cupcake mascots...
Speaking of mascots, there's some funny matchups this week, where top-ranked unbeatens go up against a variety of delectible baked goods. Numbers 1, 3, and 4 all play virtual nobodies. Sure, they're in-conference nobodies, but still nobodies.
s vs.
s
Starting at the top we have Auburn playing Ole Miss. The Mississippi Rebels finally seem to have caught on to the fact that they lost the Civil War, meaning they're not so much rebels as loser traitors (fun fact: the University Grays, a regiment made up almost entirely of Ole Miss students, were the biggest losers of the entire war, sustaining 100-percent casualties in a single charge):
(Other schools named for warrior groups best known for getting absolutely trounced: Spartans, Trojans).
Since calling themselves Loser-Traitors was going out of vogue, Ole Miss students this year held an Internet contest for a new mascot, which the Internet being the Internet promptly elected Admiral Ackbar. So they chose to be a bear. Had they made Ackbar their mascot (or their head coach), maybe we could yell "It's a Trap!" here, but alas, Ye Ole Miss is #101 in points allowed, and they do have that glaring loss to Vanderbilt, um, glaring out from their schedule. Just hope that Auburn, who are the Tigers (yawn) doesn't get to play Nebraska in a bowl game, or the game may look like a tennis match on TV [Ed-M: except Nebraska apparently overcame their scoring aversion last week]. Auburn falling into the Number One Spot of Doom gets the "It's a TRAP!" award of the week.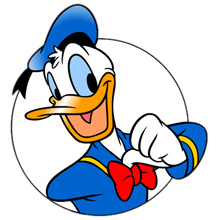 s vs.
s
Oregon, represented by Donald Duck and dressed by Huey, Dewey, and Louie after a Seattle coke bender, has an actual opponent-type-substance in USC, so they could/should move up to number 1 after pummeling the USC condoms (please please please).
s vs.
s
Meanwhile, #3 Boise State plays Louisiana Tech in a game that features two blue and red teams playing on a blue field (I'm waiting for Kansas to get on the blue field bandwagon and paint a huge bird on it). The Broncos are one of seven teams with that name (10 if you include "Broncs" and "Bronchos"). That's pretty lame, but not nearly as lame as being one of 41 teams named "Bulldogs." LT's wins are against Grambling, Utah State and Idaho. They've lost to Hawaii and Southern Miss. Boise State just keeps rolling along with the #4 offense and #2 defense. Seriously, 12 points allowed per game? Bonus: the game is tonight.
s vs.
s
Last, #4 TCU plays UNLV. UNLV has losses to both Idaho and Colorado State, and ranks in the 100s in offense and defense. Remember what I just said about Boise State's defense? Well, TCU is allowing 9 ppg. So, three FGs. Got it. As Wolverines, of course, we're all about rooting for the school with the better nickname, and here we have quite the contrast. A Horned Frog is something that might poison you if you step on it (up next: the Fightin' Sea Anemones?), though the last team to "step on" TCU was Boise State and they seem to be fine. The thing looks like a small, tailless Ankylosaurus. Fun fact: Phrynosoma, also known as a "horned toad," a "horny toad," or "horned frog," is actually neither a frog nor toad, but a type of lizard. Cue '80s rainbow thingy again:
As for UNLV, they're called the ... waitaminute ... Rebels? Were there even people living in Las Vegas during the Civil War? No, not really. Actually they took the name in the '50s because they thought of themselves as rebelling from Nevada. It's like Little Brother Syndrome, except a post-loss sin-fest is a hell of a lot more fun than burning sofas and tipping cows. Their mascot is "Hey, Reb." Their colors are "Scarlet and Gray," for the Confederacy. This is what happens when your naming committee just wants to get back to the craps table. Prediction: the Rebels get stabbed, poisoned, and turned into a gooey substance by the purple-wearing, horny-ass not-a-Frogs.