TVH Weekly: Wayne Lyons & Lamar Dawson Visits, Kellen Jones
These next few weeks will be crucial for the finish of Michigan's recruiting class. This weekend and next weekend will see Michigan hosting lots of talent. Here's a few updates on some of those recruits, a new visitor scheduled, and a current commitment.
Wayne Lyons
6'0", 190 lbs.
Safety
Fort Lauderdale, Florida
---
Michigan was outside of Wayne's top list for a while, and they weren't sure if they would get an official visit from him. He decided that the Wolverines would be included in his top five, which will result in the official. He'll be in Ann Arbor this weekend with his mother to take in the campus.
I'm really just looking for comfort, and I want the coaches to make it clear to me how I'm going to fit into the system. I'm hoping to see a good environment and campus, and how the coaching staff works. I'll also be looking at depth charts, and I know Michigan needs defensive backs.
An important factor in this process will be Wayne's mother, who will be accompanying him on this visit.
My mom is really looking for a lot of the same things that I am. She wants to feel comfortable with the school, and feel comfortable enough to let me go there.
His mother has been on all his trips with him so far and will also be at his final visit to Nebraska. Lyons will be making his announcement at the Army All American game, and Michigan has been making some strides with him. Also visiting this weekend are four star Maryland DB Blake Countess, who Michigan is in good shape for, and current commit DB Delonte Hollowell. I'll update as I hear any more recruits that will be in town.
Lamar Dawson
6'2", 230 lbs.
Linebacker
Danville, Kentucky
---
Dawson had told me a few weeks back that he wasn't as interested in Michigan as some of the other schools in his top seven. He has always maintained that Michigan is in that top seven, but they needed some work to do. They will now get a chance to do that work, as he's decided to schedule a visit to Ann Arbor.
I'm coming up there on January 22nd. Michigan's in my top seven, and I didn't get to go there for a game so I thought I'd come and take a look. I don't really have any leaders right now, but I'm looking for a place that I feel comfortable. I haven't really seen as much of Michigan, so they're still a little behind some others.
As he noted Michigan is behind, but like Lyons a visit is a step in the right direction. Dawson won't be making his decision until signing day, so there's plenty of time to think about it, plenty of time for Michigan to let him know how much they want him. The other schools he lists in his top seven are Tennessee, USC, Florida, Louisville, Kentucky, and Oregon.
Kellen Jones
6'1", 210 lbs.
Linebacker
Houston, Texas
---
Kellen's family is as excited as anyone for him to join the Michigan family. His father is an MGoBlog reader, and wanted me to share a few things with his fellow fans. The pictures below are of Kellen with former Michigan linebacker Jarrett Irons at a family get together, and the second with Coach Rodriguez and former Michigan great Desmond Howard. Below that is a highlight tape from one of Kellen's games a few weeks ago against St. Thomas, where his team won 33-28 (ED: I'm having problems with uploading the video to YouTube. I'll post it when it goes up). Enjoy.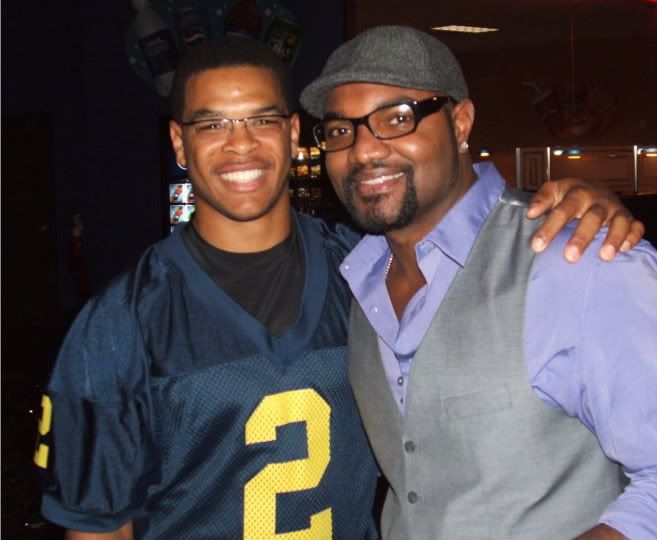 Extra:
New Jersey TE Jack Tabb is visiting North Carolina this weekend, and most likely Arkansas on the 10th. He's hoping to have his decision made by Christmas. Michigan has put themselves in good position with Tabb after his official visit.