The Trials and Tribulations of the Michigan Coaching Search
The Trials and Tribulations of the Michigan Coaching Search
January 5th, 2011
Flashpoint
   It has been a long strange trip and I doubt the surprises and pitfalls are over yet. The topic of changing the Michigan head coaching job has been popular since the last year of our retired poet coach, Lloyd Carr. After a disastrous showing against a spread offense I-AA school and a shellacking at the hands, or should I say webbed hands of the Oregon Ducks, people were fed up with Carr's hackneyed style of pro offense. It seemed the underlying mantra to switching to Rich Rodriguez was that if we couldn't beat a spread offense, we might as well become one. Become one we did. After Bill Martin's sailing excursion in the Caribbean with Johnny Depp and some Bahama girls, he went out and got the architect of the damn thing.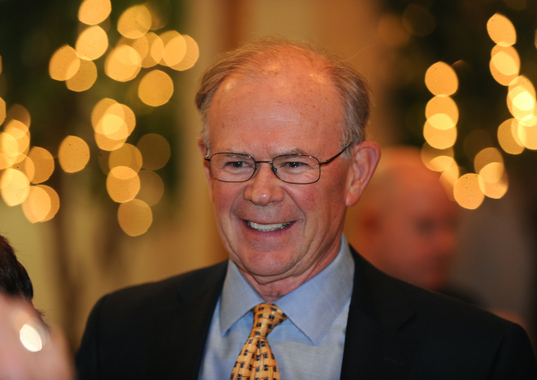 The first year of the Rich Rod experiment went as well as a VIOXX addiction. With the changing of offensive systems, bare cupboards in way of players, and a new defensive scheme, a sub par year was expected. Then he finished 3-9, most recorded losses at Michigan for a season in its storied history and no bowl for the first time in over three decades. Seeing how the silver fox alumnus and Detroit Free Press Kool-Aid drinkers were not overly happy with the hire in the first place because he wasn't a "Michigan Man", a huge block of the fanbase was ready to throw him to the wolves after one year. Coupled with NCAA allegations and infractions that would make Erik Dickerson giggle a little bit, and a 5-7 season with no bowl again, he was not getting many Christmas cards in 2009. Come 2010, not even a super hero the likes of Flash Dilitium could save Rich Rod from a predestined outcome of being axed on January 5th, 2011. Another day that seemed like another chance to begin another fresh start.
    Throughout the 2010 season a man occupying a coaching position on the west coast caught the attention of a lot of people ready to return to the "Michigan Man" was the only man for the job that was given to a country bumpkin that had no place here while spitting his tobacco juice all over Schembechler's coffin. There was also a faction of revolutionaries ready to defend Rich Rodriguez to the very bitter end, including me. That was until the Gator Bowl episode, where I became open to a change. Not necessarily getting rid of RR, but at least a major overhaul of the defensive staff like they were some worthless hacks in a company merger ready to be cut loose and beg on the street like vagabonds. It is my general belief that if the Michigan fan base were armed to the teeth, the bloodshed after that game would have rivaled the death toll at Gettysburg. Change of some sorts would have had to happen, no doubt about it.  Within two days of firing Rich Rod it seemed only two options were acceptable and likely. Either Jim Harbaugh would ride in on his white horse and raise the spirit of Bo to win at least six national championships in a row or the same result with Rich Rod and a revamped defense with General  Tommy Franks as defensive coordinator. Then, BOOM, went the coaching change.
     January 5th, 2011, a day not to celebrate a new start, but a day to commence panic and find the nearest lifeboat left as the Michtanic went down in the cold waters of Lake Huron as a string quartet played the final verse of Hail to the Victors. Dave Brandon, Chief Pizza Tosser, announced the firing and then announced he will begin the national search for a new head coach. Begin the search you say? As soon as that pepperoni eating fool uttered that sentence, the hounds of hell erupted into a fit of laughter and began feasting upon the souls of many people near and dear to our hearts.
      Our fearless captain of the S.S. MGoBlog went into DEFCON 5 mode; the blog broke due to heavy traffic, and every two bit expert wanting to weigh in on the wasteland known as Michigan football. I consumed a near dangerous level of Ambien to wake up in 2013 since I could not evoke my disapproval through digital nuclear warfare upon the masses. The national blood pressure average spiked as many of the MGoBlog community and residents of Michigan fandom nationwide erupted into anger that made the drunken Mel Gibson rant look like a children's bedtime story. The end of Michigan football, along with the announcement of the end of the world in May put very bad vibes in many innocent bystanders of this pitiful saga.
January 7th, 2011
The White Horse and the Other Candidates
     "Michigan Man", a term coined by the late Bo Schembechler. Many began to think it should have been buried along with our beloved coach. By measuring every football entity with the "Michigan Man" measuring stick, we have duped ourselves and placed a millstone around any future coach that would dare step within the city limits of Ann Arbor. There is nothing wrong with upholding an aurora of decency and model citizenry for a coach, but to only allow a coach to come in with ties to the original "Michigan Man" is foolish at best and self destructive at worst.
      Obviously the "Michigan Man" guard thinks more of the damn term than the jackass that pulled the rug out from under them, Jim Harbaugh. He will be gold digging in the bay area of California while we piss and moan about him not being a true "Michigan Man." After a years worth of lusting after him he left his obsessive water carriers looking like grafters and shameless dunces. It seems the chosen one chose elsewhere.
     What were our options now? A name that wouldn't seem to leave the psyche was Brady Hoke. Hoke was a "Michigan Man" and former coach on Lloyd Carr's magical mystery team. It was clear that only a few felt positive about Hoke in this MGoBubble we live in. Although his die-hard supporters pushed his excellence to lofty and Yost like levels of comparisons, he was wanted by most as much as we would like to swap spit with a former Hutu warlord with leprosy that contracted the bubonic plague and took malaria baths.
     Another candidate was Chris Peterson from Boise State. He was less toxic than that mutant Hoke, but it seemed as if Boise St. coaches forgot their winning ways when they left the Potato State. Our only choice would be to hire him and become the next Colorado NAIA team or paint the Big House metallic blue and raise it about 10,000 feet in the air to induce Boise State like winning.
     Next on the ever lengthening list is Gary Patterson from TCU. Out of all the names mentioned so far, he was my favorite. He would be able to utilize Denard and install a defense similar to the one at TCU. The TCU defense brought purple rain and pain on the mouth breathing meatheads from Wisconsin, and I could only imagine the erotic feeling I would get if it became Maize Rain.  He also has many entertaining superstitions like un-tying and re-tying his shoelaces if his team was winning. That would definitely be a bonding point to get Denard to stay. I was also exclusive to the fact from an unnamed source that he shat rainbows every blue moon and was a close cousin of Horatio from CSI Miami.
     Another choice from the west is Kyle Wittingham, the head coach at Utah. This choice makes no sense to me if we just dumped a proven winner. Wittingham could still be riding the recruits brought in by the Urban Meyer experience and after a slight nose dive at the end of the season, my stomach feels about good on this choice as does the morning after downing a fifth of rot gut whisky. It was appealing the night I got drunk and dumped, but now it sucks feeling this way; waking up next to a one armed mustachioed heifer in some strange lacy red lingerie.
     The MGoUniverse became the chorus of a trendy Spice Girls song as everybody was telling everyone else what they wanted. As the days went by, more names from all corners of the football universe popped into the MGoBoard orbit. Panic became a drink of choice as the hands on the clock rounded through the hours many times. The night after the Cotton Bowl almost became the accumulation of the gnashed teeth and ulcers that were eating their way towards our rectums.
      Les Miles was all but certain to become the next coach at the University of Michigan. Book it. Done deal. Hell, even throw in some grass for him to munch on before we rolled out the red carpet in Ann Arbor for the soon to be anointed Jester-King. The LSU message boards were blowing up to the likes I haven't seen since The Great Possum Snatching Scandal of 2002. I listened to Jim-Bob and Jimmy Sue's radio broadcasting postgame show as caller after caller called in from Michigan and Louisiana to accept the fact that the trade was done and the universe could go back to focusing American Idol. Saturday came, no announcement. Sunday came, and again no announcement. Tom VH then came out with the depressing facts that our recruiting class mimicked a hemophiliac with no medicine.
     What the fuck was going on? I told my doctor not to fill up my medicinal horse tranquilizer prescription any more. I was ready to whore myself out to the idea of waking up in the Mad Hatter's tea house. Back to the veter…doctors I went. Double dose. I had to put up with more flight tracking maps that looked more like an updated version of the Atari game Pong, wild rumors of Hoke riding in on a snow leopard made of meatlovers pizza, and Jon Gruden would be popping out of Schembechler Hall frothing at the mouth while he held Tressell's skull in a precarious position at waist level height.
    On day six of this bat shit crazy wild ride things seemed to be falling in place. Planes were coming and going to Baton Rouge in the likely outcome of a Les Miles coaching contract. Even Les Miles put out a brief presser that sounded like he was announcing himself pope of the snake wielding, gibberish talking branch of the Appalachian Pentecostal movement. In other words, he was being himself. Eerily strange and vague it was though. It was no doubt however that the Les Tickler had a hankering for taste of Michigan.
January 10th, 2011
Time Travel vs War Eagle
     At least to buy my time I was able to watch the BCS National Championship Game. In my perception I expected two versions of the spread offense square off. Would it be the blazing Oregon offense that was the first ever NCAA team to travel in the future to score? Or would it be the SEC powerhouse bruisers that ran downhill like rabid "war eagles" hell bent on the Scorched Earth policy as a game strategy? My hopes laid with Oregon. Auburn was a dirty thuggish team. I thought even a tad extreme for the SEC. Mostly at the hands of Nick Fairley. Obvious proof of his bully mentality lay across the internets. While we struggle with major problems of an uncertain and chaotic situation with the future of our program, Gene Chizik must grapple with such problems as the obvious character flaw in Mr. Fairley:
"It's real simple. You have a 315-pound defensive tackle and you can't block him, sometimes he's going to be very aggressive and people are going to get hurt," Chizik said. "We don't want that. We don't want to see anybody get hurt. But when you can't block a guy that's 315 pounds, that happens."
That must suck. Poor saps.
     Unfortunately I missed the 2nd quarter due to an impromptu stop into a small Pennsylvanian town and was forced to swallow down the fact that I had to watch the hit long running series "The Bachelor". The women in the house were serious that night and there was no way I was risking my life to change the channel. The vibes most likely would have shifted very wrong if I had. Finally leaving with the idea that it was a tight turnover prone game when I was last listening to it on the radio, I arrived ten miles to the north to watch the completion.
    What I saw made me squeamish. The Tigers were up 19-11 in the third quarter. As the game progressed, one thing in my mind became clear. The Oregon offensive line was greatly overmatched by the behemoths breathing fire across the line from them. Auburn brutalized Oregon with force and blatant malice by Fairley again. Oregon made a last ditch come back scoring a TD and amazing 2pt conversion try. Oregon's TE Jeff Maehl was their team last night.
    Bummer for Oregon was that they left two minutes on the clock for Newton & Co. By this time in the game the Auburn o-line was eating up Oregon's d-line. Oregon wasn't tired, but they were out muscled. Auburn seemed to collect seven yards on every carry by Newton or Dyer. Auburn won in a close game that was really never that close. The final chapter on a year in college football was written, in which evil won.
January 11, 2011 (1/11/11)
The Day Before The Day After
    Day Seven. It feels like we've been in a desert for eternity. No sign of water. We might have to Bear Grylls a snake and recycle our urine to survive.  LSU athletic director Alleva announced that Les Miles will be staying at LSU. BOOM. ROASTED. I was just starting to think the Mad Hatter was crazy enough to handle this nuthouse we have created.
      This coupled an article out of San Diego that Hoke was now going to meet with Dave Brandon for the University of Michigan Head Football Coaching position. This news can do bad things to one's mind as a snowstorm rolls in from the west and trap you in alone. I expected to become destructive to society at any moment, but it never came. I had a feeling of numbness. If Hoke was hired, ok. Ok. Whatever. We have no other choice but support him and hope that Brandon saw something in his crystal Challis we couldn't. He would be our coach and the fanbase faced two choices. Either stay on the boat and support our new head coach or load into a lifeboat and abandon ship. What would win out in an MGoCulture War? Michigan and unprecedented faith or a possible millstone necklace of tried tradition?
Lou Mannheim: "Man looks in the abyss, there's nothing staring back at him. At that moment, man finds his character. And that is what keeps him out of the abyss."
     Two hours later, that decision came down the pipes from HQ. Hoke was our man, no joke. John Lennon once recorded a song titled "Instant Karma". Then I thought about Jerry Kill.
     The culture war ended that quick.  What seemed like a never-ending all out nuclear war ended with in seven days, third in recorded history only to the Six Day War in 1967 that surprisingly only lasted six days and The Anglo-Zanzibar War of 1896 that lasted a tough 45 minutes. Regardless after a nuclear war, there will be fallout. How much is yet to be seen, but there will be a myriad of emotions for the ones that are left rooting for our beloved Michigan football team. It will only come down to two choices however. We can either band together and make a go of what we have and stand at having a better chance to survive or scatter like cockroaches into factions that continue to practice cannibalism ending in probable epic proportions of fail.
Is our reign as a once traditionally powerful and feared program over? I'll let Brady Hoke tell you that:
Brady Hoke. Love him or leave him. He is here. I am down with being a Hokeamaniac.
credit: Tom Pickle...WLA^^^^^^^
"Buy the ticket, take the ride…"