Ticket Watch Got a Hoosier Chest Like a Rug
[This article was originally published on 8/30. It has reposted to Diaries because apparently a spammer caused a problem where everyone just got a blue screen (NNTBS).]
Welcome back! This is my semi-regular feature where we track the secondary ticket market and tell you when to buy or sell. My credentials for serving as your ticket advisor are I'm cheap and have been scrounging tickets most of my adult life. This does not make me an expert, so I lean on data and other experts.
The method is I check in every few days on TicketIQ (which collates all the smaller markets), Stubhub, and Craigslist (Ann Arbor and Metro Detroit), then post a price per ticket for two or more seats together. Then when I have enough data to say something I check in with our ticket partners at TicketIQ and ask them what the data mean.
GROUP RATES?
One of the things I learned last year is saving a few bucks here or there on 2 tickets is interesting, however I could really save readers some money if I started tracking the group ticket market (4 to 10 people).
Let me learn for a bit longer before I start giving real advice here—historically I have only bought through the Alumni Association (which, $70 on your membership this year is going to save you more than that if you ever go to an away game), or there's that one time I paid face for 10 seats together to watch Denard shred Bowling Green, and wound up selling off the inevitable cancellation/girlfriend is too drunk extras for $10 apiece. No, the people who requested tickets initially didn't feel they should pay for them when they chose not to come that morning. If you're tasked with buying for your group this year, I'm sorry. We here at MGoBlog salute you. Also buy in July or early August. Seth tells you this on August 30th.
[Hit THE JUMP for the beariest market I've ever seen for an Indiana ticket in a bull pen]
LOTS OF BULLS AND A BIG BEAR
The last few weeks each game's market kind of settled on what it's going to be for the season. This week is the week that all those prices leap up as fans catch the football bug and talk to each other about how they really need to get tickets for THAT one game they're coming into town for.
If you're going to sell your season tickets this year, sell them now. UCF is a dog, Maryland is a dog, and the university is undercutting you by selling their own ticket packs still.
The only reason not to would be if you think there's going to be a demand spike at the end of the year, however the schedule isn't set up to be that way. Observe:
| Game | July | Now | Dips | Buy? | Reasoning |
| --- | --- | --- | --- | --- | --- |
| Hawaii | $65 | $65 | $65 | whenever | Opening day has kept these face. |
| UCF | $65 | $45 | $45 | at game | Definitely the dog of this year's schedule |
| Colorado | $70 | $80 | $65 | wait. | Preseason spike. |
| Penn State | $110 | $140 | $125 | wait. | Preseason spike. |
| Wisconsin | $115 | $159 | $145 | wait. | Preseason spike. |
| @Rutgers | $125 | $139 | $132 | wait. | Preseason spike. |
| Illinois (HC) | $85 | $85 | $80 | wait. | Preseason spike. |
| @MSU | $225 | $268 | $250 | wait. | QB, OL, DL except McDowell, DBs |
| Maryland | $65 | $54 | $54 | wait? | Nobody cares Delaney |
| @Iowa | $85 | $151 | $140 | wait! | Trust the stats guys. |
| Indiana | $65 | $40 (!) | $40 | now. | Senior day gonna be good |
| @Ohio State | $250 | $282 | $282 | wait. | Let 'em lose first |
Only the Indiana game is trading under what I think it will be when we're previewing them. I don't trust the Hoosiers to be that bad this year, so once they've won a few games their fans might be looking at maybe this is the year they really should see Michigan Stadium. And if Michigan is still undefeated and coming off a big road win in Iowa City by late November, people are going to realize this is their last chance to see Wormley, Lewis, Butt, Peppers et al. If you can find a few tickets for $40 for that game you'll probably make money on them.
Pre-season is also when away fans are convinced their team is going to be way better than it really is—uh, we're totally not guilty of that. This year's spike is especially pronounced because this year's team is this year's team. The only thing keeping these prices down is the lack of opponents we find interesting. If Colorado was a Bill McCartney or Rick Neuheisel or Gary Barnett team it'd be one thing, but those teams are long gone. People going "We should really go to a game this year" are looking at the schedule and seeing a Big Ten slate of Penn State, Wisconsin, Illinois, Maryland, and Indiana. Maryland isn't a Big Ten team in their eyes. Illinois and Indiana are traditional Little 8's who haven't been good enough to capture the average fan's attention (unfairly in Indiana's case), and Penn State we've seen plenty. Thus the home game of the year is Wisconsin.
WHOA THERE BADGER
Yeah, if you're old enough to remember pre-Alvarez days, you'll also remember it used to be a Michigan tradition to schedule the Badgers as the first Big Ten game then trounce 'em as a tune-up for the real Big Ten troublemakers…like Purdue. But absence makes the Badger fans decide this is the year to go yonder.
The rest of the schedule is in that preseason spike territory. The guy who waited till all the other guys bought their flights to start searching for Wisconsin tickets for a literal* bachelor party is kicking himself right now. The only thing to do is watch the sites for a dip and suck it up if you need those seats together, or wait till that week and catch a bunch of 1s and 2s while fielding incessant emails from the other guys about "when are you going to buy those?" Yes I am totally that guy.
WHOA THERE RIVALS
The rivalry games are trading right now at what they would be if you get there and both teams are having good years and all the tickets are sold out already and there's still an hour before game time. Chances are that Michigan and Ohio State are not both going to be undefeated this year, which is the only way tickets stay $300.
As for Michigan State, their bloggers are convinced they'll beat Michigan easily and make it back to the playoffs, while the experts think they could be a 4-loss team and I'm 50/50 on whether they're even over .500. Yes, both teams could be 7-0 going into that game—and the tickets are priced for that eventuality—but State could get tripped up by any of Notre Dame, Wisconsin, Indiana, BYU, Northwestern, or even Maryland before they face Michigan, who has PSU and Wisconsin coming to town but not much else to be afraid of. The way to buy that ticket is pick the Sunday after the last game you think State will lose before they play Michigan. You've got time to gather info.
Ohio State isn't going to drop to $100/ticket though, unless they really have an uncharacteristically bad year. I doubt it—Urban Meyer's teams pick up steam as they roll so come the Michigan game I almost guarantee they'll be ranked and we'll have four or five more guys on their roster we wish we'd drafted in Draftageddon. Upshot for that ticket is if you see Ohio State stumble early, BUY.
------------------------
* One of our best friends got divorced, and we never threw him one the first time.
------------------------
THE NEXT GAME
If you've waited to buy group tickets for Hawaii you're irresponsible and your friends are right to be emailing you with polite sentences that end with ellipses. If you're deciding if you really should go, well, Hawaii's got an offensive line that'd decent enough to bleed our front eight, a quarterback who's wobbly enough that deep balls are going to make for fun interception attempts, and a pass defense that's so bad you could be there to invent the "MCDOOOOOOOOOOOOOOM!" cheer we'll be using the next four years. Also
It's going to be gorgeous.
If you're looking just to get your family in, next week's game is the throwaway. UCF is worse than Hawaii, which is pretty impressive considering Hawaii leaves just two spots to be worse than them in FBS according to S&P+, and comes a week after the last time we footballed, as opposed to 9 months since the last football.
CHEAP TIPS
I'll just use this opportunity to remind you of last year's cheap tips:
Buy after losses, sell after wins.

Cheapest tickets are at the gate, 10 minutes after kickoff

Be near a printer 10 minutes before game time, when the online resellers are screwed.

Buy from people; avoid the scalpers.

Be a dick to scalpers—undercut whatever deal they're about to make.

Stand at Stadium and Main to gauge the market, then walk away from the stadium (Don't buy on your way to it).

Be the gal or guy people know would definitely want to go on a moment's notice with them if someone can't make it on Saturday.

If someone left some tickets at home have them call the ticket office and release them to you.

If you're really stuck, reach out to your friends on Facebook.
BEST DEAL RIGHT NOW (that I can find on the sponsor's site because let's support people who support us okay?)
If you're buying from a reseller today for Hawaii you're going to be overpaying a bit, but you do get a lot more control over your seat. Here's a pretty stark example of why this matters:
Good: You can get four tickets basically together in a corner section. Rows 82-83 are near the exit so you can get to the bathroom (a deal-maker if you or someone in your group is either >60 years on this Earth or <10 weeks from adding another member to your party) and the view is underrated.
Bad: For $1 less you can ruin your view by sitting way too low in that area of the stadium where there's two fewer flights of stairs: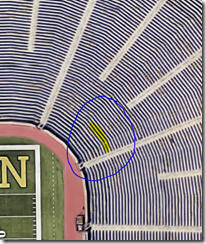 Sit down there and it'll be Sunday before you can get out, get home, and finally watch everything that happened at the opposite end. On the other hand once in awhile you get to be here: