Thank you, non-alum "Friends of the University"
After watching a December basketball game paint Brooklyn Maize, I was inspired to pass along a thank you. 
It's well known that Michigan has the largest living alumni base of any university. There are many of us who are proud alums and who never have to "justify" our fanhood. Being a Michigan fan came easy to me. The son of two alums (and native Michiganders) I was almost pre-destined to head to Ann Arbor after I graduated high school, despite having grown up outside Chicago. I was lucky and worked hard and managed to go to Michigan and graduate in 2009. There are many who aren't as lucky as I was. To those of you who are fans of Michigan despite not having a degree: Thank you. You may have been questioned, demeaned even for supporting College Football's most winning program.
Some may call you "Walmart Wolverine" in a derogatory manner because you choose to support Michigan. But guess what – Michigan doesn't succeed without the support of everyone: Students, Alumni, Faculty, and (as Fielding Yost called them) "Friends of the University". It's true. Michigan Stadium doesn't get built without non-alumni fans.
From page 190 of Soderstrom's The Big House* "No one: no student, no alumnus, and no friend of the university would be "giving" anything to the athletic department. Rather, the athletic department would sell a bond at a given amount of interest and pay back all the money over time… it had always been a Michigan athletic tradition that no attempt would be made to secure funds from the state, like the school in East Lansing had done for its new stadium." Yost needed investors to build the Big House, and it turns out that the first bond letter had provided a "disappointing alumni response" (Page 318)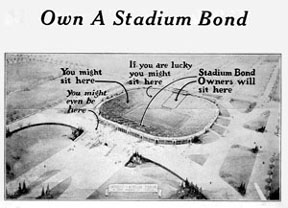 After bonds were extended to anyone who wished to buy them, not just alumni, "by early 1927, the whole initial issue, 2000 bonds, was sold." Yost actually angered some alumni (and students, who felt that their seats were terrible even then) by making sure that there were new seating blocks in Michigan Stadium that were specifically NOT for alumni. Yost's appeal was as such: "'This is a State University – not a privately endowed institution. Ownership of this institution is vested not in our students, faculty, and alumni – but in the people whose taxes make it possible' Yost would never tire of making this point" (Page 194). I'll take Yost's point one step further – It's not just the taxes or the tuition, but ANY support of Michigan makes you a "real" fan. Maybe you can't afford tuition and thus aren't an alum. Maybe you don't live in Michigan and don't pay Michigan state taxes. Maybe you can't afford season tickets (which are no longer $2.50 per game like they were in the 1920s), maybe all you do is own some apparel and visit MGoBlog – both of which provide support to Michigan no matter how small. The next time someone asks you if you went to Michigan, just remember that it was fans like you (not just alums!) who gave us the greatest football stadium in the world. And remember that there can be a little inferiority complex around East Lansing, after all they needed money from the state to build their stadium.
*As an aside if you need a stocking stuffer or just a great read on Michigan's history, I couldn't recommend Soderstrom's book more. Click through the MGoLink to Amazon and order it!