Tackling Technique: Spring Is In The Air.
So the coaching change.
This off-season has had two main points of contention.
Whether or not Denard can still Denard people under center and in the pocket
Whether Mattison will turn our ramshackle defense of 2010 into a warrior manbear.
I tend to focus on the defense [insert joke of how watching tape time and again of last year's defense is akin to watching a sport about kicking puppies] and in that regard I feel that it was folly to look at our defense last year as a whole, mostly because we were so small. So I look at tackling technique.
For the season in review from last year, you can look here [Ed-M: or for you Sparknoters, here's a picture:
]
That is an incredibly depressing starting point. Can it improve? Has it already? Let's head down to the spring game from this year, with the same equations as before:
Tackling Efficiency = (Made tackles – Missed Tackles) / (Bad Form Tackles + 1)
Bad form tackles account for terrible form (bad angles, too high, getting shook etc)
Tackling % =  Made tackles  / Made + Missed
And Hope. We tackled. Well at times even. Against a prolific offense (I will assume a 75% production level from last year which still makes it a prolific offense).
Now to the comparison. Included are season averages for any returning players I  had reliable numbers on.
Spring Game in Blue and 2010 Season in Red
Tackling Efficiency.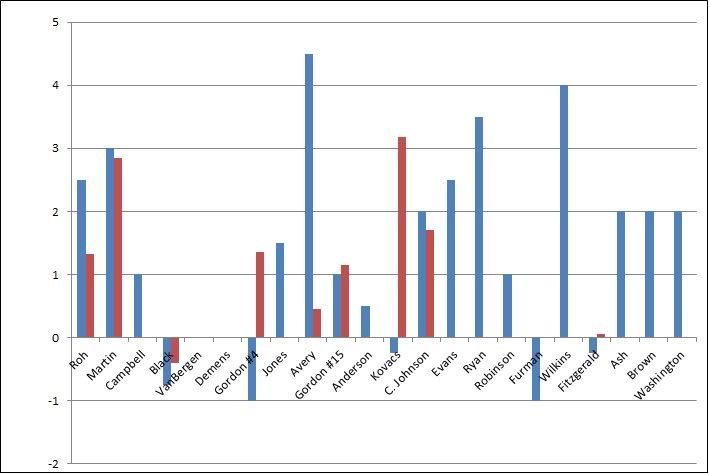 Tackling Percentage.
Conclusions:
This is one small data set to derive from. Our offense was still learning the system and we probably had not instituted a lot of coverage packages or blitz packages
That being said, you can easily see improvement in technique and ability. We came in in good form, and more often than not made the tackle.
If Jake Ryan can produce at that level against our 1s, he should start over Cam Gordon. That kid was absolutely everywhere. My best takeaway message from this was that sending him off the edge on a blitz was a matchup problem if he was being blocked by a [Ed-M: 3rd string] TE or even a T. He was good in coverage, and filled holes on the run. I cannot stress enough how impressed I was by his play.
I don't think Kovacs had a very good day. I can't say at this point that I would rather have Marvin Robinson start, but based on the fact that he provided minimal run support here and little coverage support last year, I think his athleticism, or lack thereof, might be a net negative if he's in a starting role. However tackling hasn't been a problem for him before, so a platoon role with Robinson inside the M 30 might make use of his strengths without exposing his weaknesses so much, provided that...
Marvin Robinson is a good football player. He might have made a bad read on that long TD, but he was there in coverage and made some nice plays on run support. I would like to see him spell Kovacs in lesser games to build confidence and play reading ability.
I am REALLY excited about Richard Ash. Had good hands and solid footwork coming off the edge and held up against single teams.
Marell Evans is a solid option. I'm interested to see how the fall competition between him and Demens plays out. I also don't know who our starting LBs will be, as Ryan, Jones, Gordon, Demens, and Evans all have upside... finally some depth.
Will Campbell was Will Campbell. Made some good plays, and just didn't get moved some plays. I feel like he still loses aggression every so often, but if he finds out how to turn it on every play he can be a manbeast.
Carvin Johnson is [metaphorically a male horse used for breeding]. Enough said.
I did not notice Mike Martin too often, which is good and bad. Jibreel Black might be the player I'm most excited to watch develop this year. He is going to be a MONSTER.
Finally, Courtney Avery will be a starter come September. Good coverage, good run support. Also, I liked Greg Brown.