The Status Of The Big Ten After Three Games
The Big Ten had a bit of a rough weekend overall, as you undoubtedly know.
That being said, when the conference was winning, it was winning rather handily as the average margin of victory was almost 18 points. When it was losing, it was losing by a reasonably competitive 8 points on average. The best and worst performances when it comes to margin of victory – quality of opponent notwithstanding – belong to Michigan State and Nebraska respectively.
SCORING OFFENSE AND DEFENSE:
Three games into the regular season, there are six Big Ten teams still averaging over 40 points per game on offense, including Michigan (sixth in the Big Ten at 42.7 points per game). Bolstered by its initial outing, Indiana still leads the way at 50 points per game on average. The worst performer here, again "bolstered" by its first performance, is Purdue.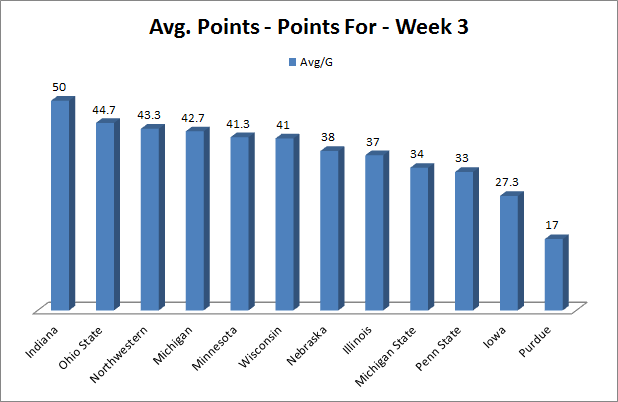 When it comes to points against, Nebraska and Purdue are having strangely similar luck in not stopping anyone from scoring as they essentially share the worst track record after three games. Wisconsin, whose average includes two shutouts, has the best statistics here.
POINT DIFFERENTIAL:
Here is the average point differential. Purdue currently is the only team that runs at a deficit.
TOTAL OFFENSE AND DEFENSE:
Over three games, Indiana, Wisconsin, Northwestern and Ohio State have all managed to average over 500 yards of offense, with Michigan coming in a respectable sixth here at 449.3 yards per game. Only three teams are below 400 yards of offense per game at this point (small sample, opponent strength, disclaimer…).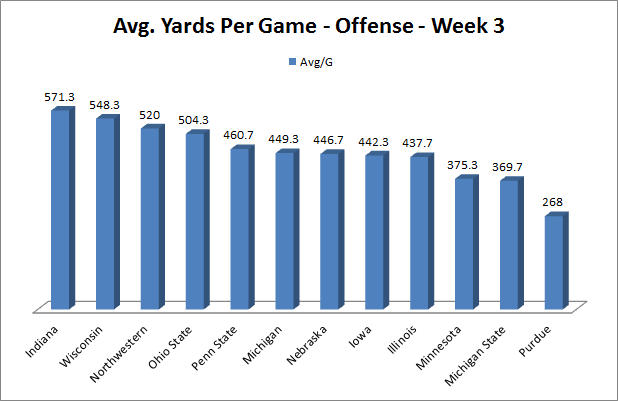 On the other side of the ball, there is a clear leader here – Michigan State. Michigan sits in the middle of the conference here and Illinois owns the worst statistics here at nearly 500 yards per game given up. Indiana and Northwestern are right up there as well.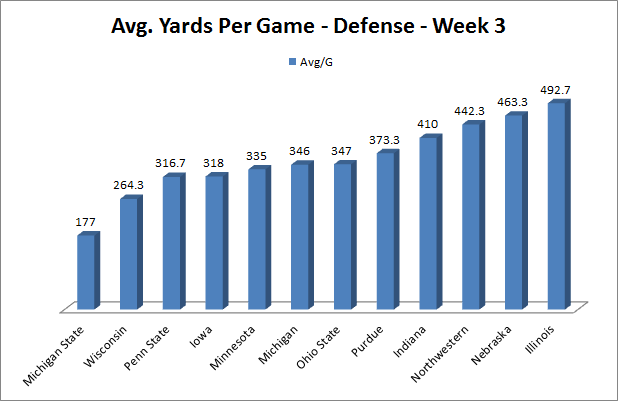 YARDS PER PLAY DIFFERENTIAL:
Three teams in the Big Ten actually have negative YPP differentials right now: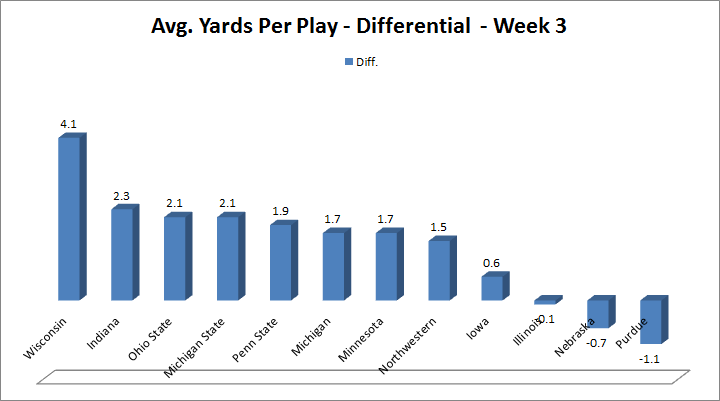 RUSHING OFFENSE & DEFENSE:
So, as you might expect, the team still getting the most out of its ground game is Wisconsin, and you have to go all the way down to the ninth spot in the conference to find Michigan's average rushing yardage on offense.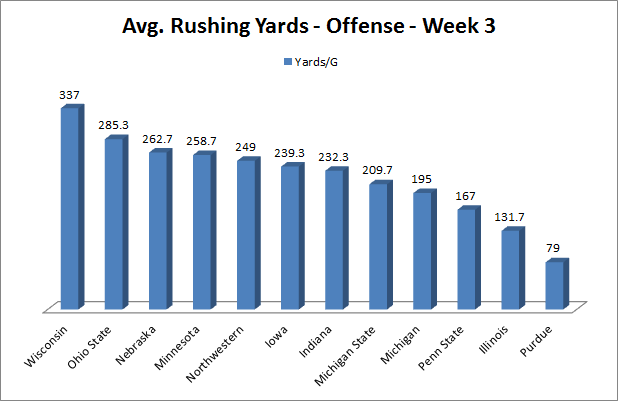 That being said, we do a decent job of stopping the run typically, so at least this is not Indiana.
PASSING OFFENSE & DEFENSE:
Indiana and Illinois are the most prolific teams when it comes to attacking defenses through the air right now, both averaging over 300 yards of passing per game. Michigan sits at fifth in the conference.
As for defending against the pass, this is where we didn't do ourselves a lot of favors this past Saturday. We are seventh in the conference in passing defense, tied with Purdue of all teams.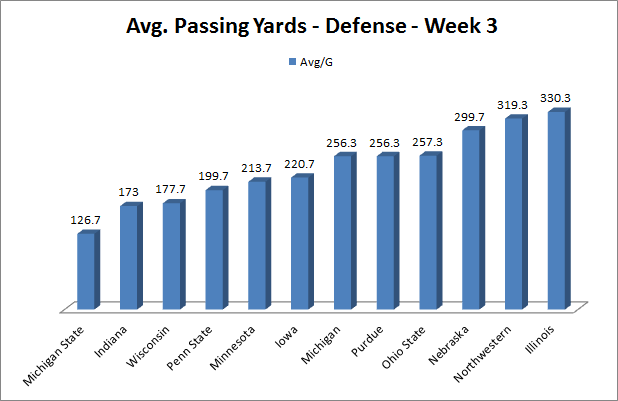 THIRD DOWN CONVERSIONS:
I'll let the conference stats speak for themselves here, but with regards to Michigan, we are very good at getting them so far, but as you'll note, we've given quite a few up. The average differential for Michigan, in fact, is 6.7%.
SPECIAL TEAMS:
Here is kickoff return and punt return information for the conference: