The State Of Our Open Threads: After Colorado
MOD EDIT - Moving to diaries. Good idea. - LSA
Well, let it never be said about this place that we don't handle adversity creatively because that's something that I would expect from MGoBlog. 
The first quarter was brutal, the second quarter had me concerned - anyone else like me who was there may even share that feeling, and yes, those feelings produced certain words. What you'll find surprising perhaps, however, is that despite all that, a decent second half changes your day, your mood, your everything entirely, so it didn't produce quite as many of those words as you might expect. 
Indeed, in 1,957 total posts, we found only 175 instances of "fuck", although this is up significant from 148 instances in the UCF game. What we did see is a lot more "shit" in this contest, however - 102 instances of "shit", although those of you who laid into Speight might argue for a higher number, and that is up from only 68 instances in the UCF game. "Suck" saw an uptick too - 25 instances in the UCF game to 42 instances yesterday, and yeah, nearly all of them in the first half and nearly all of them about the defense. 
On the upside, because there were a few of these, there was a lot of Peppers. Indeed, we more or less got to see Peppers doing all the things, which made me kind of sad that I never bothered to track the levels of Heisman in open threads, just for kicks, because I heard people saying it around me yesterday. Indeed, from a mere 14 mentions in the UCF, we talked about Peppers 132 times in the Colorado game, as we should have. 
Overall for the thread, we ended up with 776 tracked instances for the analysis, not including other words which now get tracked such as "legit" - that saw only 15 uses in the thread and most of them were in regards to the Colorado offense when run be Liufau. Across 1,957 posts, that means an overall efficiency of 2.52, consistent with a stressful win or - in worst case scenarios - a loss. Those two things tend to register the same on here. 
So, we're getting enough data to show a few interesting  trends. Here is what the Original Six look like right now: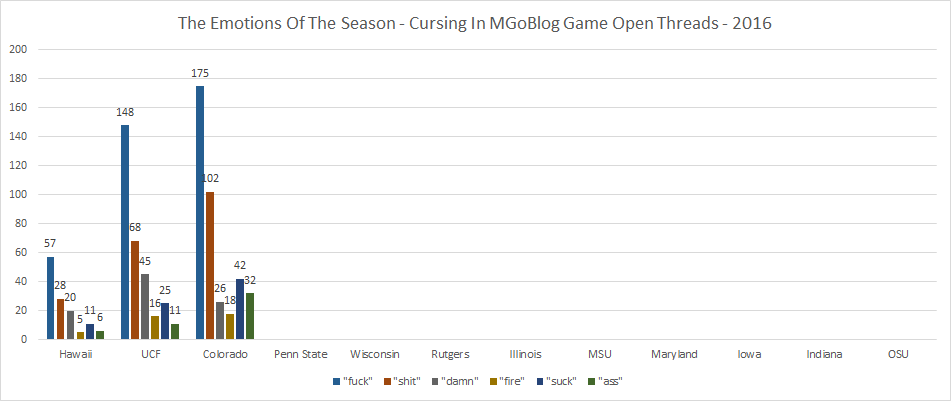 Considering that "fuck" and "shit" are the board staples and most indicative of the state of things more often than not, you can see that those two words do show the ramp-up from the relatively breezy Hawaii game to getting a bit of a scare yesterday. If tradition holds, we get a bit of a reset and then the slow (sometimes lightning quick) increase in usage heading into the Ohio State. How quickly did the "fuck" escalate though? See the "Fuck-Fire" char below: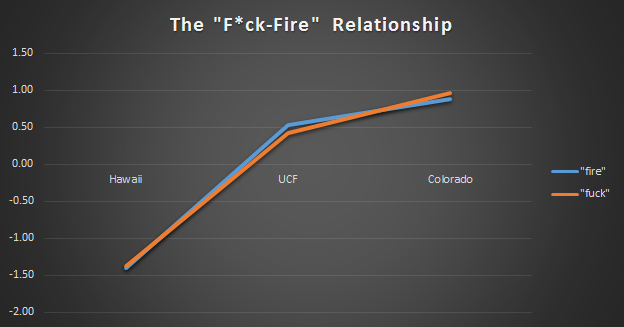 I initially tied "fuck" to "fire" because we were mired in the Hoke-Borges dynamic, but what we see here is that the two are still relating to one another. Yesterday, there were some calls to fire Don Brown again - possibly a few eanest ones from those with the irrational expectation that we should just blank everybody and anything less is unacceptable.
There's also this, anothe two words that used to closely relate on MGoBlog: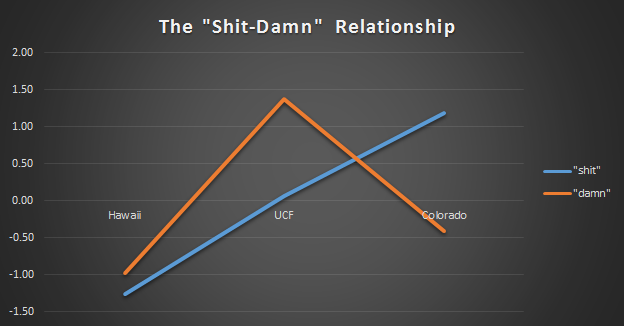 The "Shit-Damn" relationship is somewhat wobbly this time around. Indeed, you can see where we kind of passed up "damn" and went right to "shit", particularly yesterday. Like in many life situation, when one word no longer covers it, we find another one - that's the fucking beauty of language. 
So, there's where we're at - some of us are still working off yesterday's stress. The cussing may have subsided, but here we are on record.