[Ed: bumped for general interestingness.]
Wisconsin head coach Bret Bielma made the following statement after the Badgers 48-28 victory over Michigan on Saturday:
"We're not the spread offense, so it's not sexy," he said. "We're not on the [top] of everybody's wish list. But I tell you what—48 points is fun."
This, after Michigan's vaunted offense had stalled out at inopportune times and Wisconsin's pro-style attack had done as it pleased throughout the game en route to 48 points on 558 yards with only one punt along the way. The Wisconsin offense had more fun than Michigan's.
Despite claims that it cannot be successful in major college football, there is little doubt that the spread offense, in general, works at the highest level of the NCAA. The top two teams in the nation this season, Oregon and Auburn, both employ it in some fashion. The spread is viable, just as the pro-style is viable. However, there is wide variation in productivity across teams within the same basic offensive scheme.
Michigan's spread offense this year has been something of a revelation, thanks largely to the ascendance of Denard Robinson. The feats that Robinson has accomplished as a true sophomore in his first season as a starter are truly remarkable. This is virtually indisputable. With two games remaining in the season,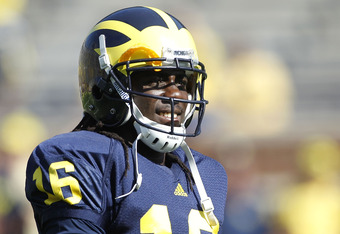 he has already broken the all-time FBS rushing record for a quarterback and has become the first player in NCAA history to pass for 2,000 yards while rushing for 1,500. His season has been an historic one.
Behind Robinson, Michigan's offense has been at the top of the Big Ten and in the top five nationally for much of the season in terms of yards per game. Big plays abound, and 500-yard games have become more the rule than the exception. This prolific output has created much buzz around the offensive side of the ball (and stand in stark contrast the immense struggles of the defense). Indeed, the offense has almost single-"sidedly" carried the team to victories against Illinois, Indiana, and Notre Dame, and its fluency has become the loudest argument for Rich Rodriguez to stay at the helm in Ann Arbor beyond this season.
However, the offense has been outshined in Michigan's losses. In these contests, Michigan's offense didn't just fail to play like a top-five unit nationally. It wasn't the better unit on the field during the game. In these games, Michigan produced 377, 522, 423, and 442 yards against Michigan State, Iowa, Penn State, and Wisconsin, respectively, while yielding 536, 383, 435, and 558 yards. Michigan's maligned defense was party to these opponents' gaudy offensive outputs, but Michigan's offense did not keep pace. Not surprisingly, these four opponents also have some of the best scoring defenses of the teams that Michigan has faced this year, and the question arises as to whether Michigan's "sexy" offense can be successful against good defensive teams.
The offense has improved in three seasons under Rodriguez, and, even now, it remains young. Its leader, Robinson, is a true sophomore, as is starting tailback Vincent Smith. The starting offensive line has only one senior [ed: depending on the health of Perry Dorrestein] and the wide receiver corps has none. One could argue that there is still room for growth and that the trajectory demonstrated over the past two years under Rodriguez is positive. Still, it bears examining exactly where the offense is at present. Is it an unstoppable force or a paper tiger? Or something in between? This analysis dissects the Michigan offense with one game to go in the 2010 season.
Yards, scoring, games, and drives
Michigan's offense works fast. There is no huddle. They get to the line of scrimmage quickly. They gain yards in chunks. They score in a flash. All of this, in part, leads to shorter times of possession per drive, which generally leads to more drives per game (the defense giving up long, run-laden drives to the opponent notwithstanding). Michigan, as of November 19, had the most drives in the Big Ten this season (105, tied with Illinois) against BCS competition. Wisconsin had the fewest number of drives in the Big Ten against BCS opponents with 71.
A more useful way of understanding offensive effectiveness than looking at yards per game is to examine what an offense does with a typical drive. The importance of drives was illustrated in the first half of the Michigan-Wisconsin game, as Michigan had only four full drives to work with. What a team does with a drive is a means of measuring offense that allows for fair cross-team comparison. As of Friday, Michigan averaged 2.57 points per drive (PPD) this season against BCS teams, good for third in the Big Ten, behind Wisconsin (3.72) and Ohio State (3.19) and tied with Iowa.
Table 1 - Points per drive against BCS opponents
| Team | PPD |
| --- | --- |
| Wisconsin | 3.72 |
| Ohio State | 3.19 |
| Michigan | 2.57 |
| Iowa | 2.57 |
| Michigan State | 2.53 |
| Illinois | 2.39 |
| Northwestern | 2.00 |
| Penn State | 1.84 |
| Minnesota | 1.77 |
| Indiana | 1.48 |
| Purdue | 1.10 |
Calculated with data from www.cfbstats.com: drives = punts + fumbles lost + interceptions + failed 4th down conversions + FG attempts + TDs
Michigan's offense is above-average relative to other teams in the conference in this stat but not as dominant as the yardage number suggest. Stated alternatively, this statistic suggests that Michigan scores a touchdown roughly one out of three drives against BCS competition. When taking into consideration the number of drives in which an offense has an opportunity to score, Michigan's offense is still among the leaders in the Big Ten.
"Michigan's offense can score on anybody"
It goes without saying that an offense typically performs worse against a better defense. One would expect an offense to do less with a typical drive against a good defense compared to a bad defense. However, with Michigan this season, this relationship is ambiguous. Table 2 shows Michigan's BCS opponents' points-allowed-per-game (PAPG) against BCS competition alongside Michigan's PPD against them.  
Table 2 - Michigan's PPD by BCS opponent and opponent's scoring defense against BCS competition
| Opponent | PAPG | U-M PPD |
| --- | --- | --- |
| Iowa | 17.9 | 2.33 |
| Michigan State | 21.4 | 1.81 |
| Wisconsin | 22.4 | 2.55 |
| Notre Dame | 23.5 | 1.75 |
| Connecticut | 24.2 | 3.44 |
| Illinois | 26.8 | 3.00 |
| Penn State | 27.4 | 3.10 |
| Purdue | 30.1 | 1.40 |
| Indiana | 40.7 | 3.50 |
Calculated with data from boxscores at www.mgoblue.com and team statistics from www.cfbstats.com
Michigan's most productive games, in terms of PPD, came against Indiana, Connecticut, Penn State, Illinois, and Wisconsin, in that order. Against these foes, Michigan's PPD was better than what would be considered average in the Big Ten this season and better than their own average through the Wisconsin game. Indiana has the worst scoring defense among Michigan's nine BCS opponents, and Michigan's offense enjoyed their best PPD output against them. Otherwise, Connecticut has the fifth best scoring defense,
Penn State the seventh, Illinois the sixth, and Wisconsin the third. Michigan's worst PPD came against Purdue, who has a poor scoring defense (eighth among opponents), but weather conditions during that game may explain this apparent deviation. Further, it could be argued that Connecticut's relatively low points-allowed-per-game is due their membership in the Big East and a weaker slate of BCS competition. Regardless, with a sample size of well over one hundred drives, opponents' scoring defense does not predict Michigan's PPD with statistical significance (p = .42). These results would appear to support claims that Michigan's productive offense can "score against anybody" and could perhaps provide evidence against arguments that Rodriguez's spread offense cannot succeed against good defensive teams.  
All drives are not created equal
The success of a drive varies in importance based on the circumstances of the game. Scoring a touchdown when the score is tied is more valuable than scoring a touchdown when down 30. One criticism of the Michigan offense this season is that it struggles to capitalize on opportunities to extend leads and put teams away. Table 3 shows that Michigan has scored a touchdown on 48% of drives when the game is tied, 44% of drives when they are behind, and only 17% of drives when they are ahead. This difference in scoring percentage across these three situational categories is statistically significant (χ = 12.12, p < .05). Michigan's drives are apparently more successful when the score is even or when they are behind. They have scored touchdowns at a much lower rate when in position to go up by multiple scores.
Table 3 - Michigan's situational drive scoring outcomes (count and row percentages shown) 
|   | No points | Field goal | Touchdown |   PPD  |
| --- | --- | --- | --- | --- |
| Ahead  | 34 (81%) | 1 (2%) | 7 (17%) | 1.21 |
| Tied | 10 (44%) | 2 (9%) | 11 (48%) | 3.61 |
| Behind | 22 (51%) | 2 (5%) | 19 (44%) | 3.23 |
Calculated with data from boxscores at www.mgoblue.com
A further criticism of Michigan's offense is that it not only fails to put games away when presented with an opportunity, but also that it is successful against good defenses only when the game is already out of hand, that is, when the opponent is ahead by a wide margin. In all games against BCS competition, Michigan has scored touchdowns on 46% of drives that begin with them down by ten or more points; they have scored touchdowns on only 30% of drives that begin with them within ten points, tied, or ahead. This difference, however, is not statistically significant (p = .21). How does this difference bear out against good defenses?
The best defenses Michigan has faced this year are Iowa, Michigan State, and Wisconsin, which are also three of the top four teams in the Big Ten (along with Ohio State). Against these teams, Michigan's offense has performed well when they are down by ten or more points. In these large-deficit scenarios, the offense has averaged 2.80 PPD, above their overall season average and toward the top end of the Big Ten. When down by ten or more, they have scored touchdowns on eight of 20 occasions, a rate of 40%. When the game is close (i.e., when Michigan is within ten, tied, or ahead) the story is considerably different for this team. When the game is still in the balance, Michigan has averaged 1.43 PPD, with two field goals and two touchdowns (14% rate) in 14 opportunities—this is significantly worse than when the deficit is large (χ = 4.87, p < .10).
Table 4 - Michigan's situational drive scoring outcomes against top defenses (count and row percentages shown)
|   | No points | Field goal | Touchdown |    PPD   |
| --- | --- | --- | --- | --- |
| Down 10+ points | 12 (60%) | 0 (0%) | 8 (40%) | 2.80 |
| Within 10 points, tied, or ahead | 10 (71%) | 2 (14%) | 2 (14%) | 1.43 |
 Calculated with data from boxscores at www.mgoblue.com
The data show that Michigan's offense has been poor—as bad as the worst Big Ten teams' average PPD output—against the best teams in the Big Ten when the game is close. Their most impressive offensive work against these good teams has come once they already trail significantly, in which case they have performed above-average relative to average Big Ten PPD standards.
So is the Michigan offense an elite offense?
Looking at the success of offensive drives, a statistic that controls for the pace of the game and the number of overall opportunities an offense has, Michigan has a good offense relative to the rest of the Big Ten—they are tied for third in productivity with Iowa, behind Wisconsin and Ohio State. Michigan averages the most yards per game and has scored the second most points in the conference, but they have also had the most opportunities to accumulate yards and points, most likely due to the fast pace at which they execute their offense, the quickness with which they have sometimes scored, and their high rate of turnovers. They are third best in the Big Ten at capitalizing on drives.
So, is Michigan's spread offense under Rodriguez elite? The answer appears to be, "circumstantially." They perform very well when the game is tied or when they trail. The offense struggles, however, to pull away when they have a lead. Further, the offense has
struggled in close-game situations against the best Big Ten teams. There is much variability in how the offense performs, dependent, in part, on the score of the game when the offense assumes possession.
This situational inconsistency may be attributable to a variety of factors (e.g., youth and inexperience on offense, conservative play-calling when ahead, nerves), and one can speculate as to which are most salient. These analyses are intended to deconstruct the offense and offer a more nuanced picture of the state of that side of the ball, beyond a rough yards- or points-per-game. With the travails of Michigan's defense this season, it is tempting (and perhaps healthful) to look at the offense as being "solid" and not something to worry about. Compared to the defensive unit, this may be true, but there are interesting and complicated phenomena at play with Michigan's sexy side, as well.
Other tidbits from the data
Starting field position does not significantly affect the likelihood of the Michigan offense scoring a touchdown (odds ratio = .98, p = .20).
Michigan's offensive productivity, in terms of PPD, is highest in the first quarter (2.81), followed by the third (2.72), fourth (2.33), and second (2.00) quarters.
Michigan's offensive productivity against good defenses (Iowa, Michigan State, and Wisconsin), in terms of PPD, is highest by far in the third quarter (3.50), followed by the fourth (2.63), first (1.43), and second (1.11) quarters.
Michigan has yet to score on its third drive of any game versus a BCS opponent this season; its highest PPD is on its second drive of the game (4.22).
There is variation in the point outcome of a drive, that is, some drives end in zero points, some in three, some in seven. This variation may be due to factors associated with the opponent (e.g., the quality of their defense) or factors associated just with the drive (e.g., whether the team is ahead or behind when the drive begins). Cluster analyses show that almost 100% of the variance in Michigan's points earned on a drive is due to factors associated with the unique drive. This suggests that our opponent, per se, has little bearing on the outcome of a drive, once one takes into consideration unique aspects of the drive, such as the how far ahead or behind Michigan is.