The State of Michigan Basketball
     Hearing Daniel Horton speak on "Inside Michigan Basketball" brought back some memories, good and bad.  It made me think about how far the program has come, and the obstacles that they have overcome. 
     Inexplicably, my Michigan basketball fandom originated from watching this guy
Jack up contested 3 pointers that would make Tim Hardaway Jr. blush.  Dom Ingerson was like the NFL Braylon Edwards of college basketball.  He couldn't hit a 3 pointer for his life unless he was falling out of bounds with three guys draped over him.  My fandom grew out of free tickets and a love for the University of Michigan.   I suppose thats why Brian's wording, "Right now we're going through the last vestiges of having no expectations because we have no program" made me just a little bit angry.  Because I can remember when we had no program.  I remember when beating Bowling Green was a big deal.  I was there, and it was actually quite a while ago.
     There were starts and stops along the way.  When Daniel Horton came on the scene and ripped off 13 wins in a row including Michigan's only contest against baby brother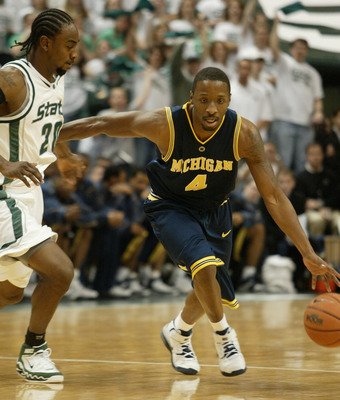 finishing third in the big ten conference, I thought the program had arrived.  Several thousand key injuries, a costly suspension, and several broken promises from Bill Martin later, and hindsight tells a different story. 
     That beautiful sparkling player development center standing next to Crisler.  That tells me that the program has arrived.  You see, that practice facility was promised to Tommy Amaker in 2001.  And when Daniel Horton came back to Crisler and remarked, "This was promised to us as freshmen.  We were going to be using this facility as juniors" it brought back all the old anger.  I cannot blame Tommy Amaker for telling him that, as it was the same line of garbage Bill Martin was selling him.  Years later in a rivals article about the big house renovation, Martin would comment on the (then)dilapidated state of Crisler Arena, stating "I know what side my bread is buttered on.  If basketball recruits care about facilities, they wont come to Michigan."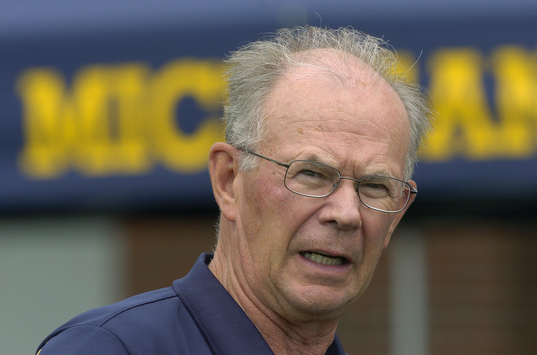 Oh how far we have come.  Can you imagine David Brandon saying that?  Just look around that arena.  Look at that gorgeous scoreboard, every inch of it flat panel display.  At the brand new block "M" adorned seating.  Look at that shining glass-encased practice facility.  Go ahead tell me that Martin layed the groundwork for it.  Then I'll remind you that he promised it a DECADE ago.  Think for a second where the program would be if he had kept his promise.  I know, I know, he had the Ed Martin scandal to think about.  But look at USC.  Look at OSU.  If I'm not mistaken, OSU's basketball program actually got STRONGER in the wake of their scandal.  USC's football team seems to be doing just fine.  You are blaming the wrong Martin. 
     But enough of the old anger.  Four years ago this young man stepped onto the Crisler floor for the first time
I'm going to say that the moment Novak walked out onto the floor, that was the moment Michigan had a program again.  That team went on to beat #4 UCLA, #4 Duke, beat Clemson in the NCAA tournament, until finally conceding a tight game to the #2 Blake Griffins and their ridiculous officiating crew.
     Just look at where Michigan Basketball is today, and what they have overcome.  I dont think they have played a home game this year in front of less than 10,000 fans.  Thats a testament to both the marketing department and the team on the floor.  Just standing there in that mostly-dead crowd at the Wisconsin game.  Having witnessed Michigan totally embarrass a ranked Wisconsin team.  And it didn't even seem like a big deal.  Like it was expected.  How far we have come.  And what fun we have to look forward to in the coming years.  I guess what I am trying to say is...
  How much fun is this?