Saturday Morning Psycho #6: the Monday Morning Ed.
I really needed the bye week .....was not ready for Saturday Morning.
("No game" mental stupor ....malaise ....power naps ....) 
But there's been improvement!  O Well, publish or perish.
So, what happened last game, again?
Riiight, just as I thought.
On to the next.
How's the field integrity D? Do we need the long cleats?
Weaponized "Hands Across East Lansing"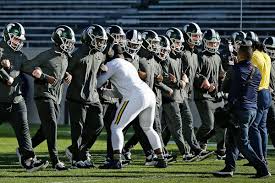 Hey fan base! It's a "rivalry" win, seemed emphasized, plus it was dominant! 
What'd ya think? They look really good right?
Sure ya did ;)
Hey critics! We can't have you go soft now, it's a crucial part of the season.
Remember, it's easier for a 17-22 year old to prove you wrong than to not disappoint you.
Maybe you guys can pull out some of that September BPONE to refill the revenge tank.
A moment of clarity:
Mostly I hear voices, sometimes I see numbers:
2down Efficiency: How good an Offense is at getting 1st downs before 3rd down; or how good a defense is at forcing 3rd down.
We know 3rd down is the crucial down in football and facing it is highly stressful to the offense.
So an offense that avoids 3rd downs will not only have more success, but also set itself up for future success. And on the other side, a Defense that forces the other team into 3rd downs, increases the stress and exposes more of the playbook on the "money" down.
Methodology*
*using first down and 3rd and 4th down conversion stats, rather than full drive chart info
Offensive 2Down Efficiency
Total # of first downs gained (-) 1st downs gained on 3rd or 4th = 1st Downs gained on 1st or 2nd down (+) total attempts on 3rd and/or 4th Down, (/) into 1st downs gained on 1st/2nd down = efficiency %
Example:
UofM: [165-(54+6=60)]= 105 + (113+12=125) = 230/ 105 = .456 or 46%
So, out of 230 opportunities, 105 times UofM gained a first down on 1st or 2nd down (46%) 
and it went to 3rd or 4th down 125 times (54%)
Defensive 2Down Efficiency
Total # of 1st Downs Allowed (-) 1st downs allowed on 3rd and 4th downs = 1st downs allowed on 1st or 2nd (+) total attempts on 3rd/4th, (/) into 1st downs allowed = efficiency %
Ex:
UofM: [120-(31+8=39)]= 81 + (108+13=121) = 202/ 81 = 40%
So, out of 202 opportunities, UofM's Defense forced a 3rd or fourth down 121 times (60%) 
and gave up a 1st down on 1st or 2nd down 81 times (40%)
AP Top10; Offensive 2Down Efficency, 3rd Down Conversion rate:
Alabama        60%              56%
Clemson        54%              43%
ND                 49%              45%
LSU               45%              37%
UofM             46%              48%
UofTx            48%              43%
UGa              55%              47%
Ok                 67%              49%
UofF              53%              40%
UCF              55%               52%

AP Top10; Defensive 2Down Efficency, Opponent 3rd Down Conversion Rate.
Alabama        58%             30% 
Clemson        65%             26%
ND                 58%             38%
LSU               58%             32%
UofM             60%             29%
UofTx            59%             39%
UGa              59%             31%
OK                57%             40%
UofF              60%             38%
UCF              56%             41%
Michigan sits in great position defensively, forcing a 3rd down 60% of the time
and than only giving up a first down 29% of the time on the money down.
Offensively, they're in good shape with the 48% conversion rate on 3rd Downs 
but being forced into 3rd downs 54% is causing undue stress and exposing more 
of the playbook for future opponents, especially the "money" plays.
Here's hoping the Offense can get some low stress first downs the next few weeks, 
save some wear and tear on the 3rd down motor.
And, it's done ....back to the voices :) 
Nostradumass predicts the non determinate:
1) Revenge carries the team past PSU.
2) Rutgers mere presence in the B1G causes the need for revenge, so big win there.
3) Indiana .....?(wow we better figure out something to hate about them real quick)
4) As for The Game, it would've been nice to still be the huge underdog, but I have confidence that as OSU is trying to fix what is wrong with it's program over the next few weeks, the UofM staff is figuring out how to break it all over again on Nov 24th.
This seems to be a mentally tough Michigan squad but it will still be hard to focus the week we play Indiana. Maybe Harbaugh can have Tom Crean come in and spend a couple hours complaining about working there, that's gotta make the players grumpy at least.
Till next time stAy pycHo and GoBlue!