The Road To (Your Tournament Here): A Probabilistic Look At Remaining Wins
This week, I decided on a short diary outlining the probability of various scenarios in remaining games using the estimated probabilities provided at Massy Ratings. As you know, there are six games left, so there are sixty-four possible outcomes for the remainder of the season at present.
What that means, of course, is that looked at individually, many scenarios have similar  chances of happening, but there are a few that stand out as more likely than others, although again none are good bets at this particular point. As for ones that currently stand out (if you can call it this – I wouldn't):
1)      2-4, with the wins coming against Northwestern and Rutgers – 9.805%
2)      1-5, with the sole win being Rutgers – 8.695%
3)      3-3, beating MSU, Northwestern and Rutgers – 7.397%
4)      2-4, with wins against MSU and Rutgers – 6.559%
Conversely, there are some which are seemingly in statistical dreamland:
1)      4-2, with the losses being Northwestern and Rutgers – 0.060%
2)      5-1, with the sole loss being Rutgers – 0.068%
3)      3-3, with wins against Illinois, Ohio St. and Maryland – 0.080%
4)      4-2, with losses to Michigan St. and Rutgers – 0.090%
As you might have guessed, the opposite of the most likely scenarios are in fact the least likely in this case. Is this cumulative probabilities based on remaining wins: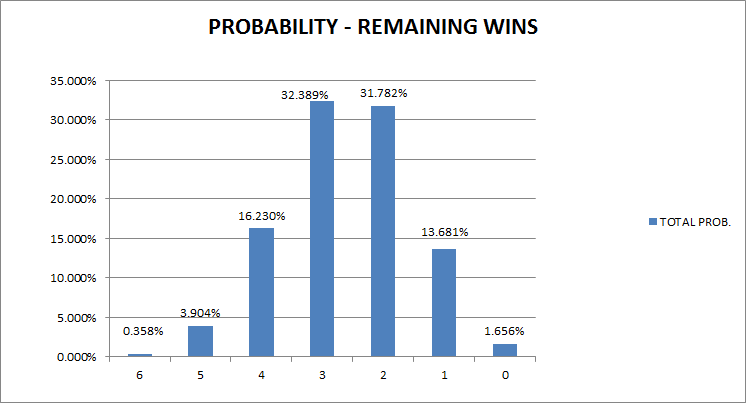 Yes, at present it is more likely based on these numbers that we run the table than only losing to Rutgers down the stretch. One thing that came up, however, when I did one or two such diaries for football is that there is an assumption here that the outcomes are independent, and that's for ease of calculation here, although Massey's model does account for the interconnected nature of the season somewhat, as I recall.
So, looking ahead and pretending we beat Illinois – the picture would change only slightly. We would still would stand a decent excellent chance of going 3-2 or 2-3 in the remaining five games, ignoring changes to other teams' numbers just for ease for a second. The individual scenarios above would see their relative likelihoods increase, but it would be approximately the same top and bottom four (some slight alterations allowing for eliminated scenarios), barring other changes.