The Road to the Final Four - The Last Decade of Michigan Basketball
To orient yourselves: I have no memories of the Fab Five.  In fact, my earliest memories of Michigan Basketball were late in my high school years as Tommy Amaker took over.  I graduated from high school in 2003, the second year of Amaker's run as Michigan basketball head coach.  I graduated from UM in December of 2007 and continued in grad school at UM. 
----------
My last year in the Maize Rage was the 2009-10 season.  I fell in love with Michigan basketball because of the Maize Rage during a time when it was comprised of a fraction of the students it is today.  In that time, I truly feel as though I've had a front row seat to something special.  I have seen the essence of college athletics rebuild a program from the very bottom.  This is intended to honor those who never got to a Final Four themselves, but played a major role in getting Michigan back to where they are today.
2003-04: NIT Champions
Lester Abram, Chris Hunter, Bernard Robinson
Wow, what Michigan Men. 
Bernard Robinson Jr sits at 23rd all-time in games played for the University of Michigan, 210, starting in 104 of them (15th all-time).   Given the unfortunate off-the-court troubles of Bernard, it might be tough to commend him. Yet, his contribution cannot be denied.  Bernard was drafted late in the second round by the Charlotte Bobcats and had a short NBA career before moving on to Europe. Thanks, Bernard.
2004-05: The First Amaker Collapse
A season that saw Michigan lose their do-it-all guy in Robinson, but nobody else, failed to find any kind of rhythm, ultimately finishing 13-18.  If there's anything worth pointing to in the 04-05 season, it was the coming out party of team MVP Dion Harris. 
One of the original "H-Bomb" recipients, Harris led the team with 444 points on the year, out-dueling second place Courtney Sims by well over 100 points.  In a team full of verterans, it was the sophomore Harris that shined. Harris would finish his career in the top ten in games played, top-15 in scoring, and second all-time in 3-pt field goals made.  A pure college scorer, Dion Harris was the first Mr. Basketball in Michigan to go to U-M since the Ed Martin scandal and was a key component in the turnaround.  Thanks, Dion.
2005-06: So… Close
I will take this memory with me to the grave.  Michigan hosting #8 Illinois.  All-Everything point guard Dee Brown coming into Crisler and Michigan looking for the upset.  That night, with Illinois fans filling the upper level, Daniel Horton poured in 33 on the lauded Dee Brown and Michigan topped the Illini.  It was late February.  Michigan was 18-7 in a very good Big Ten and had just taken a top-10 scalp; we were going dancing and rushing Crisler's court.  What followed that year will probably be the lasting memory of the Tommy Amaker era.  Michigan would finish the season by losing to a top-15 OSU on the road, an average Indiana squad on senior night (or day as it were) in Ann Arbor, and a 5-11 Minnesota team in the first round on the Big Ten tournament.  No dancing, no NCAA streak broken.
However, this season is very special to me.  The players on the UM team I initially fell in love with were all seniors: Graham Brown, Sherrod Harrell, Daniel Horton, Chris Hunter.
Graham Brown  ranks 25th all-time in games played and 11th all-time in starts.  Additionally, he ranks in the top-25 all time in rebounds.  Of course, these lofty achievements pale in comparison to his standings in bone-crunching screens (1st all-time) and nickname awesomeness (2nd all-time; Hambone).  Thanks, Graham.
Sherrod Harrell probably flies under the radar the most of this group.  He snuck into the 100-game club, however, finishing his career on that milestone. He was a co-captain with Brown and Lester Abraham.  Thanks, Sherrod.
On the court, Daniel Horton provided some amazing moments, as described above.  Like Robinson (though moreso), off the court, there were some troubles. I thought about leaving Robinson and Horton out of this, but instead will just focus on nights like the Dee Brown destruction and choose to remember the good while not ignoring the bad. Thank you, Daniel, for an amazing night in February of 2006.
Like Sherrod Harrell, Chris Hunter is easily overlooked by some.  However, Chris was vital during the Amaker years.  Hunter is also a member of the 100-games played club, checking in at 105. He also makes an interesting appearance in the record book as one of only a few players to be perfect from the line with atleast 10 attempts in a game (vs. South Florida).  He was one of those glue guys that held a team together.  Thanks, Chris.
2006-07: The Beginning of the End
Michigan would start the year 11-1 before heading into a matchup with then #1 UCLA.  That game was ugly, though it would not be the last time Michigan played the number one overall team.  However, carrying a 12-3 record into conference play, it appeared that this could be the year.  To close out the year, Michigan hosted #1 OSU during spring break.  I remember bring my brother to campus for the game and then the pain of driving home, agonizing over Courtney Sims' missed dunk that could have tied the game late. Michigan would fall 61-65, finishing the regular season 20-11 and squarely on the bubble. If only that dunk fell, their ticket would have been punched.  Alas, it did not. Michigan won the 8-9 game against Minnesota only to run into the buzz saw that was OSU that year.  Another year without dancing.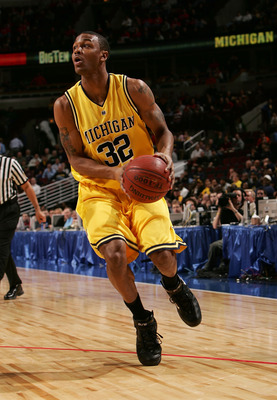 Lester Abrahm was a 5th year senior captain that did everything the right way.  In the end he would finish top-25 in games played, games started and 29th all-time in scoring.  A true captain and Michigan man. Thanks, Lester.
Courtney Sims was the big man that many thought could have been more. However, looking back on his career it is hard to be very disappointed. Courtney Sims finished his career fifth all-time in games played, seventh all-time in games started, 28th in scoring, 13th in rebounding, and second all-time in blocks. An amazing collegiate career that would only be rivaled by his serve on the tennis courts (Sims was an all-state tennis player in Massachusetts, IIRC).  Thanks, Courtney.
Brent Petway, or more appropriately, Air Georgia.  The McDonough, GA native was best known for his pre-game one-man dunk contests, appropriately awesome nickname (and one of the best Maize Rage signs on the era), and senior night haircut.  If memory serves, he was on the receiving end of a Jerrett Smith (lol) lob pass in that OSU game that was almost a part in what could have been the biggest game of Tommy Amaker's career. What would have been.  Petway is another member of the 100 games played club, finished top 40 all time in rebounds and sixth all-time in blocks.  Thanks, Brent.
2007-08: Enter John Beilein
John Beilein's first season in Ann Arbor will go down as one of the worst in Michigan basketball history. It's funny writing that now. At the time, it was a grind. Players were mismatched in a system that relied on strengths that simply were not there. However, the biggest victory of that year was not any of the 10 that were won on the court. It was John Beilein convincing both Manny Harris and DeShawn Sims to stay with Michigan, despite the departure of Tommy Amaker.
Ron Coleman, was a senior from just down the road in Romulus that year.  The team captain who once was an underclassmen three-point specialist for teams that were on the verge of the NCAA tournament saw his role dramatically altered. In the end it was sad seeing Ron Coleman score just 3 points in his Crisler finale. However, true to form, it was a three-pointer. And in the end, that's exactly how I'll remember him.  Thanks, Ron.
2008-09: Queme Los Barcos
Why hello NCAA tournament. In what was one of the remarkable turnarounds in Michigan history, John Beilein took the previously 10-24 Michigan Wolverins to the NCAA tournament the next year.  It was close, though. A packed Crisler Arena waited and waited. Holding our collective breaths as the selection show neared its end before: Kansas City. 7 seed. Clemson. 10 seed: "out of Ann Arbor."  Eruption, craziness, pure bliss.  We're going dancing.  My lasting memory that year will be walking around Kansas City with all kinds of Michigan fans and thinking "wow, I am so lucky."  Michigan would pull off the first round upset before falling to the Oklahoma Blake Griffins.
Of course, the 2009 season was that of the walk-on captain point guards: CJ Lee and David Merritt. They'll forever go down as fan favorite for their steady, if not spectacular, play on court and their true definition of leadership. Neither CJ Lee nor David Merrit are anywhere to be found in the University of Michigan men's basketball record book. Let that sink in.  Yet, they led the Wolverines to their first NCAA tournament appearance in a decade.  Thanks, CJ and David.
2009-10: The Doubts Return
Certainly, losing only two walk-on guards and returning two NBA-prospects should result in continued success, right? Such was not the case for the Wolverines.  Michigan won their first three games but would never win three consecutive games again for the rest of the year. It was a year that will be defined by the birth of "Death to Backboards" and Evan Turner's Big Ten tournament stealing half-court heave.  In a season that was all kinds of turbulent, it was no shock that Manny Harris decided to forgo his senior seson…
Manny Harris, despite his incompatibility in Beilein's system, was a key component in leading Michigan "back."  His and-one to seal the upset of Clemson in the 2009 NCAA tournament will be his lasting legacy, however he made his mark in the record books as well. Harris finished tenth all-time in scoring for the Wolverines as well as in the top 35 in rebounding. Harris would go on to sign undrafted with the Cleveland Cavaliers and have some pretty remarkable games for the Cavs.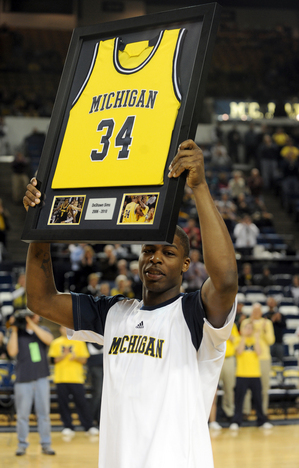 DeShawn Sims battled through incomparable adversity during his time at Michigan, including the death of his brother. In the end, Sims earned his degree and finished as a team captain that was a major component in the end of the tourney streak. Sims finished sixth all time in games played, 16th in scoring, 13th in rebounding and ninth in field goals made.  He'll forever be remembered for his monster 28 point game against Kyle Singler (who had just 15) in the 2008 upset of Duke.  Thanks, DeShawn.
2010-2011: Back to the Tourney
Behind a hot shot sophomore point guard and Tim Hardaway Jr. (sound familiar?) Michigan returned to the tourney in 2011.  However, it wasn't easy.  Michigan started Big Ten play 1-6 and there were very audible rumblings for John Beilein's firing as Michigan stared a 1-7 start dead in the face with a trip to East Lansing on the docket. East Lansing, meet Zack Novak: Novak poured in 19 to save the Michigan season.  The Wolverines would go onto win 5 of the next 6 Big Ten games with the only loss at #1 OSU. That turn-around  led to a more comfortable berth in the tournament: as a 8 seed in Duke's regional.  That week, the Fab Five documentary came out and all Ann Arbor could talk about was "Shocking the World."  Perhaps it wasn't the world, but the state of Tennessee was shocked when Michigan ended Bruce Pearl's career as a Volunteer with a 30 point beat down.  Onto Duke.  Where Michigan shocked…
Darius Morris' runner that could have shocked the world was long. Perhaps by an inch. And just like that, his stay in Ann Arbor was over. Though only a two year stay, Morris flourished in John Beilein's 1-3-1.  The 6'4" point guard used his length to perfection in the wacky Beilein zone, and Beilein used his oversized point guard to exploit mismatches throughout the year.  Darius would go onto the NBA were he's enjoying a productive career, but not before: notching the third best assist per game season in Michigan basketball history (behind Cary Grant and Trey Burke), breaking the season assist record (later broken by Burke), 7 total 10-plus assist games, and one of only three triple-doubles in the history of Michigan basketball.  Thanks, Darius.
2011-12: Big Ten Champions
With the early departure of Darius Morris, Michigan went to freshmen point guard Trey Burke to guide a mix of veterans and youngsters. Michigan would be ranked for the entire season, peaking at #10 late in the Big Ten season. While Burke proved to be an excellent replacement for the departed Morris, it was the season of senior captains Stu Douglass and Zack Novak.
Two barely-recruited, undersized, white boys from Indiana would lead Michigan to its first Big Ten championship in 26 years.
Stu Douglass – in addition to sporting a Spock-like haircut as a freshmen – was a prototypical example of what a player can be under John Beilein. Initially only an outside shooter (and a streaky one at times), Douglass turned into one of the teams most reliable ball handlers and its best off-ball defender by the end of his senior season – a compliment to both Douglass' hard work and Beilein's staff's ability to develop players.  Stu Douglass is the all-time leader in games played at the University of Michigan, beating out his partner in crime by two games. Douglass ranks fifth in career 3-pt field goals made and ninth in minutes played.  He was the perfect ying to Zack Novak's yang, providing a cool and calm leadership that led Michigan to that ever-elusive Big Ten championship.  His number may not be retired, he may not be as dramatic and outgoing as #0, but he will never be forgotten by this Michigan basketball fan.  Thanks, Stu.
Zack Novak started out as an undersized forward who missed a dunk that almost cost Michigan a win to Savannah St (!!!). He finished as a charge-drawing, dunk contest winning, Blake Griffin-checking stud of a glue man.  He wore the number 0 for gosh sakes. A Michigan legend made from hard work, passion, and, yes, grit.  As mentioned, Zack finished with two fewer games played than Stu, good for third all-time. He also finished third all-time in starts, behind Louis Bullock and Cary Grant.  Novak cracked the top 50 all-time scorers and top 25 all-time rebounders. He finished eight 3-pters ahead of Douglass all-time, good for fourth in Michigan history. Zack Novak is the all-time leader in minutes played at the University of Michigan and is the only three-time captain in the history of the program. Simply a remarkable career.  Thanks, Zack.
---------
I didn't plan writing this. It kind of just happened. And wow, 2,500 words later I am glad I did. I've always jokingly (but really serious) described myself as one of the few people who likes Michigan basketball more than Michigan football.  I can honestly say I am proud of being a fan at the beginning and now enjoy where Beilein has taken us.  I am so proud to call all of the above Michigan Men.  Some fellow alumni, some not. But all Michigan Men. Writing this brought back so many great memories and I hope someone reading it feels the same way.
None of these players ever got the opportunity to play in the Final Four.  But they are all a part of this.  They all have contributed to this.  Them and many others. 
Enjoy tomorrow. It's the icing on the cake. Win or lose, it has been a remarkable journey.
Go Blue.