Quantity Of Contribution: 2013-14 Michigan Basketball
I thought it might be interesting to look at who contributed the most along certain metrics to the success of Wolverines basketball this past season.
Admittedly, I wasn't sure what people might like to see, so I dumped the season stats for the team into Excel and looked at things such as field goals made, three point shots made, rebounds, assists and a few other metrics to get a feel for relative total contributions. The results probably would not shock many here, but they are interesting to see in this form all the same.
I shall apologize in advance for the pie charts (out of style, I know), but it seemed like the most convenient way to display something like "relative contribution" for various statistics in this particular instance.
FIELD GOALS MADE:
Below is the chart showing relative contributions, but you're probably not shocked at all by this one. Nik Stauskas, Glenn Robinson III and Caris LeVert combined for 56% of all of Michigan's made field goals.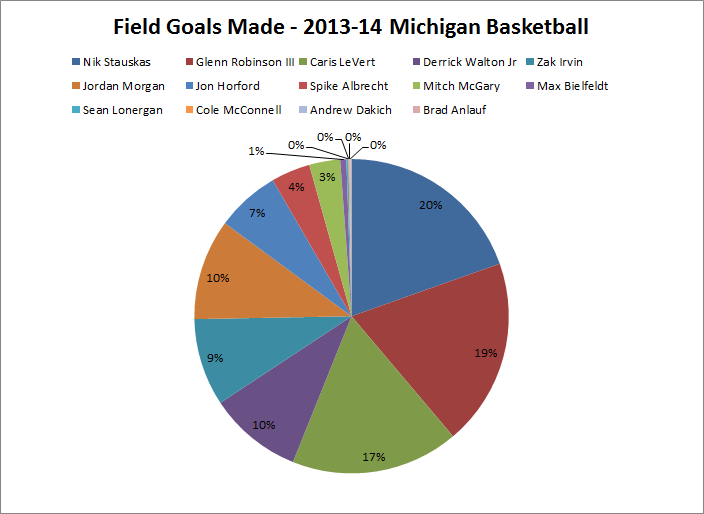 THREE POINTERS MADE:
This is also something that you might have guessed too – Zak Irvin, Nik Stauskas and Glenn Robinson III were far and away the most prolific contributors to Michigan's three-point game, combining for 67% of all that were made.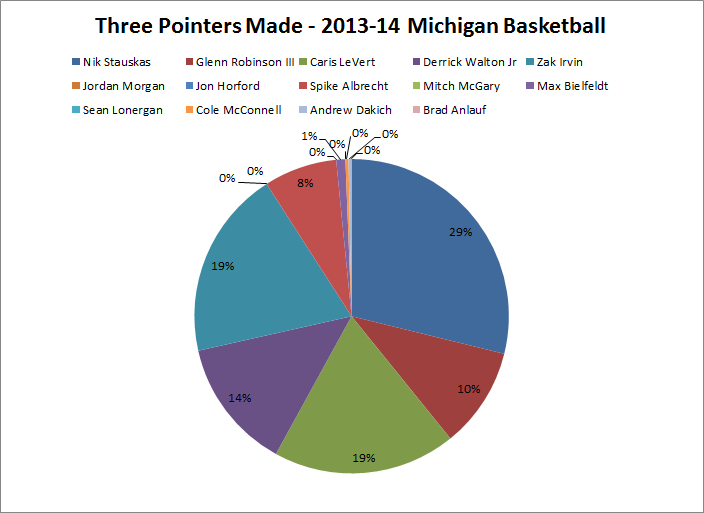 POINTS MADE:
Here is the contribution of total points – if you look back at field goals made, you will see a similarity, of course. Those 56% of field goals among those same three players accounts for about 58% of all of Michigan's points this past season.
REBOUNDING:
Total rebounds probably is not as interesting as relative percentages adjusted for minutes, but below you can see the raw data. Jordan Morgan and Jon Horford were about a third of all of Michigan's rebounds regardless of whether they were offensive or defensive.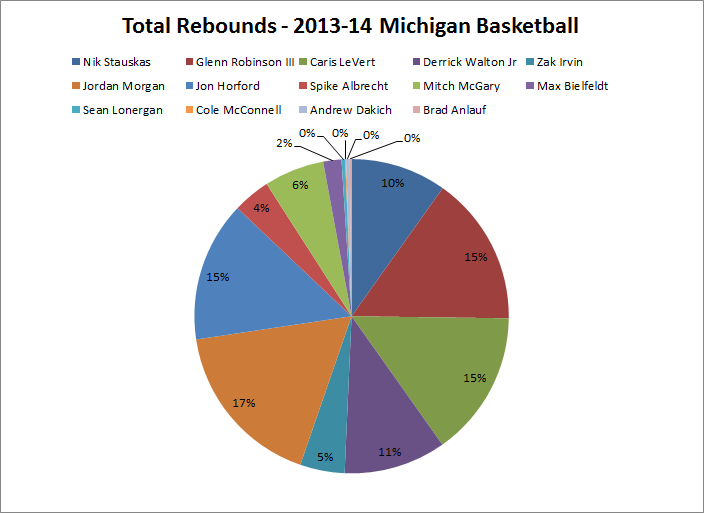 REBOUNDING (ADJUSTED):
If we talk about this in terms of percentages and adjust it as we normally would for minutes played, we see an interesting shift. The best rebounder on the team – both offensive and defensive – becomes Mitch McGary, then Morgan and Horford.
ASSISTS:
Nearly two-thirds of Michigan's assists came from a slightly different trio – Nik Stauskas, Caris LeVert and Derrick Walton Jr.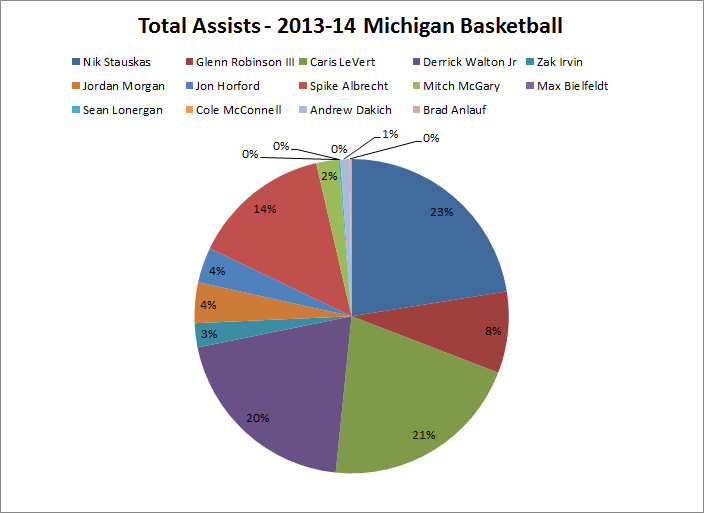 ASSIST / TURNOVER RATIO:
I didn't adjust this one, but it doesn't tell us anything much different that the chart of total assists for those who played major minutes. It does say, however, that when Albrecht was in, he was definitely in and very sure-handed indeed.
SOME MUSIC FROM MY COLLECTION... ...to enjoy (or not) as you read (SFW).