Profiling some successful rebuilding seasons
This season had two possible trajectories: reload or rebuild. As Brian succinctly stated in his season preview, "This is a transition year between The Year and The Year, unless it isn't." And while many fans donned their maize-colored glasses in the preseason prediction threads, hoping for the lucky breaks to go our way en route to another 10-win season, the fancystats suggested that it was more likely to be a rebuilding year. Bill C. prognosticated before the season that "this program is probably a year away from ignition."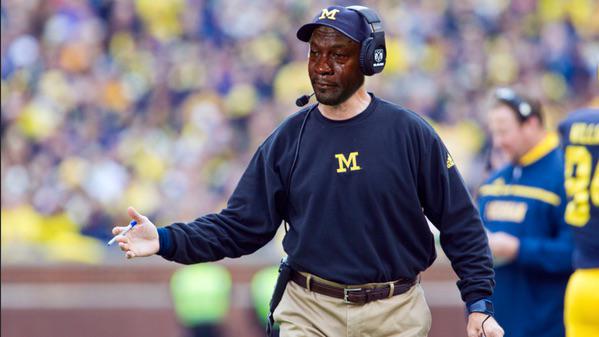 "They'll have to get lucky on a couple freshmen and one right tackle, but teams have been luckier. Just not Michigan." -Brian Cook
For innumerable reasons (some within and many out of the team's control), alllllllll of which have been very clearly hashed out on this site, this was, in fact, a rebuilding season. The issue now becomes whether or not this was a "successful" rebuilding season. The MGoStaff posed themselves the question "are we on track?" The answers ranged from "mostly, yes" to "of course, yes." Ace compared the roster this year to the projected one for next season and concluded, "This year hasn't been very fun. Next year will be."
While we can debate and analyze the quality of this season, in isolation, until we've beat the dead horse to a maize and blue pulp, the fact is that we won't know whether or not it did its job as a rebuilding one until after next season is over. What we can do, however, is partake in every Michigan fan's favorite pastime: make predictions about whether or not next year is finally "The Year", or, as Bill C. quipped, "Ignition."
But first, here is Seth describing his take on a baseline definition of The Year:
"The level I want to be at is Bo--i.e. go into every season with a real shot to win it all--and last year's team is a good example of that level. Football is too random to ask for more: Ohio State is the best team in the country this year by S&P+ and has two losses; Carr won a national championship with the Griese offense and lost to Illinois with senior Tom Brady. It's natural for your human brain to try to replace randomness with patterns that don't exist, and favor whichever pattern best serves your interests. If you haven't learned to keep those instincts in check this deep into adulthood, don't be surprised when your contributions to the marketplace of ideas are treated like they don't have any value."
The Year is a season in which the team makes a legitimate title run and is only a couple lucky of breaks away from ultimate glory.
---
A look back at rebuilding years that preceded "Ignition"
With all that in mind, I decided to profile some recent rebuilding seasons for other teams led by high-quality coaches that were followed by The Year and successfully "ignited" those programs. I chose the seasons based on a recent diary by MGoUser Eye of the Tiger that looked at win totals of elite coaches in the mythical Year 3 and Year 4 of their tenures.*
This analysis is descriptive, not predictive. It is designed to see how Michigan compares to 12 successful rebuilding teams across a small collection of metrics. I do discuss my interpretation of the results, but that is simply my fan perspective.
*Note: I did not include any season prior to 2007, when S&P rankings first started.
Quality of Wins vs. Losses
Higher is better on the left. Lower is better on the right.
While Michigan managed to more-or-less hit its expected win total of 8.5 games, one of the biggest knocks on the team is that they didn't beat any good opponents. This criticism holds true relative to this selection of successful rebuilding teams. The quality of Michigan's wins (as defined by the winning percentage of the teams Michigan beat this season, removing the game against Michigan to control for record) is only higher than those of the 2011 Florida State squad.
Looking closer at the 12 successful rebuilding teams, they averaged 0.33 wins against teams ranked between #20-25 in the final AP poll, and 0.58 wins against teams ranked between #10-20. Only 4/12 teams had no wins against Top 25 opponents.
In contrast, the quality of Michigan's losses is higher than any of the other 12 rebuilding teams' losses. All 4 teams that beat Michigan are ranked in the Top 25. The other 12 teams averaged 3.33 losses to teams in the Top 25 of the final AP poll, but also 2.00 losses to unranked opponents. Your take on this stat could be a glass half-full or half-empty one. It's always good to beat the teams you are supposed to beat, but it could be easier to fix an issue with losing to overmatched opponents than it is to get over the hump of losing to good teams.
Average Margin of Wins vs. Losses
Higher is better on the left. Lower is better on the right.
Another concern this season was that Michigan struggled to put away some clearly inferior squads early in the year. While the games against Cincinnati or Air Force never reached Hoke danger levels, they weren't the blowouts that they probably should have been given how the seasons of those two teams played out.
However, when we look at Michigan's average margin of victory compared to the other 12 rebuilding teams, it is greater than the median. On the other hand, Michigan's average margin in losses is worse than only that of 2011 Penn State (15.50).
The important confounding variable here is that Michigan beat worse opponents and lost to better ones than the other 12 rebuilding teams. This could potentially inflate the average margin of victory and deflate the average margin of loss in this comparson. Here is the chart of the 12 teams' average margin of victories against unranked teams and average of margin of losses against ranked teams:
Michigan still performs right at the median in terms of average margin of victory, but is still worse than 10/12 teams in terms of average margin of defeat. While the numbers are what they are, Michigan did look infinitely better against OSU than they did against PSU. Additionally, Michigan was in the game against Wisconsin until the injury to Peters completely deflated the team, which helped Wisconsin pull away. And Michigan was one possession away from tying beating OSU until the O'Korn armpunt, so an 11 point loss isn't qualitatively worse than 7 points. I don't know how the losses for the other 12 rebuilding teams compare, but I'm not too worried about this stat.
S&P Rankings*
*Michigan rankings are prior to OSU game
Not surprisingly, Michigan's defense compares favorably to the rebuilding teams, whereas the offense does not. I'll let the rankings speak for themselves, but the encouraging thing to me is that 4/12 rebuilding teams had worse passing attacks than ours. Given the youth at so many positions, the multitude of injuries, and the limited roster turnover, I think that Michigan stacks up very well to the other teams in the S&P rankings.
---
I have already posted that Michigan has historically followed up disappointing 8-4 seasons very well in the past. Here, I looked beyond the record to compare this season to those of 12 successful rebuilding teams. The advanced stats all suggest that this team can make the same leap the other ones achieved. The biggest obstacle, and one that many of the successful rebuilding teams had already overcome, is something that every fan already knows too well: win the big games.